Intense 951 or Specialized Demo 8?
Just a quick question for you. I'm looking for a new bike and have the opportunity to get either a 2010 Demo 8 II or 2010 951 w/ SRAM build kit for nearly the same price. I'm kind of inclined to go with the Demo simply because it has a much better build for the $$$ (Boxxer WC, Elixir CR, etc.) but I'm just wondering if you had any thoughts on the matter.
I've been riding the Socom for a while and it's a great little bike but I think it's going to be on its last legs pretty soon here. I like the vpp but I still remember running your old Demo for a race run at Telluride a few years ago, it was so rad and I'd imagine the new ones are the same if not better and faster. However, I've spun around the parking lot on a 951 and it felt pretty good (granted it was a parking lot…) and I've heard good things about them too.
Tough decision for me but a good one to be making!
Thanks!
Neil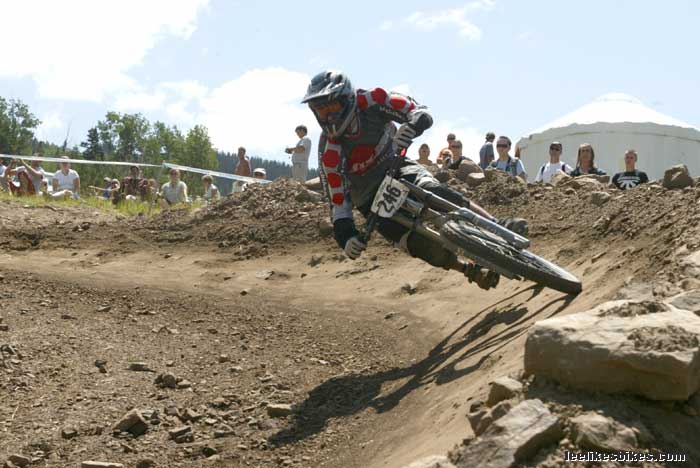 Neil rails my Demo 8 at Telluride, July 2008.
Neil!
You're right: This is a good decision to be making.
The Intense 951 and Specialized Demo 8 are closely comparable. They're both new-school DH race bikes, which is to say they have about eight inches of travel and low/slack geometry, and they can be built pretty light. Gone are the piggish DH bikes of yore.
Some visible differences:
– The Demo is longer and has a lower BB. That usually means it wants to rail high-speed corners.
– The 951 has adjustable geometry and travel. You can set it up with 8.0 or 8.5 inches; the Demo has 8.0. Also, you can make the 951's head angle one degree steeper than the Demo's.
– The 951 has lower stand-over height.
– The Demo has FSR suspension, while the 951 has VPP. Each design has its champions and detractors. On paper, FSR is more neutral and active; VPP is more pedal-efficient, but it develops some feedback through the chain and rear brake.
– Some people notice this feedback; some don't. Some people are bothered by it; others aren't. Since you're currently riding a VPP-equipped Socom, I think you'll be in the latter groups.
Both bikes seem excellent.
My thoughts:
Having ridden with (and coached) you many times, I can say you'll rip on either bike. It comes down to feel and spec.
Rock the one that feels best to you (on real terrain; not in the parking lot). If they both feel good (which is likely), and one has a preferable spec, go with your favorite spec.
Rip it!
— Lee
---
Know more. Have more fun!
Join the leelikesbikes mailing list:
---
https://www.leelikesbikes.com/wp-content/uploads/2018/08/leelikesbikeslogoheader.jpg
0
0
leelikesbikes
https://www.leelikesbikes.com/wp-content/uploads/2018/08/leelikesbikeslogoheader.jpg
leelikesbikes
2009-10-30 15:56:42
2009-10-31 10:17:32
Intense 951 or Specialized Demo 8?