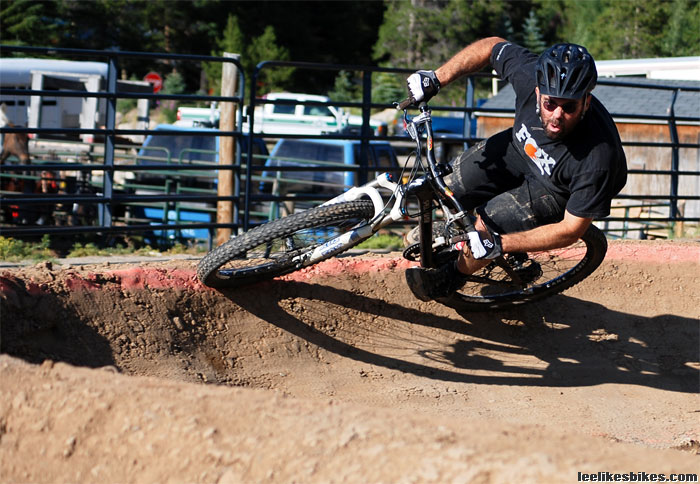 Lee,
I downloaded your on-line book a few weeks back and we have just
started shaping the pump track in our backyard. Man, it's going to be
sweet. Anyhow, I was wondering which tires you recommend. I know I want
something fast with low rolling resistance but I probably also need a bit
of tread. What are your thoughts on the Maxxis Holy Roller, Kenda K-Rad,
and Intense MK2? Other suggestions?
Thanks for all your knowledge,
Jason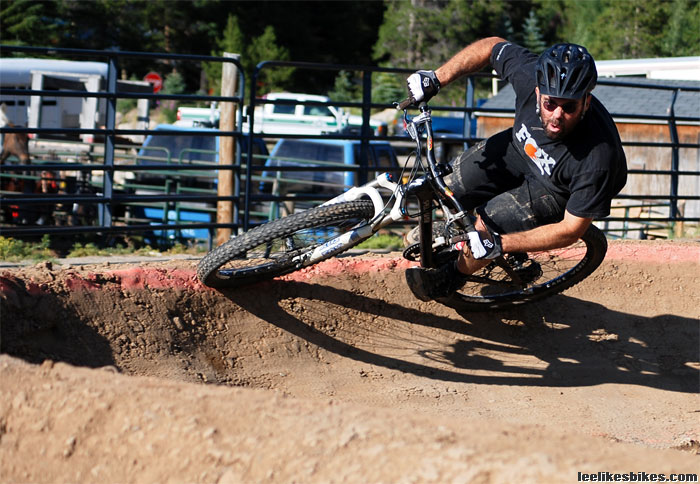 When you press directly into a rock-hard berm, knobs are unnecessary. What is necessary: Complete confidence in your bike. Rocking my beloved Eskars at the track I built for Giant Bicycles.
Hey Jason,
Those are all excellent tires.
For pump track purposes I'd group tires into three categories:
Micro knobby – Lots of tiny knobs. The Intense MK2 is the most extreme example. Micro knobbies are incredibly fast on perfectly groomed hardpack, but they can be sketchy on loose surfaces. Kenda Small Block Eights border on the next category.
Low knob – Bigger, well exposed but low knobs. Maxxis Holy Roller, Kenda K-Rad, Specialized Rhythm Lite. These tires are very good on hardpack, and they provide some grip on loose-over-hardpack.
Full knob – Basically XC trail tires. Maxxis Minion, Kenda Nevegal, Specialized Fast Trak, WTB Mutano Raptor, pick your favorite. Trail tires sacrifice rolling speed on perfect hardpack, but they're more dependable on mixed surfaces.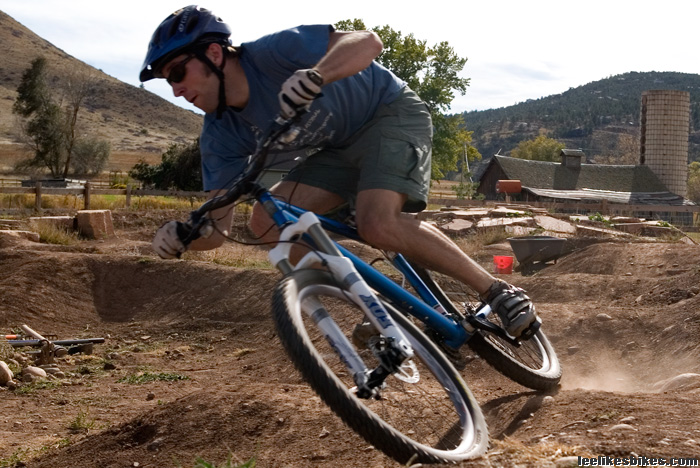 Will MacDonald is another proponent of trail tires on pump tracks. He drifts across this roller knowing the berm will catch him.
Your ideal pump track tire
depends on your riding conditions.
If you only ride blue-grooved hardpack, a micro knobby is the weapon of choice. Intense MK2s are amazingly fast. I've seen Small Block Eights work in an impressive range of conditions.
If you ride assorted dirt jumps and pump tracks, low knobs are the most popular choice. As a matter of fact, all of the fastest riders at the Sea Otter pro pump track race ran low knobs. I think the top three were on Rhythm Lites.
If you ride varied terrain, rock a trail tire. Because my p.bike sees all sorts of action, I run Specialized Eskars. Eskars might not roll as fast as the other options, but they give me the confidence to work the corners — and that probably makes me faster overall.
Or: Build a perfect pump track. Keep it perfect. Run road slicks!
— Lee
---
Know more. Have more fun!
Join the leelikesbikes mailing list:
---
https://www.leelikesbikes.com/wp-content/uploads/2018/08/leelikesbikeslogoheader.jpg
0
0
leelikesbikes
https://www.leelikesbikes.com/wp-content/uploads/2018/08/leelikesbikeslogoheader.jpg
leelikesbikes
2010-05-25 18:39:45
2010-05-25 18:47:16
Ideal pump track tire?