How do I ride this massive roll-in?
Hey Lee,
There is a 20ft, nearly vertical, rock on a trail I visited recently. I really want to hit it, and I know it's rideable. Are there any tricks to tackling a big obstacle like that?
Here is a video. the rock is at 1:44 and from this angle it looks really mellow. When you're standing right below it or on top it is really pretty vertical. I think what's hanging me up is the bulge you can see about halfway down. It looks like it's going to buck me forward off my bike and onto my face in the dirt at the bottom. I'd recommend not watching the whole video… You'll cringe at some of the riding.
Rory
---
Hey Rory,
Roll-ins like this are intimidating, but they are not very technically demanding.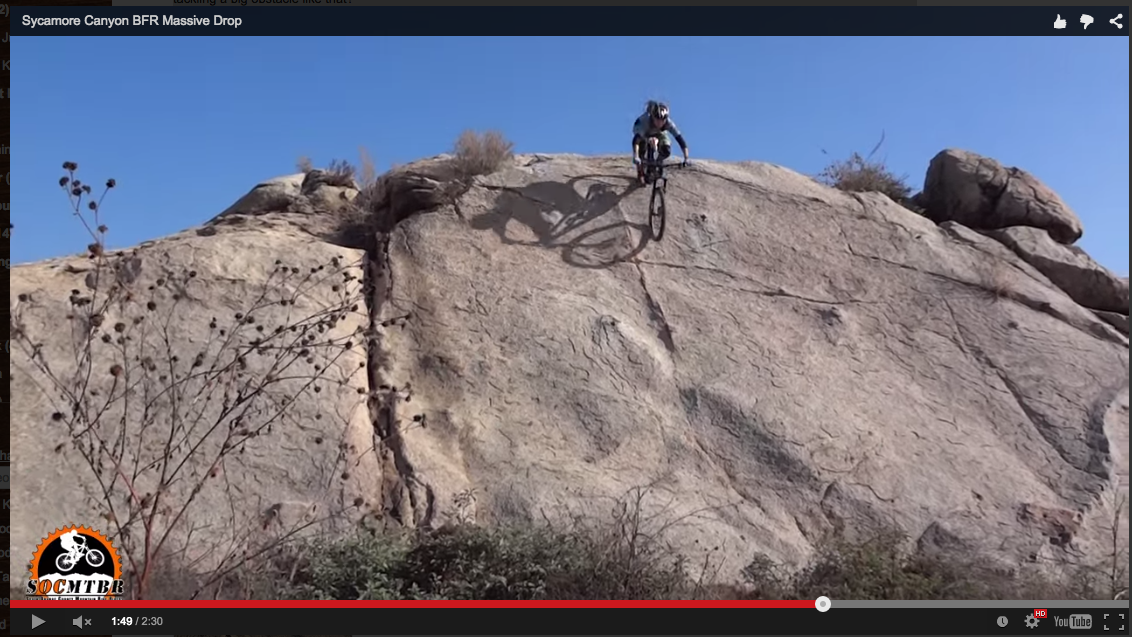 Here's what you need:
• The exact perfect wheel size. I think, for that drop, 28.1 inches would be ideal.
• Carbon frame, rim, handlebars and cranks.
• 1,000 comments on a major MTB forum.
• Goggles backward on your helmet.
Kidding.
What you really need to do:
BEFORE THE FACE
• You should worry about getting bucked onto your face. That can happen pretty easily if you don't …
• Set up your cockpit for optimal range of motion. (I can help; see the remote coaching link below.)
• Drop your seat so you have room to operate.
• Slow down! You should almost be stopped at the top. Ideally, you won't brake on the rock face.
• Scan the rock surface then look beyond the rock to safety.
• Get as low as you can on the bike. This gives you maximum range of motion.
ON THE FACE
• Balance on your feet. I've said this thousands of times in person, video and print. If your feet are heavy and your hands are neutral, you CANNOT get bucked onto your face. It's that simple.
• To stay on your feet, actively match the angle of your bike to the terrain. Check out the tips in this post: Riding steep drop-ins safely.
NOTE: Great suspension will cover a lot of mistakes (just watch that video!), but you still have to Ride your bike correctly. Stay balanced and actively work the big shapes. Let your FOX 36 fork and FLOAT X shock take care of the details.

Brandon Sloan, now director of high end bikes at Specialized, rolls The Manager in Whistler circa 2004. Check out his 1) lowness, 2) balance and 3) vision. This guy can ride a bike.
For personal help with bike setup and crazy obstacles, check out my remote coaching program. I will give you more detailed instruction, plus I'll analyze video of you.
This weekend's clinics in SoCal are sold out, but we're teaching again in March. Check out LLB skills clinics in SoCal and elsewhere.
Have fun out there,
Lee
---
Know more. Have more fun!
Join the leelikesbikes mailing list:
---
https://www.leelikesbikes.com/wp-content/uploads/2018/08/leelikesbikeslogoheader.jpg
0
0
leelikesbikes
https://www.leelikesbikes.com/wp-content/uploads/2018/08/leelikesbikeslogoheader.jpg
leelikesbikes
2015-01-13 08:57:40
2015-01-13 09:38:45
How do I ride this massive roll-in?