Honda CRF450X modifications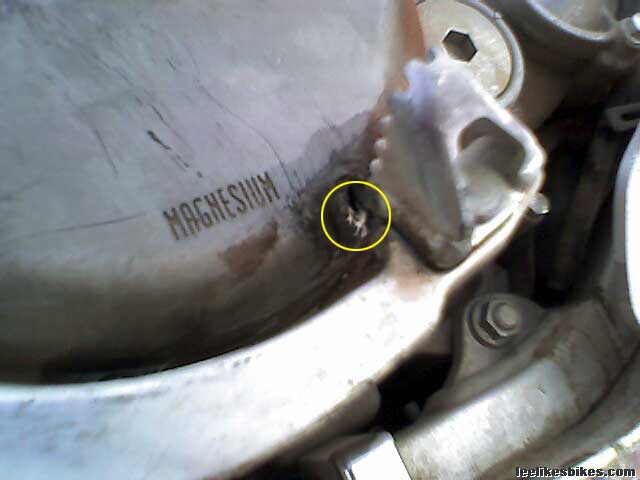 hey lee, we just bought some new motos and are going to head out west to ride some desert trails soon. did you do any mods to your 450X? we ride the 450R on the tracks as supermotos and plan on using the 250X for the trail.
ciao
carol
The more you click, the more I can post. Lee Likes Groceries dot com!
---
Hi Carol!
I'm glad you and Corein are out ripping it. I really enjoyed our MTB session.
Honda knows more about making motos than I do, so I try to leave my CRF250R and CRF450X alone. But the 450X gets ridden (and crashed) in some crazy situations. I've added parts as needed to keep it running right, and to protect it from the idiot who rides it. I'll keep adding armor until stuff stops breaking.
In general order of appearance:
Flatland Racing radiator guards. On my very first ride, at an MX track, I got landed on. Yeah, that sucked. My knee crushed my radiator (and my thumb got dislocated — I was so annoyed I put it back myself and kept riding). I've dropped my bike a hundred times since then, and the radiators are still perfect.
Flatland Racing skid plate. Easy install. Mandatory!
Acerbis hand guards. I started with cheaper guards, but they sucked! Pony up for the good ones.
Nylon straps attached to my rear seat-mount bolts. I use these to shuttle my DH clients at Left Hand Canyon OHV Area. They also make great handles for dragging The Red Beast out of ditches.
ODI Lock-on grips. Easier to work with than old-school glue-ons, and identical to the ones on my bikes.
JD Jetting Kit. To ride your moto here in CO, you have to re-jet it. Forget buying individual jets, taking everything apart, guessing and repeating. Pay $80 for the kit. It comes will all the jets you'll need, plus setup guides for all altitudes.
Handlebar risers. The bars felt too low on steep, rough climbs. But now I'm thinking that was a technique issue, and I think I'll go back to stock.
Metal oil filter. Why buy and toss paper filters when you can clean and re-use this champ?
K&N Air Filter. My stock filter got torn up. K&Ns supposedly work better. Now I have two filters. For a quick switch, keep a spare filter clean and oiled in a baggie.
Rear brake light switch. It mounts to the rear master cylinder, to help make the bike "Rocky Mountain Street Legal." BTW: My 450X is titled and insured, so I can ride it on street as well as dirt.


Not …


… cool.


Billet clutch cover. In the middle of the Moab desert, with darkness approaching, my brake pedal poked a hole in my stock magnesium cover. Not cool! The new cover is super burly. Read this: Epic: Moab 2006
Aluminum rotor guards, front and rear. Some guy keeps dragging my brake rotors through rocks.
Various tires. I ran a Michelin X-11 trials tire on the back for quite a while, and it worked amazingly well. Right now I'm rocking a pair of Maxxis Desert ITs. They work OK — not great — but they should last a while.
OMG — I want to ride moto, and I want to ride moto RIGHT NOW!!!
https://www.leelikesbikes.com/wp-content/uploads/2018/08/leelikesbikeslogoheader.jpg
0
0
leelikesbikes
https://www.leelikesbikes.com/wp-content/uploads/2018/08/leelikesbikeslogoheader.jpg
leelikesbikes
2007-10-17 13:15:24
2007-10-17 13:15:24
Honda CRF450X modifications