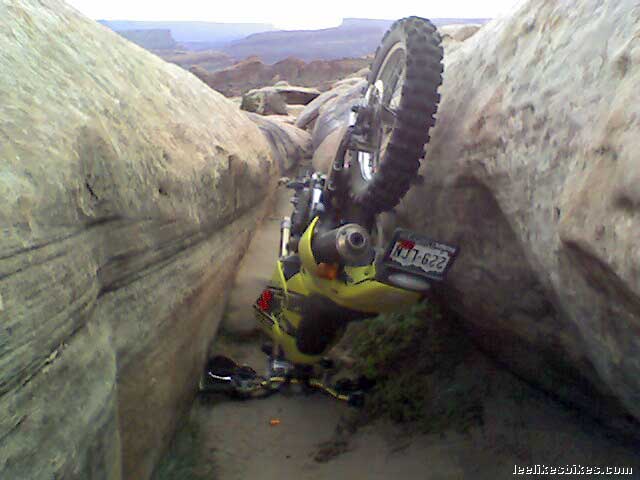 This year's Thanksgiving adventure didn't serve the sweet flavors I expected, but it was tasty nonetheless. High/lowlights: a buried van, interpersonal drama, random crashes and a punctured engine case. Sweet? More like savory …

Thursday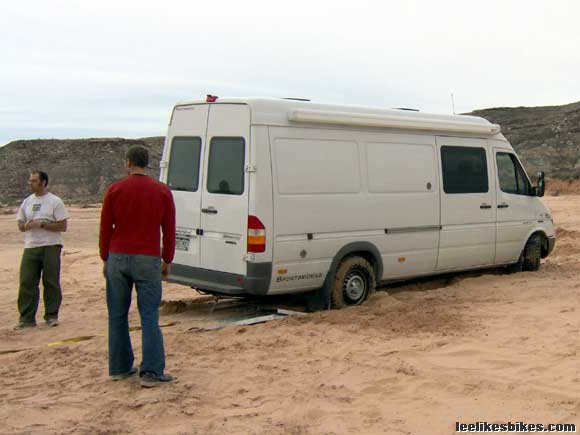 See the hole beyond the front of the van? We were there three hours ago. … Van photos courtesy of Leonard Keen; I designed a pump track for him. He just happened to ride by.
The plan: Drive north of town to the Sovereign Trail. Ride it on bikes. Eat lunch at the truck. Ride the trail on motos. Compare notes. Laugh a hearty laugh: HA HA HA!
The reality: The access road crossed a wide, sandy river bed, and the far bank was impossibly steep for The Brick, my extended Sprinter van. I stopped halfway, tried to turn around and buried The Brick to its rear axle. Sacha, Luke and I dug out the rear of the van with our hands (literally), jacked up one side, stuck a moto ramp under the tire, did the same on the other side, drove 10 feet then repeated MANY times. It was a LOT of digging! Three hours later, we were almost out; a nice guy with an F350 4×4 pulled me the rest of the way.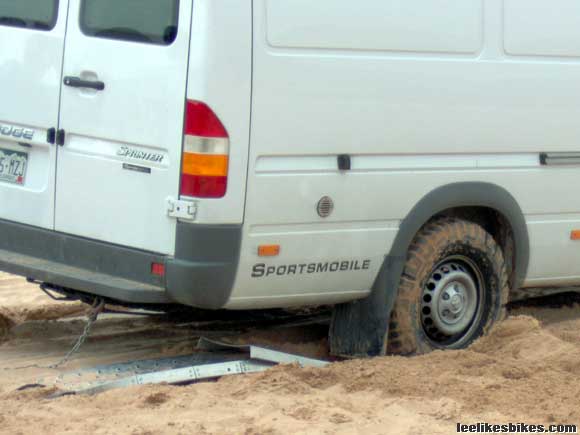 So much for that moto ramp. A locking differential would have kept the van moving.
No matter how strong you are, a Ford pickup is stronger.
We ate lunch (as planned!) then rode Sovereign Trail on motos. We went clockwise: Fast road approach. Steep, tight, rocky singletrack. Flat, windy, rocky singletrack. Fast, rocky doubletrack. Lots of rocks, lots of fun. Braaap!
Reality check: One of us got left behind in a particularly heinous section, and when he caught the waiting group he was PISSED! His bike wouldn't start, he might have crashed, etc. This underscored the importance of riding as a team. In the desert, anything can happen. (And it did on Saturday.)
Friday
Solo XC ride: I took the Mighty Enduro SL up Poison Spider to Portal Trail. Moab is great — don't get me wrong — but I think they've had some good marketing. Many of the trails are just too steep and sandy for bikes. Poison Spider is a perfect example: steep and rocky in places, which is cool, and sandy, which is not cool. I walked many a long sandy stretch, but I was in no hurry. It was a real treat to just ride, walk or whatever at my own pace.
The top of Poison Spider becomes undulating slickrock, which is dang fun. The SL crawled up the steepest pitches, and I lowered my Maverick Speedball for every decent over 30 feet. Pumping, skimming, jumping. Braaap!
Portal Trail is serious business! As you skirt a huge cliff, signs scream "Dismount Now. Three people have died here." Died. No kidding. I rode 99% of it, except the part where the vultures hang out. It was a handful on a modern bike; I can't imagine cleaning this on a 1988 Bontrager. I took it easy, cruised back on the river road and found a bunch of friends climbing the cliffs. We hung out a bit, then I cruised on. Three hours of base miles: check.
Slickrock Trail on moto: It was getting late, but an idea was lodged my mind. Must … ride … Slickrock. I got there at 4:30 p.m., geared up and cruised the practice loop twice. Lap 1: 10 minutes. Lap 2: 8 minutes. I could have done the main trail in maybe 30-40 minutes. We'll see next time.
I encountered a guy on a trials motorcycle: definitely a local, definitely a DH racer, and he was going twice as fast as me — pumping his little moto like a DJ hardtail. So cool.
Saturday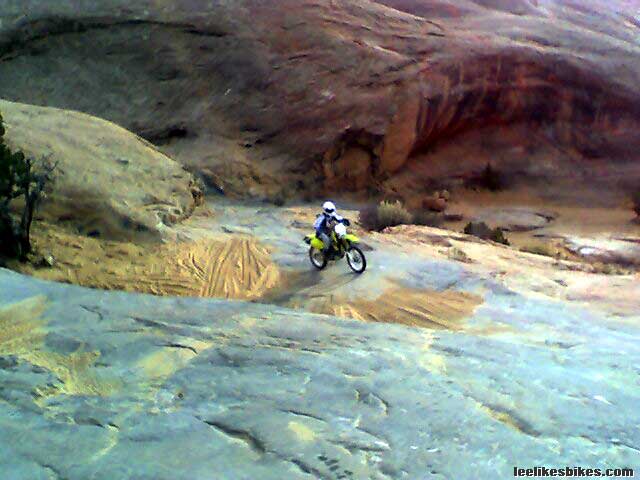 Diane climbs Poison Spider. She's about to roll up a 50-degree slope. … Moto photos shot with a camera phone by Gregor Halenda, who is a big time bad ass New York photographer. www.gregorhalenda.com
Morning moto: The day started pretty mellow. I parked The Brick in town, and we rode Fins & Things near Slickrock. What a fun mix of sand, loose rock, slickrock, first gear, second gear and third gear. One moment was pure trials, the next pure DH, the next a hare scramble. So fun. Sacha, his wife Diane and I then rode the Porcupine Jeep trail: pretty flat, with lots of rock ledges and nice flow. We took the other half of Fins & Things back toward town. My notion of steep has been recalibrated; some of those pitched much have been 50 degrees — but with power and balance it's all possible.
Lunch in town.
The afternoon plan: Town to Poison Spider to Golden Spike to Gold Bar to Gemini Bridges to Highway 191 back to town. About 60 miles. Sacha, Gregor, Diane and me. We left the cafe at two something. Tick, tock.
| | |
| --- | --- |
| A trail spur ends at this 1,000-foot cliff. No signs, no nothing. Don't charge anything out here. | Team Fortunate: Me; Diane, who rocked this super-gnarly trail; Sacha, with the MacGyver repairs; Gregor, with the clever ideas. |
The flow: These trails are amazing with an engine and a foot of suspension. Steep, sandy, rocky, up, down, flowy, violent, insane and scenic in equal measure. We brapped along pretty slowly, keeping the group together and trying to save energy — since we had no map and no clear idea what we were in for.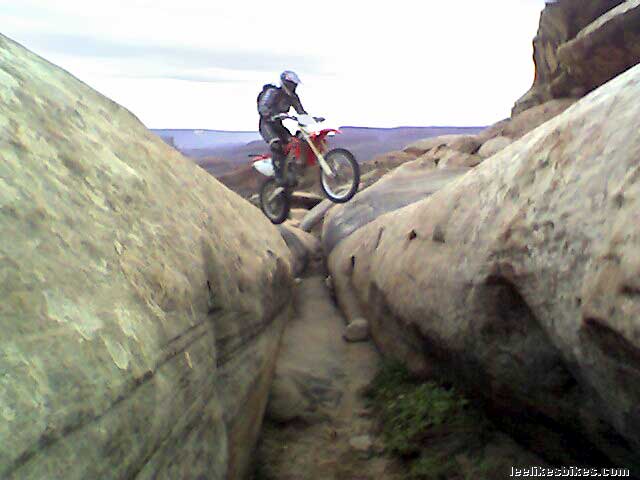 Sacha crosses the Pit of Despair on my CRF450X.
Pit of Despair: Imagine a sheet of rock the size of a football field, tilted about three degrees, with a crack running end to end. This crack is about five feet wide from lip to lip, two feet wide in its throat and anywhere from three to 10 feet deep. It must be jumped. Gregor and Sacha got their KTM 525s across no problem, then Sacha tried it on Diane's Suzuki DRZ 400. I still can't believe this happened:
Sacha blipped the throttle, popped a wheelie, sailed over the gap and landed hard. The soft suspension crumpled, and he got knocked to one side. The bike reared upward (with the throttle on), pulled a 180, flipped upside down and FELL INTO THE PIT!!! Pieces of headlight exploded outward. We were all dumbfounded for a sec. Sacha: "That was good."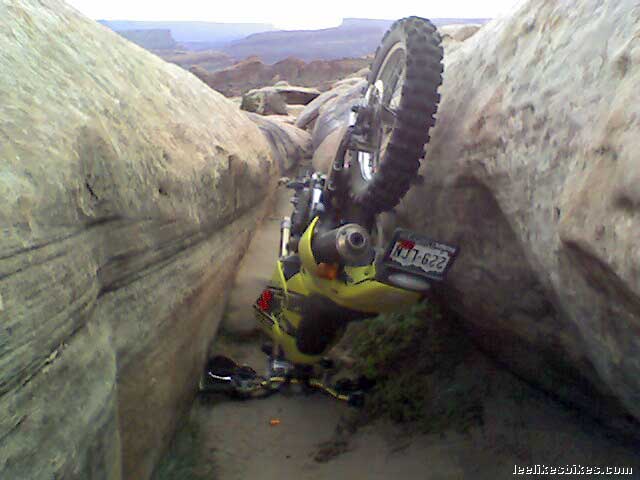 The wayward DRZ. It crossed the pit at the tire marks; here's where it wound up.
Crazy! We lifted the yellow beast into the gathering darkness. No light, unknown miles to go. Time to get rocking.
It could be you: I realize now that when you ride with a group, you might need to save another rider, and no matter how cool you think you are, another rider might have to save you.
We wiggled through gaps, braaped up steps and dropped off ledges. The trail was getting rougher, and a passing Jeeper said we were 7 miles from the dirt road — and about 30 more miles from town. I cleaned a two-step section that's famous for wrecking Jeeps. As I waited for the others, Gregor observed, "Someone's in trouble." A big puddle of oil shone on the rock. I thought, "That sucker is bummed!" then I realized I was standing in an identical puddle.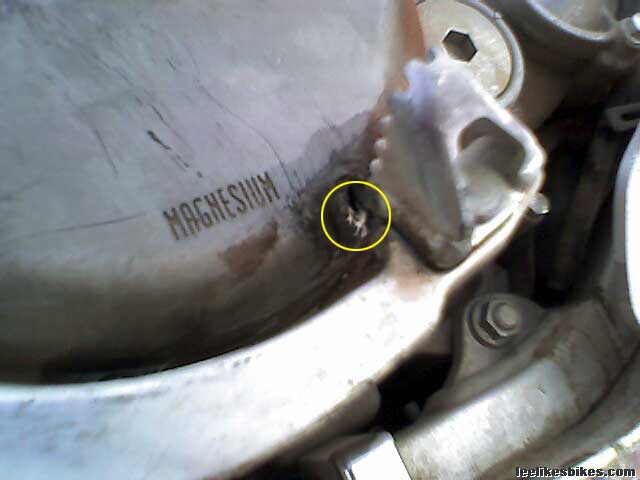 Magesium is light, but it's very brittle. At least it burns spectacularly …
Somewhere along the line, something poked my rear brake pedal through my clutch cover, and the 5mm hole was very permissive with my tranny oil. Yikes. Gregor and Diane kept going because of the light situation. Sacha and I laid out our tools and started thinking. I removed the cover. Sacha rolled up a piece of rubber glove like a joint. I looped a piece of electrical wire around the latex and pulled it through the hole, like a tire plug. We trimmed the ends the best we could, put it all back together and got riding. Sacha is nuts, but he can be very handy.
I hit the first obstacle too tentatively and stalled. I hit the next too fast and looped out. "Stop and count to 10," Sacha said. "I know you're stressed, but we need to be smooth." Great idea. We got back on, riding with half sunlight and half headlight. We both clicked into an extraordinary flow: Quick, clean, smooth. Fun — if I wasn't so worried.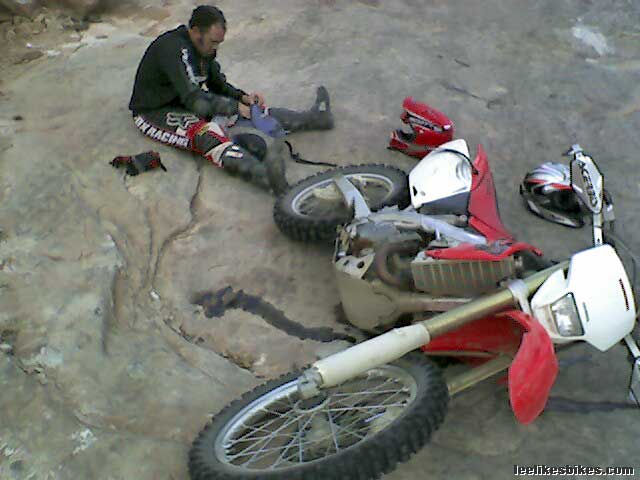 Lee Used to Like Bikes dot com. Check out the dejected body language.
When we caught the rest of our party, it was D – A – R – K. We formed up: Gregor in front, then the lightless Diane, then Sacha, then me with my bright light. We took the easiest lines, not talking, just riding as one organism. 1st and 2nd gear for over an hour, everyone dancing in each other's lights. Surreal. Mesmerizing. We cruised into town and my bike gave up. "SCREEEEETCHH!!!!" said my clutch. I hid the Honda CRF450X
behind a bush and got a lift to The Brick.
An hour later, soaking in the hot tub and a Chimay beer, we all felt super grateful. 1. As a group we had the skill, endurance, cool heads, good ideas and teamwork to get us through this. 2. We got lucky. We barely had enough tools and time. I was prepared to sleep on the trail and jog out in the morning. That would have sucked.
The desert is serious business, especially on a moto. Next time we'll all have tools, time and a plan.
https://www.leelikesbikes.com/wp-content/uploads/2018/08/leelikesbikeslogoheader.jpg
0
0
leelikesbikes
https://www.leelikesbikes.com/wp-content/uploads/2018/08/leelikesbikeslogoheader.jpg
leelikesbikes
2006-11-27 20:50:34
2006-11-29 11:31:15
Epic: Moab 2006