Highlights from a hectic week

I'm working like a pig, but at least I'm rolling in mud.

---
Work (but cool work)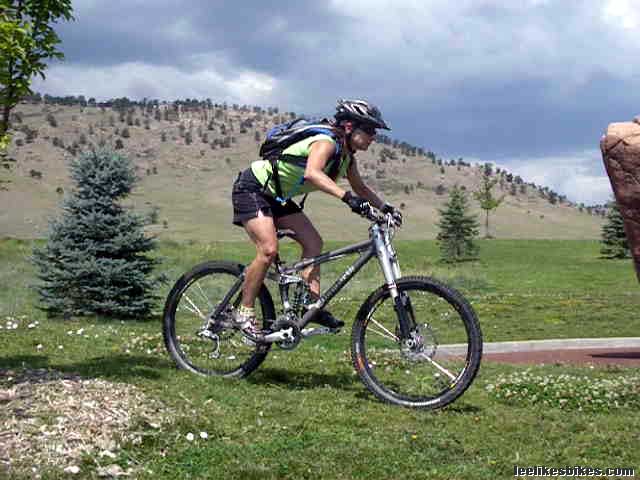 Lisa gets into attack position in anticipation of a two-foot drop, which she nailed perfectly.
– Delivered a pump track spec to a summer day camp on the East Coast.
– Wrote web copy for a major component maker.
– Wrote most of an ebook about pump tracks.
– Wrote a column for the Boulder Daily Camera.
– Met with a state park to design a huge pump track/dirt jump area. Yes!
– Did private coaching sessions with:
– four vet expert downhillers,
– two teen girls and a dad who learned how to dirt jump,
– a promising junior beginner gravity racer,
– a court stenographer who learned how to do drops,
– a type-A overachieving career woman: "Mountain biking is frustrating because I'm not good at it — and I'm good at everything,"
– Rocked the weekly Lee Likes Bikes DH camp (see below)
Happy birthday moto
To celebrate Sacha's birthday we went for what was supposed to be a little moto — a three hour tour, if you will. I made a funny turn and we found a bunch of new trails, which is cool, but then we got lost, and then the lightning started.
We hid in a little valley for a while, then we raced along a dirt road to the van (we thought). But noooo … we wound up at Gold Lake Resort, which was fine 'cause it's a nice place, and we all drank hot chocolate until the storm petered out.
| | |
| --- | --- |
| Rocky Mountains. What a creative name. | Alex clears the crux move, thanks in no small part to his new Rekluse automatic clutch. |
Lee Likes DH Camps
Yesterday was the second of six Wednesday DH sessions with my dudes. We hit Keystone, and we had lots of fun before the weather turned poopy. The trails are super sweet these days; new berms have made most of the flat turns semi-idiot proof, and new jumps have added a definite zazz to the whole Keystone experience.
| | | | |
| --- | --- | --- | --- |
| Dudes: Neil, Ben, Matt, Dylan (stop that), Joey and Zach | Zach catches his first-ever backside on a big jump. Now it's Game On! | Yosei with a clean exit from a moist sweeper. | Me with a little tripod action. Equal drift from front tire, rear tire and shoe. |
Tomorrow I have another private clinic, then I'm off to Telluride for some Mountain States Cup action. Free DH clinic, work with the Kona kids, coach my dudes and hopefully race Super D and DH. Full report next week.
Have I said BRAAAP!!!?
https://www.leelikesbikes.com/wp-content/uploads/2018/08/leelikesbikeslogoheader.jpg
0
0
leelikesbikes
https://www.leelikesbikes.com/wp-content/uploads/2018/08/leelikesbikeslogoheader.jpg
leelikesbikes
2006-07-27 08:04:10
2006-07-27 08:10:29
Highlights from a hectic week