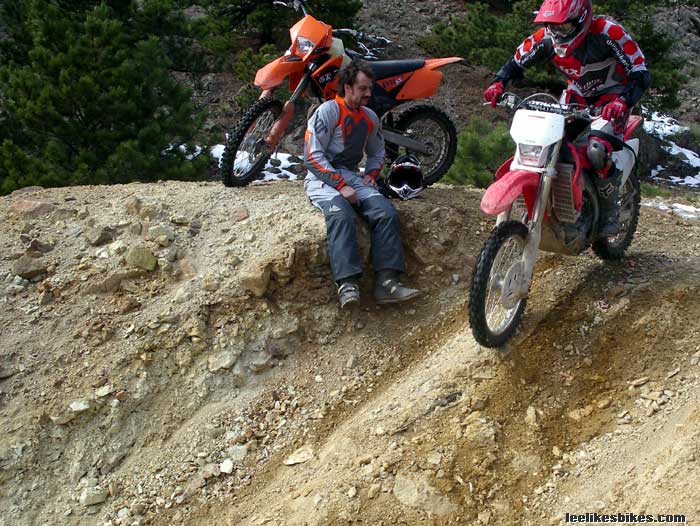 Hey Lee,
it's Simon again. Glad you liked the pics from Sea Otter, I can see one in your homepage!
Time for a moto question: I've recently tried a moto and I'm super stoked on it. Problem is, I'm a total beginner. I'd like a simple, easy motorbike that I can learn on, ride trails on and also do a bit of track riding. What could be a good choice? I'm pretty big in size, 6'3″ and about 200 pounds, so I think a tiny, 4-stroke 125cc would be a bit too mellow for me. Some friends say that the best would be a 400cc 4-stroke enduro bike, like the Honda XR400, which has a more manageable engine than, let's say, a 250cc 4 stroke. What you think?
It wouldn't hurt if the bike could be street-legal, because here in Rome it could be of great use, at least in fair weather.
Thanks for helping, keep up the great work.
Simon
---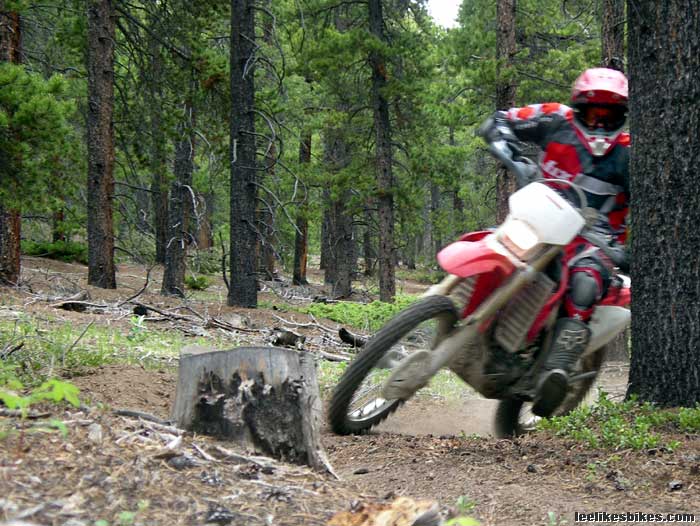 This is so fun! Me and my Honda CRF450X in our local mountains. The license plate means I can do this from home.
Hey Simon,
Thanks again for that photo (the one at Sea Otter, in the yellow jacket). I love that shot; it makes me look I know how to ride … Dude: That was my second place semipro qualifying run. Steve Peat was in the other lane — that sure didn't slow me down!
Ah yes, welcome to the beautiful world of braaap.
Just pick one: Any moto is better than no moto. Any moto will be fun. Any moto will teach you how to ride. Did I mention that any moto will be fun? Just make sure A) the bike is reliable and B) it's not so gnarly that you're afraid of it. If you spend whatever you can on a well-maintained used bike, you'll be stoked. That said, here are some more opinions.
Be practical: The more often you can ride your moto, the better you'll get (and the more fun you'll have). A street-legal trail bike makes a lot of sense. It won't jump like a motocross bike, but it'll work very well on the street and trails.
Go big: Since you're 6'3″, a mini bike like a Yamaha TTR125 or Honda CFR150 is out of the question. You'll need to go full size.
When in Rome: I don't know what the Roman laws are regarding street legality, but I've spent some time in that city, and those streets are Insane! Dude: The scooters own the place! So I assume you can title just about any motorcycle.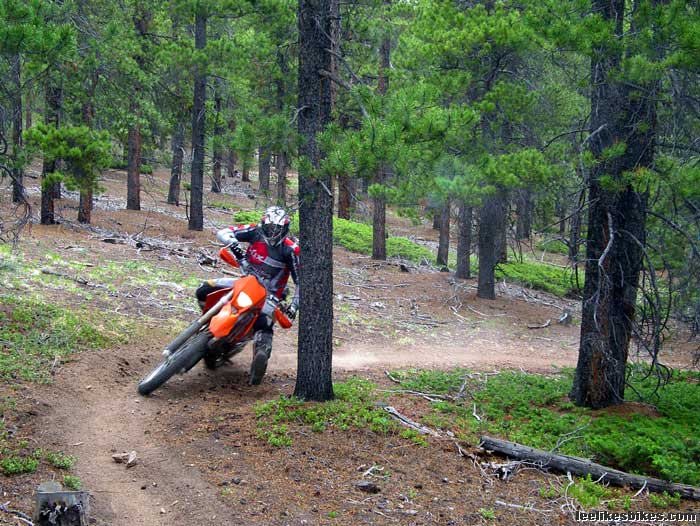 Sacha sure enjoyed his street legal KTM EXC 525. Now he's rocking the Dad style.
Features to look for: Electric start (a life safer on tough trails). Headlight and tail lights. High-end, adjustable suspension. Quiet pipe. Smooth, predictable power. Red and orange seem to be good colors.
Lighter is better: When I jumped from a mountain bike to a moto — a 200-pound leap — I thought a few extra pounds on the moto wouldn't make any difference. Well, my 250R is about 50 pounds lighter than my 450X, and that's a HUGE difference! XRs are fantastic bikes, but you'll love the lightness of a CRF … or a KTM trail bike …
You can handle a modern 250 4-stroke. Especially one that's tuned for trail riding. A Honda CRF250X is a great bike, and it's easy to make street legal. KTM makes amazing bikes in this category. Fireman Jeff's wife and son both ride the new KTM XC250FW, and they love it. Jeff rides a 450EXC, and he's always borrowing the 250s.
In my opinion you should rock a modern 250 4-stroke trail bike. It'll be mellow to learn on, and you can rip it like crazy. When you can out-ride your new Honda or KTM … no, never mind … you never will. Rip it up!!!
Also read: First moto for MTBer
---
https://www.leelikesbikes.com/wp-content/uploads/2018/08/leelikesbikeslogoheader.jpg
0
0
leelikesbikes
https://www.leelikesbikes.com/wp-content/uploads/2018/08/leelikesbikeslogoheader.jpg
leelikesbikes
2007-11-21 19:46:58
2007-11-21 19:50:31
Good moto to learn on?