Get your MTB skills in Atlanta, GA
Hi all, I'm planning two skills clinics in Atlanta, GA over the Thanksgiving holiday: Friday, Nov. 23 and Saturday, Nov. 24.
This is a great chance to learn MTB kung fu, plus we'll have a great time.

Studying in the dojo in my back yard.
Your teacher
Hi I'm Lee, and I like bikes. Some things I've done:
• Wrote the books Mastering Mountain Bike Skills, Teaching Mountain Bike Skills, Pro BMX Skills and Welcome to Pump Track Nation. (Look at the right side of this page.)
• As the skills development director for NICA, the national high school mountain bike league, I create the curriculum and teach it to riders, coaches and the coaches who teach coaches how to teach riders.
• I work with riders of all style and levels, from beginners to world champions. I do most of my coaching at home in Boulder, CO, but I grew up in SoCal and I'm stoked to teach there.
Learn more about my teaching approach.
Who this clinic is for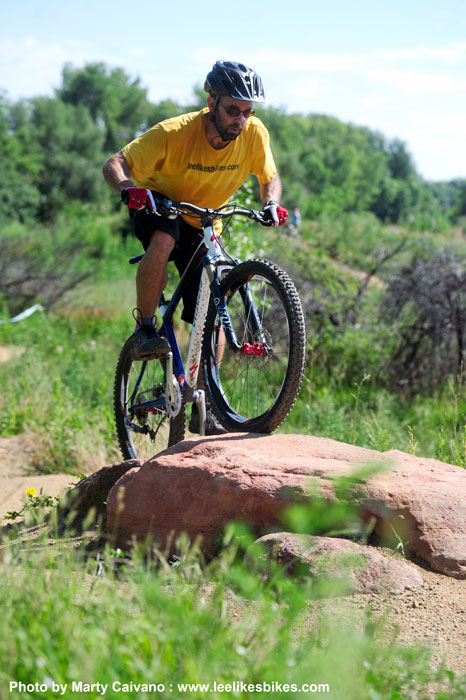 Technical climbing at Valmont Bike Park in Boulder, CO.
Any mountain bike rider who wants to ride smoother, safer and faster in all sorts of terrain. You should have at least decent bike control and confidence. If you're already good, you'll get way better. Seriously.
You should be old enough to drive. Email me for exceptions.
The plan
I am planning two separate sessions. One is Friday, Nov. 23; the other is Saturday, Nov. 24.
9 a.m. to 4 p.m.
I'll tweak the program to suit the riders and terrain. Here's the basic plan.
In the morning we'll hit core skills:
• Position
• Braking
• Cornering
• Going up and down things
• Pumping terrain
We'll take a quick lunch break (BYOL) then we'll apply our new skills on the local terrain.
My Oct. 20 session in SoCal used the same structure on some pretty cool terrain. Check it out: Tackling the gar in SoCal
Here's a little vid shot by one of the rippers:
Location
To be announced asap. It will be in the Atlanta area.
Cost
$300 per rider. Six riders max.
Sign up
Use this Paypal button to pay with Paypal balance, credit card or bank account. I'll email details before our session.
Questions? Email lee@leelikesbikes.com
---
https://www.leelikesbikes.com/wp-content/uploads/2018/08/leelikesbikeslogoheader.jpg
0
0
leelikesbikes
https://www.leelikesbikes.com/wp-content/uploads/2018/08/leelikesbikeslogoheader.jpg
leelikesbikes
2012-11-08 21:34:58
2012-11-08 21:36:20
Get your MTB skills in Atlanta, GA