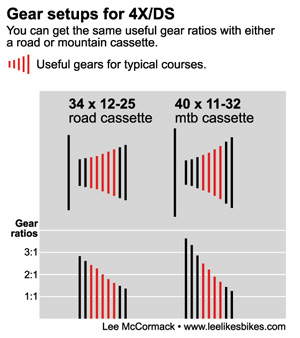 Hey, Lee.
First-Thank you and thank Brian for writing that book! It's really made me a much better rider and racer.
Second: I'm getting ready for the 2007 4X racing season, and I'm thinking of changing my rear cassette from a MTB (11-32) to the road cassette (11-25), but I'm not sure why I'd do this, other than your book suggests this. I just want to make a good decision before I throw down the cash!
Thank you, Lee!
Bob
The more you click, the more I can post. Lee Likes Groceries dot com!
---
Hey Bob,
I have indeed recommended a road cassette in the book and on this site, but I've rethought my position.
A 34t ring with a 12-25 Ultegra cassette yields the same useful gears as a 40t ring with an 11-32 XTR cassette. Jon Watt here in Colorado runs the latter, and that's what got me thinking. Each setup seems to have its advantages:
34t x 12-25
– More ground clearance. Great for urban/skate park.
– Closer ratios. Easier to pull the next gear.
– Lighter. ~10% less material.
Who it's for: The clearance is nice for urban/skate. Closer ratios help riders who aren't super powerful. If you don't break chains, this will work fine. I currently run this setup on my P3 and SX.
40t x 11-32
– Less chain tension. The bigger ring reduces chain tension by about 15 percent. This is a real advantage for strong 4X racers. I've snapped chains out of the gate, and it sucks!
– Fewer shifts. You access the same range with one fewer shift.
– A little less chain friction. Less tension plus less bend to get around the bigger gears.
Who it's for: Strong racers. The reduced chain tension is a real advantage. The wider shifts are fine if you have the power.
The "useful" gears are based on my experience. Weaker riders will need easier gears; stronger riders will want taller gears.
Lee Likes Bikes — Nerding out since '03.
https://www.leelikesbikes.com/wp-content/uploads/2018/08/leelikesbikeslogoheader.jpg
0
0
leelikesbikes
https://www.leelikesbikes.com/wp-content/uploads/2018/08/leelikesbikeslogoheader.jpg
leelikesbikes
2007-02-04 10:23:29
2007-02-04 11:43:45
Gearing for 4x/DS racing