FOX rear shock on Enduro SL?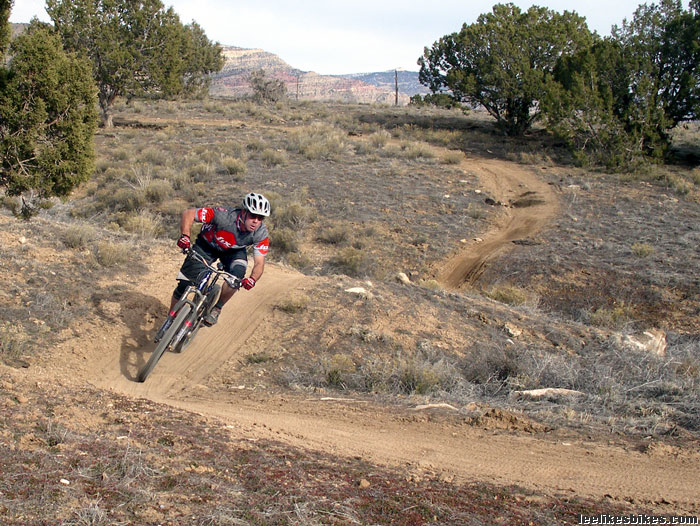 Hi Lee,
I heard a rumor that you are running a Fox DHX-Air on your Enduro SL. I was wondering if you wouldn't mind giving some info on that rear shock.
What size i-2-i and stroke are you using? Any special hardware or adapters needed to run that shock instead of the stock AFR shock? Are you running it in the low/slack or tall/steep setting? And, last and most importantly, how does it ride? Have you had a chance to compare it to the AFR shock from Specialized?
Thanks a lot,
Dan
The more you click, the more I can post. Lee Likes Groceries dot com!
---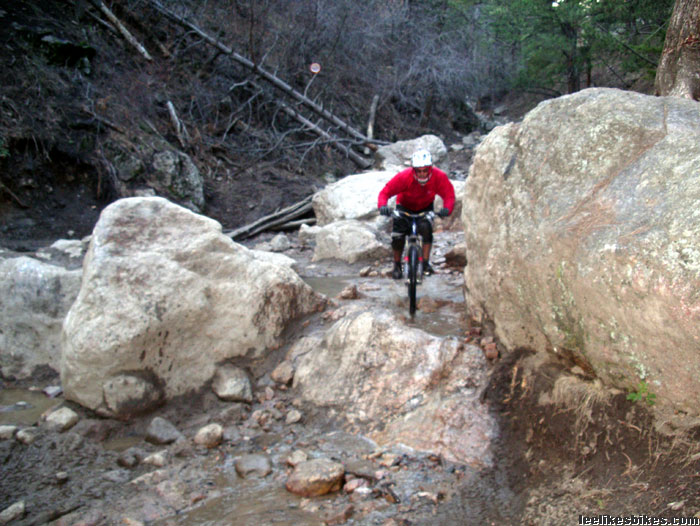 A lot of my riding is pretty DH-ish. In these conditions, the SL with RP23 rocks. But so did my old S-Works Enduro with a PUSHed RP3…
Hey Dan,
I do run FOX suspension on my 2007 Enduro Pro, but I rock an RP23 — not a DHX Air.
Dimensions. I use the stock measurements.
Hardware. To tell the truth, I got a box from FOX, and Lars at Trail Head Cyclery installed the shock for me; that shop has every conceivable spacer. If you order this shock, make sure you get the hardware too.
Setup. Low/slack. Always.
The difference. Switching from the Specialized AFR to the FOX RP23 dramatically changes the way the bike rides. It's a HUGE difference! The AFR makes the bike quick, responsive and XC-ish; it pedals like a Stumpjumper. The RP23 makes the bike plush and more DH-ish — like a standard (Non-SL) Enduro.
I run a FOX FLOAT 36 in front and a FOX RP23 in back because 1. They work very well and 2. I don't have Specialized suspension. I tested a few prototypes and sent them back. Waiting for the 2008 spec …
If you want a lazer-quick, super-capable trail bike, roll a Enduro SL with the stock Specialized suspension. If you prefer a plusher bike, rock a standard Enduro with FOX suspension.
DO NOT pay for an Enduro SL then switch the suspension. That would be silly.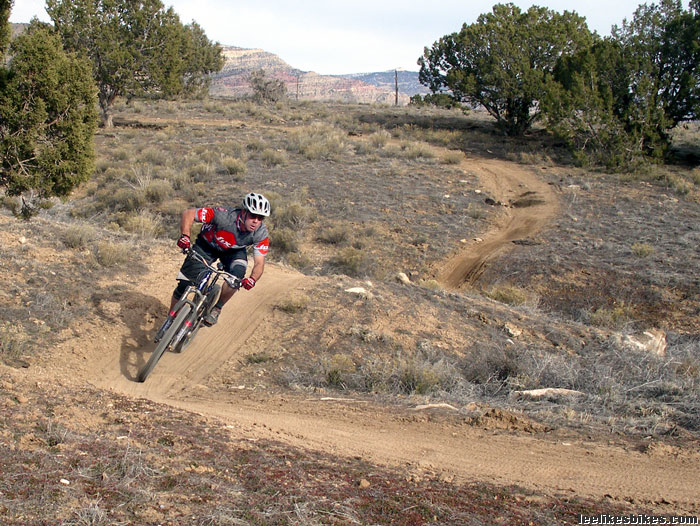 On smoother trails like Kestle Run in Fruita, the stock Specialized suspension would make the bike feel much quicker. But this doesn't exactly suck!
https://www.leelikesbikes.com/wp-content/uploads/2018/08/leelikesbikeslogoheader.jpg
0
0
leelikesbikes
https://www.leelikesbikes.com/wp-content/uploads/2018/08/leelikesbikeslogoheader.jpg
leelikesbikes
2007-06-11 14:13:15
2007-06-11 14:14:11
FOX rear shock on Enduro SL?