FOX Racing Shox factory tour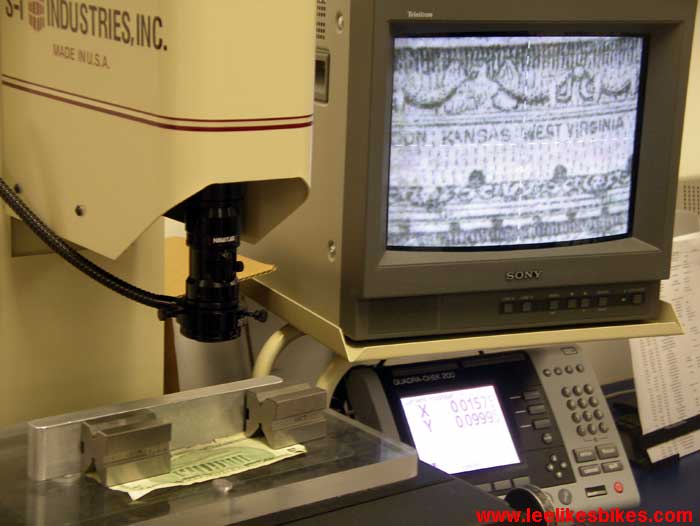 Yesterday I visited some friends at FOX Racing Shox in Watsonville, Calif., and they gave me the sweet factory tour.

It's quite the operation. The things that struck me most:
– It's all about process. The assembly floor is a study in manufacturing best practices. Every step — every inch, every fixture — has been thought out to maximize efficiency.
– It's all about quality. FOX tests quality at every stage, from checking raw materials and outsourced parts to measuring components to fatigue-testing complete forks and shocks. They go to a LOT of trouble to make sure everything is dialed.
Receiving
| | |
| --- | --- |
| Everything that enters the factory — from raw billet to magnesium lowers — starts with a blue sticker. | Raw billet awaits its fate. Things are slowing down now; a few months ago, this area spilled over with raw materials. |
Fabricating
| | | | |
| --- | --- | --- | --- |
| Machines are arranged in cells. Each cell has all the equipment required to make a part, for example a Float shock body. The less a part has to move around the factory, the better. | Lower shock bodies come in rough (left) and gradually get milled into final shapes. | This robot cranks out shock shafts. The factory runs around the clock. | California is the toughest place to manufacture. By law, all shavings and fluids are recycled. |
Assembling
| | | | |
| --- | --- | --- | --- |
| What are we building today? The yellow bins contain all the parts, and the schematic shows how they all go together. | Parts is parts. In this case, shock pistons. | Every fork gets mounted in this dyno, and its settings are checked. Squish, squish. | Forks "cure" for 24 hours then are checked for leaks. The oil contains a dye that glows under a special light. Fancy! |
Testing
| | | | |
| --- | --- | --- | --- |
| Parts are pulled and checked in the fabrication cells. Note the instructional sheet and the calipers. | The testing room is kept at a constant 68 degrees and contains lots of expensive tools, like this measuring doo-dad. Here's a side view of a fork piston. With tolerances down to 1/1,000 of an inch, you know it's all about precision. | This magnifier can spot tiny burs on metal, or it can zoom way in on a $5 bill. We zoomed in on the individual paper fibers — turns out they're 1/1,000 inch thick. | I double-checked this cutout. Seems to work! |
Special thanks to Mark Fitzsimmons and Elayna Caldwell.
https://www.leelikesbikes.com/wp-content/uploads/2018/08/leelikesbikeslogoheader.jpg
0
0
leelikesbikes
https://www.leelikesbikes.com/wp-content/uploads/2018/08/leelikesbikeslogoheader.jpg
leelikesbikes
2006-09-14 17:04:45
2006-09-14 17:08:29
FOX Racing Shox factory tour