Flat pedals, shoes and bike shop?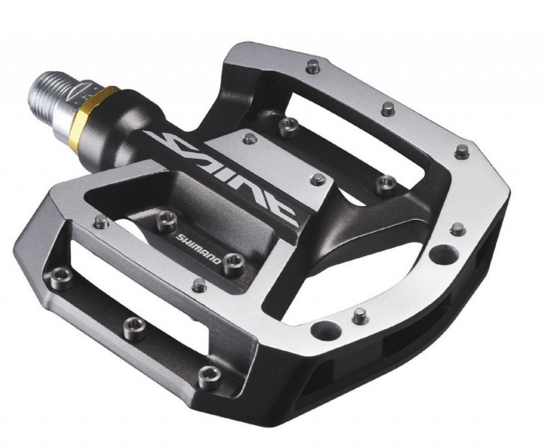 Hi Lee,
I just read over Pump Up the Base and am fired up to get going. In particular, I had been thinking of giving flat pedals a try for a while, and this is a great excuse to do so. Do you have a type of flat pedal and flat pedal shoes you'd recommend, or are they all pretty similar?
Lastly, is there a local bike shop that you'd recommend for shoes and pedals. I find most shops are real good with bikes and parts, but there's not a lot of expertise with shoes out there. I've got weird feet and need more help than most. Thanks for you your help, and thanks for the REVO referral. I'll be giving them a call soon.
Best,
Dave Farrell
---
Dave!
Thanks for buying the Pump Up the Base off-season training program. I've been on that program for a few years now, and it works extremely well. How well? When I started PUTB I was maintaining 200 watts. Now that number is closer to 300. Plus my sprint power is up too. So welcome to PUTB Nation!
Flat pedal shoes
Right now Five Ten is the best, period. When I say best, I mean stickiest and most specifically made for pedals. Five Ten makes a wide range of shoes for various riding styles.
If you have funny feet, as I do, you might consider a non-bike shoe.
Any shoe with a relatively smooth, sticky sole works great. Vans and other skate shoes are still legit. I've had success with running shoes and especially with "approach" shoes. As a matter of fact, the first bike-specific flat pedal shoe was a slightly modified Five Ten Mountain Master. The Five Ten Guide Tennie also looks good, but the toe is too narrow for me.
When I ride flats off road, I wear some old Five Tens. Day to day and when I ride flats on the road or trainer, I wear an old Montrail mountain running shoe. It sticks to pedals well, walks the dog well and stomps shovels well. Its big toe box fits my funny toes.
Spinning 200 rpm on flat pedals with my Montrail mountain running shoes:

I have no affiliation with Five Ten or Montrail.
Flat pedals
I've ridden models from $30 to $200, and, honestly, they all work pretty well — especially with great shoes.
As bike genius Lars Thomsen, owner of Trail Head Cyclery in San Jose, CA says, "Great shoes and so-so pedals work well. So do so-so shoes and great pedals."
Look for a price and color you like, with lots of adjustable traction pins. If you're not doing crazy tricks, you want the stickiest connection possible, which is the maximum number of pins, as long as they go.
My current favorite flat pedal is the Shimano Saint. It's not the most fashionable option (what no purple?), but it's beautiful, functional and will last 20+ years. Seriously. I still ride my original Shimano DH pedals.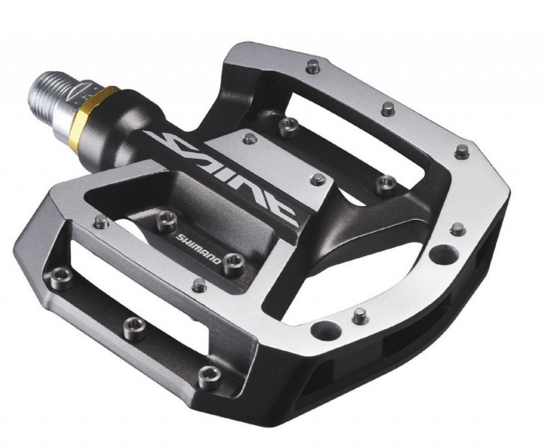 Shimano Saint flat pedals. I do have an affiliation with Shimano (thank goodness!).
Another fave pedal is the Specialized "P.Series Pedal Dirt." Not a great name, but light weight and incredible stickiness.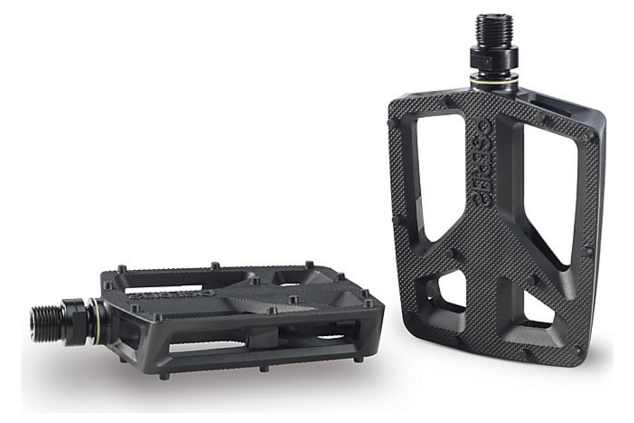 I have an affiliation with Specialized, but I paid for these P.Series Pedal Dirt pedals.
Bike shop
For the best selection of flat pedals and shoes in the Front Range, go to The Fix Bike Shop in Boulder.
In the Bay Area, go to Trail Head Cyclery in San Jose.
I have longstanding relationships with both shops.
For help finding shoes that fit unusual feet, check out Boulder Running Company in Boulder, Littleton, Colorado Springs, and more locations. They were super patient, and they matched me to the Montrails.
REVO Physiotherapy and Sports Performance
In my experience, the most dialed physical therapy and performance clinic in Boulder. They've helped me — and lots of my clients — in a big way. If you have any pain, or you want to avoid it, check out REVO.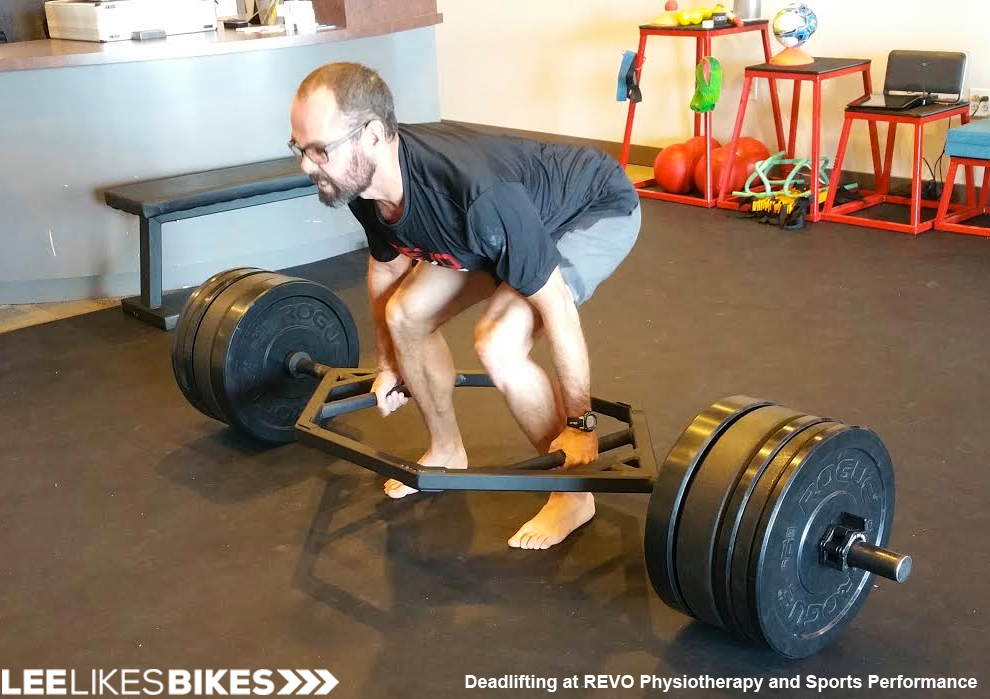 Getting stronger — with professional supervision! This can't hurt the wattage.
Have fun!
Lee
---
Know more. Have more fun!
Join the leelikesbikes mailing list:
---
https://www.leelikesbikes.com/wp-content/uploads/2018/08/leelikesbikeslogoheader.jpg
0
0
leelikesbikes
https://www.leelikesbikes.com/wp-content/uploads/2018/08/leelikesbikeslogoheader.jpg
leelikesbikes
2015-12-28 10:39:53
2015-12-28 10:39:53
Flat pedals, shoes and bike shop?