Fitness bike for a big rider
Mr McCormack: My son in law wants to start biking for weight loss and fun. He weighs over 350 lbs and is 6 ft tall. Can you recommend a bike?

Cost is an issue. He has a physical job requiring heavy lifting but needs more exercise to lose weight. He has a two year old son and another baby due in May and is motivated to be more avtive for his children.
Thank you, Mary Jo
---
Hi Mary Jo,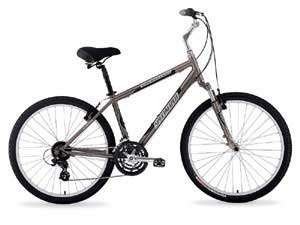 Specialized Expedition Sport
Bike riding is perfect for big people. It supports your weight until you burn it off, plus it's SUPER FUN! I suggest a "fitness" or "comfort" bike.
It should have:
– A very upright riding position, with a high-rise stem and handlebars.
– A big, comfy seat.
– Large tires.
– If it has suspension, the spring or air pressure have to be set up for his weight.
– Buy from a good local shop, and INSIST that they set the bike up for him. This bike MUST feel good to ride.
Example: The Specialized Expedition Sport retails for $330. Trek and other big companies make similar bikes.
http://www.specialized.com/bc/SBCBkModel.jsp?spid=12336
Tell him to start with short rides — 15-20 minutes at a time. He doesn't have to beat himself up; just get out and move around. If he can do this every day, the pounds will steadily go away. When I started riding 16 years ago, I lost over 50 pounds this way.
Good luck, and please tell me how it goes!
— Lee

lee@leelikesbikes.com
https://www.leelikesbikes.com/wp-content/uploads/2018/08/leelikesbikeslogoheader.jpg
0
0
leelikesbikes
https://www.leelikesbikes.com/wp-content/uploads/2018/08/leelikesbikeslogoheader.jpg
leelikesbikes
2006-03-16 11:17:58
2006-03-16 11:18:51
Fitness bike for a big rider