Faster than I once was, slower than I'll be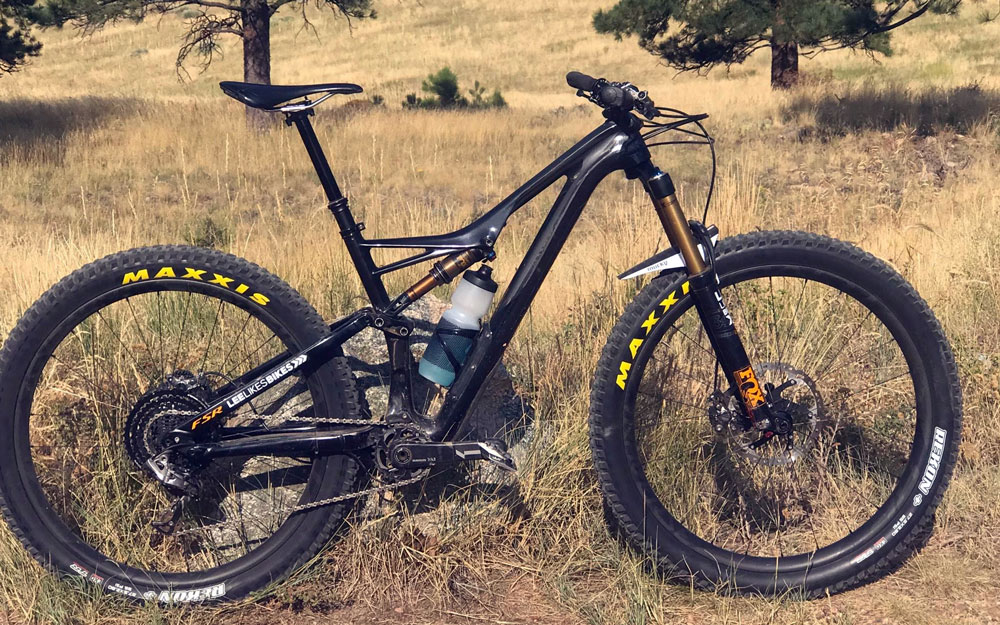 Last week the satellites told me I was riding slower than in past years, and that prompted me to ask if I am Slower than I once was, faster than I'll be? That doesn't appear to be true.
This morning. Tired and sore like always, but more. Yesterday, while I was on a tech support chat, I did 10 minutes on the RipRow at resistance 6 out of 12. Holy wow that'll work ya.
I felt like riding the 2016 Stumpjumper 6Fattie. While the 2019 Stumpy is an extraordinary bike, this one still rips. A couple days ago I swapped the 2.6 pre-Gripton Butcher/Slaughter (slow and sticky!) for a set of 2.8 Maxxis Rekons. Not sure how the faster-rolling tires will detract from the descents, but we'll find out.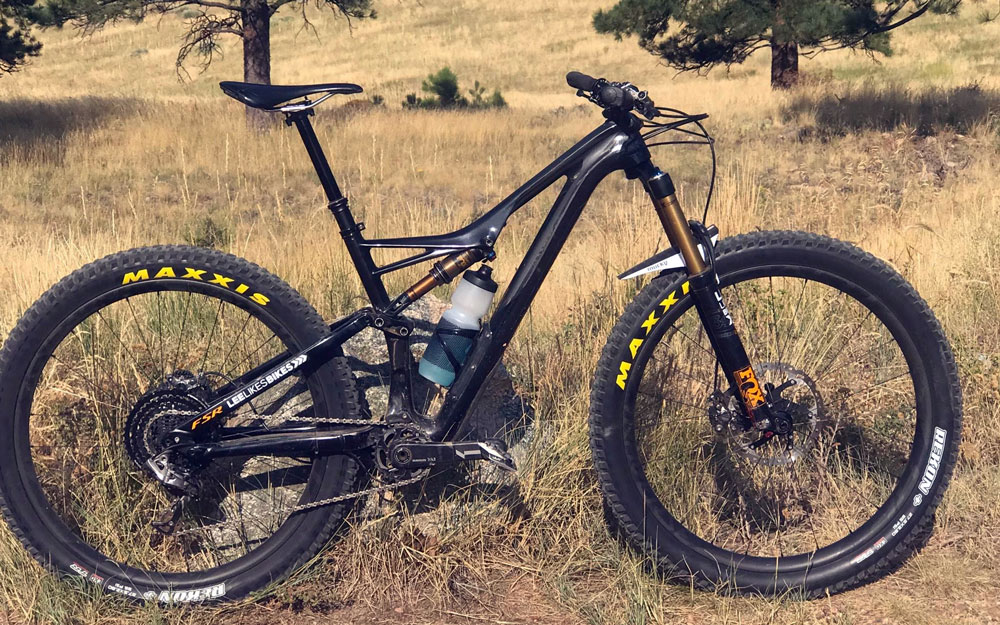 Because of time constraints, I parked at the bottom of Betasso Link Trail just outside Boulder. Spun up Sugarloaf Road very leisurely, took in the views, let my body open up. At the top I stretched my shoulders (no sense descending if they don't work), opened up the suspension and dropped the seat.
Link's a fun little downhill. Flowy at the top, rock/choppy through the middle then steep and serpentine near the bottom. It's a great suspension test, and it's a nice measure of bike/body/mind. Wednesdays are ideal because the upper loops are closed to bikes, and there's very little traffic.
Crank crank crank into the top, edge some flat turns, carve against a wall ride, then scallop a fading left into a section of rollers punctuated with rocks. I said this last time I rode this section on the Fuse, but "Wow this bike is so good!" Or maybe the trail is good, or maybe I just enjoy riding bikes down hills.
Tiny sprint into a rocky traverse then flick into Switchback #1 of 2. Classic enduro high line then falling into the next traverse. Wow! The bike is tracking and I feel great! Carry speed into the next straight, pump rock/rollers and carve a tricky left. Dang these tires work. They're less knobby than my normal Butcher/Minions, but maybe it's all the little working edges?
In the tech sections I'm going a lot slower than I need to. This bike, this "old" bike, this "lesser" bike than the Enduro, is working great, and I have plenty of leeway. Yet I'm disinclined to push.
I'm having fun.
Switchback #2 has a big outside line, around a tree, and I flick into it, and the bike — wow — it really is carving. Careful though the crux rocks, then back up to a nice speed. I know I'm performing a lot of work, but it feels pretty easy. I'm having real, honest fun.
Now it gets steep.
Brake, pump, turn, repeat. Down and down and down. Skim longer rock gardens, send the optional drop, make waves in the gnar, work every edge I have. Heart beating, lungs delivering, hips driving. Brake, pump, turn. Brake, pump turn.
And it's over.
Raise the seat, pedal easy around the van, turn off Strava and upload the ride. This was fun, and I'm stoked. Unlike last week, I won't let a "bad" result turn me off.
According to the satellites, I PRed the descent.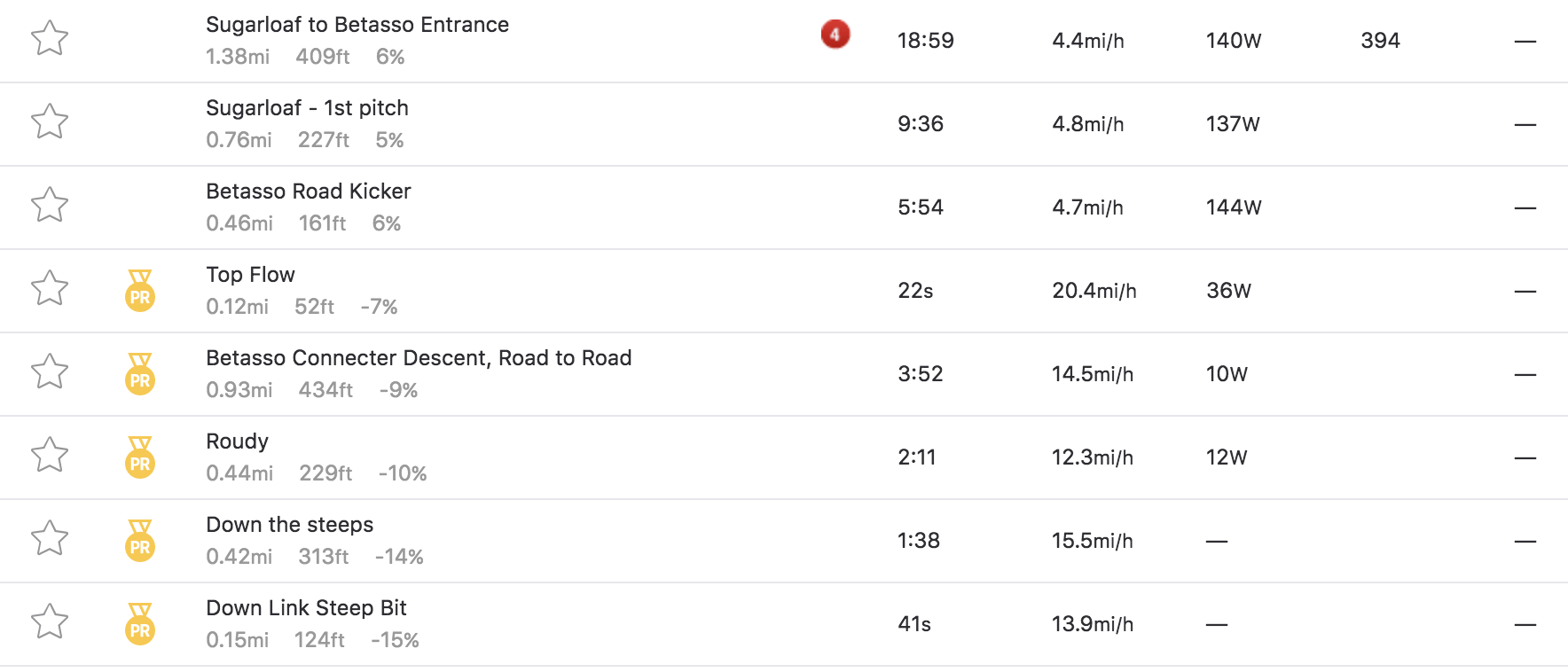 Faster than I once was, slower than I'll be.
How's your riding?
Lee
https://www.leelikesbikes.com/wp-content/uploads/2018/08/leelikesbikeslogoheader.jpg
0
0
leelikesbikes
https://www.leelikesbikes.com/wp-content/uploads/2018/08/leelikesbikeslogoheader.jpg
leelikesbikes
2018-08-15 11:10:57
2018-08-15 11:10:57
Faster than I once was, slower than I'll be