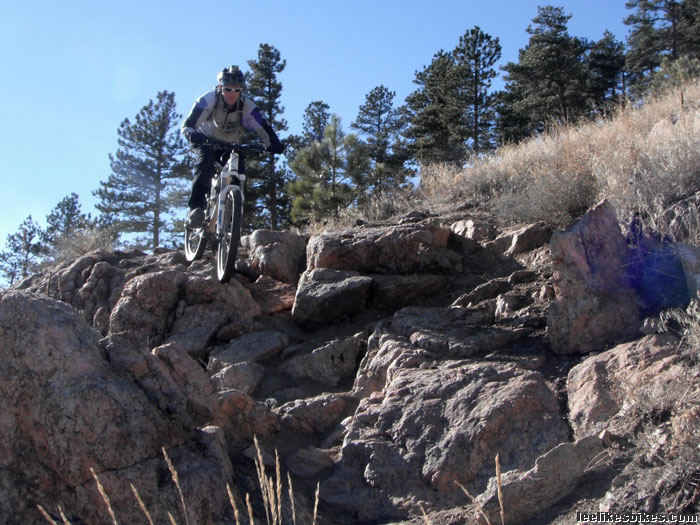 Lee,
well i told myself i would never ask the internet to pick a bike for me but i just cant decide any chance you can give me some insight ?
I am having trouble deciding between and Enduro Evo or the Santa cruz nomad. My lbs sells both brands but only stocks the the Evo at this time, they dont have either bike as a loaner so i cant ride either one on the trail.
I have never had the opportunity to ride anything other than a single pivot bike( currently on a cannondale rize) so i dont really know what to expect. The guys at the lbs are split down the middle some say the Nomad other say the enduroone guy said he didnt like the way the nomad handled out of the saddle but couldnt really elaborate . At at this price i though it would be wise to ask someone who isnt trying to take my money. Any thoughts pros/cons etc you could give me would be very helpful. this will be my primary bike and i spend most of my time riding at bootleg canyon in las vegas, with trips to AZ and UT
Stuart
---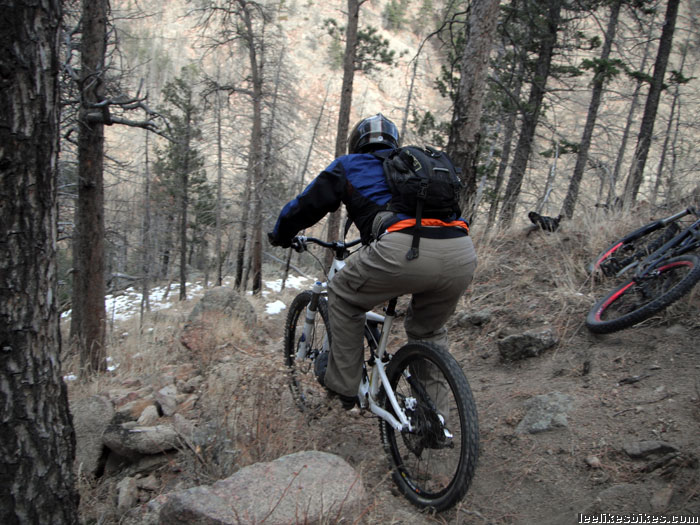 Me and my Enduro at Left Hand Canyon outside Boulder, C0. A DH bike is fun here, but the Enduro is the right tool for more of the mountain (especially since I'm no longer DH Racer Guy).
Hey Stuart,
It's OK man. I find myself doing lots of things I told myself I'd never do.
Consider:
1. As a Specialized test rider, I'd love to see you rock an Enduro. But:
2. Enduros and Nomads are both great bikes. At that price point from a major bike maker, you cannot go wrong.
3. Base Enduros and Nomads are very similar in terms of geometry and purpose. They are both pinner mini-DH bikes that can be pedaled uphill. Perfect for a place like Bootleg Canyon. Especially if you have no patience for shuttles.
Note: At the 2011 Nevada State Downhill Championships at Bootleg Canyon, Michael Sylvestri took 2nd in both pro downhill and chainless downhill — on a non-EVO Enduro.
4. How will your bike be built? An Enduro EVO is full-on DH with coils front and rear and even slacker geometry than base. Compared with a Nomad built with air fork/shock and trail-oriented components, the EVO is way more DH. Be sure you're comparing comparably spec'ed bikes. I think either an air or coil build will do the job.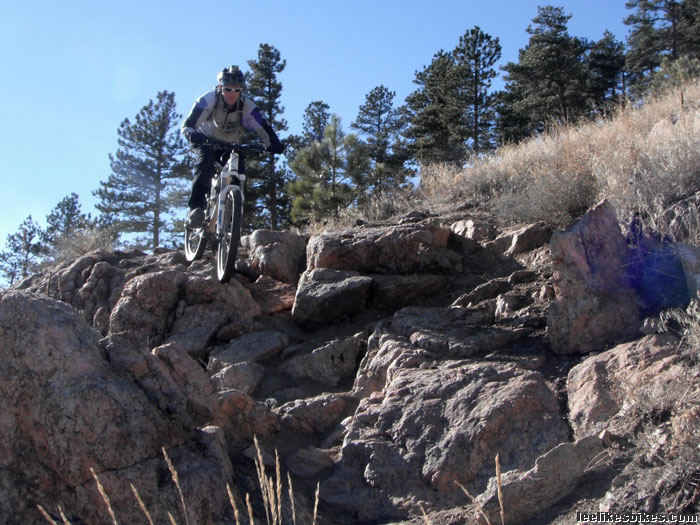 Russ Ranney rips LHC on his Nomad. This dude KILLS IT everywhere — up, down and sideways — on his Nomad. Video proof
5. The Enduro's FSR suspension is very active when pedaling and braking. This gives a consistently plush feel on the DH, especially when pinning it through rocks. The Nomad's VPP suspension is very efficient when pedaling, especially up that smooth dirt road. The interplay between the chain and suspension creates some stiffness when pedaling or braking in bumps. Both bikes pedal and descent quite well. Which is your style? If you don't know, flip a coin.
6. Is your hero Curtis Keene or Mark Weir (before he left Santa Cruz for Cannondale)?
7. What color do you like?
8. You're choosing between a great bike and … a great bike. Support your LBS. Make sure the suspension is dialed. Get strong. Learn to ride. Rip it!
---
Know more. Have more fun!
Join the leelikesbikes mailing list:
---
https://www.leelikesbikes.com/wp-content/uploads/2018/08/leelikesbikeslogoheader.jpg
0
0
leelikesbikes
https://www.leelikesbikes.com/wp-content/uploads/2018/08/leelikesbikeslogoheader.jpg
leelikesbikes
2011-03-22 10:19:46
2011-03-22 10:21:39
Enduro EVO vs. Nomad?