First ride: Rhyolite Bike Park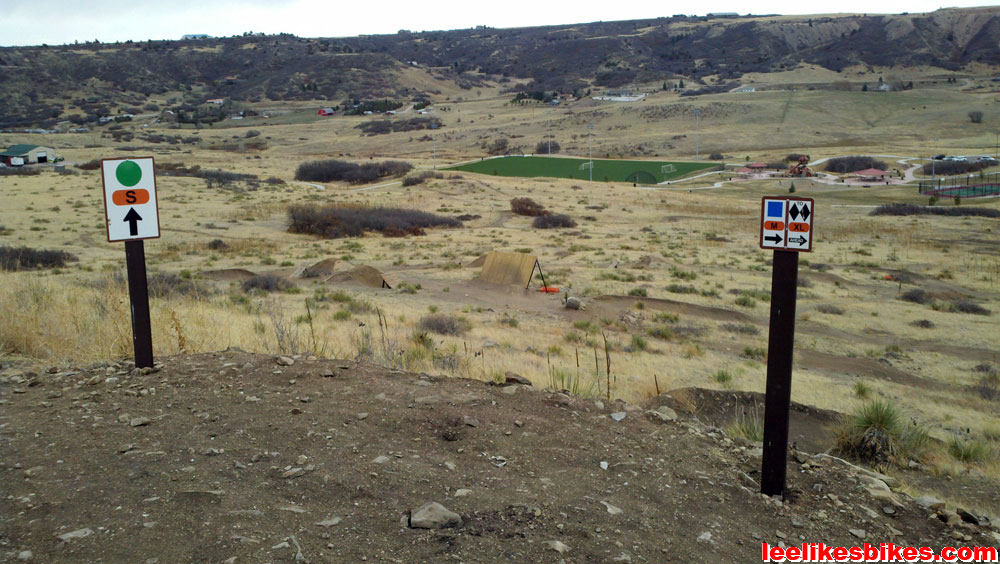 On my way home yesterday from USA Cycling in Colorado Springs, CO, I stopped by Rhyolite Bike Park in Castle Rock.
One hour. Eight laps. Rock!
---
Conditions: Windy!
Where is everyone? Local middle and high schools are on spring break, yet I was the only person out there. Was it the wind? Doubtful; kids don't care. Was it access? Maybe kids can't ride to the park from home.
Up: A mellow singletrack makes its way to the top. At cruise pace into a brutal headwind, I was doing the climb in 5:30 — a fine interval length for DH and XC, if you ask me. Once you get to the top, you can choose from three routes down:
Green: Mellow turny trail that makes the most of the elevation. A turnoff leads to the basic pump track.
Blue: Steeper/tighter trail with berms and various rollers.
Black: Peel off the blue trail. Rip a wall ride and several non-rollable jumps. It was too windy to try this business.
Protocol: Ride up the access trail, lower the seat, rip the DH, raise the seat, repeat. I was turning a lap every seven minutes. Eight laps in less than an hour equals a nice little sesh.
Ideal bike: Whatever you normally ride, especially if it's a trail bike with seat adjustment or a DJ/slalom bike. My Enduro with Butcher DH tires was way too much (but it did hook up in the loose corners).
If I lived nearby: I'd put knobby tires and the Hilo seatpost on Captain America, and I'd rip out laps for time. That would be great training for fitness and skills.
Congratulations to the team who got this park built. This sort of thing is a lot of work — more political and procedural than physical.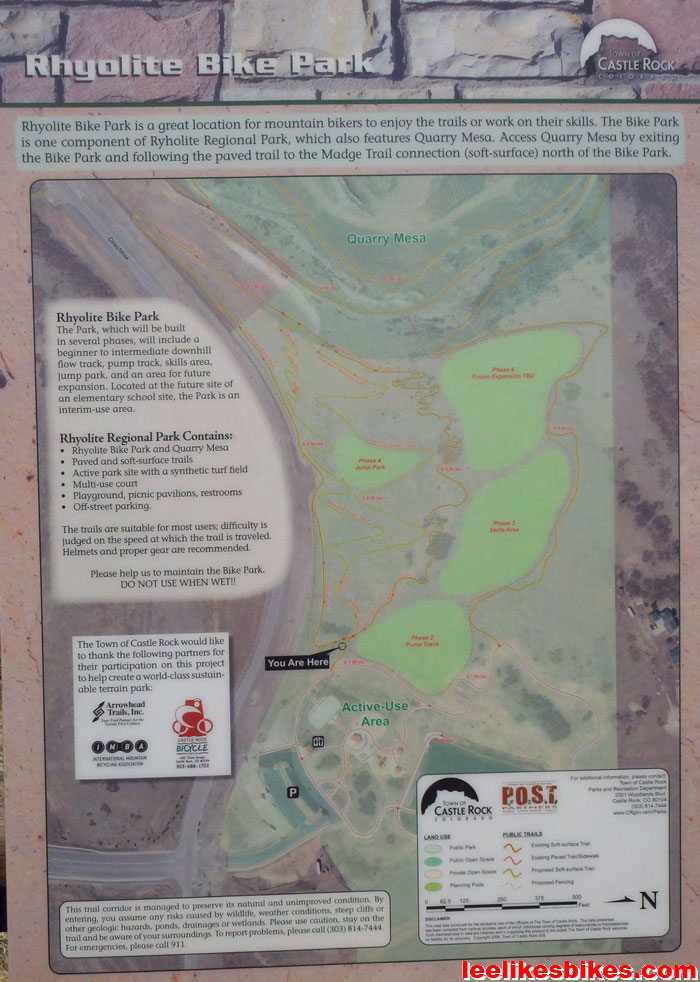 This excellent sign is worth a read. Especially the part about this being an interim use until an elementary school is built here.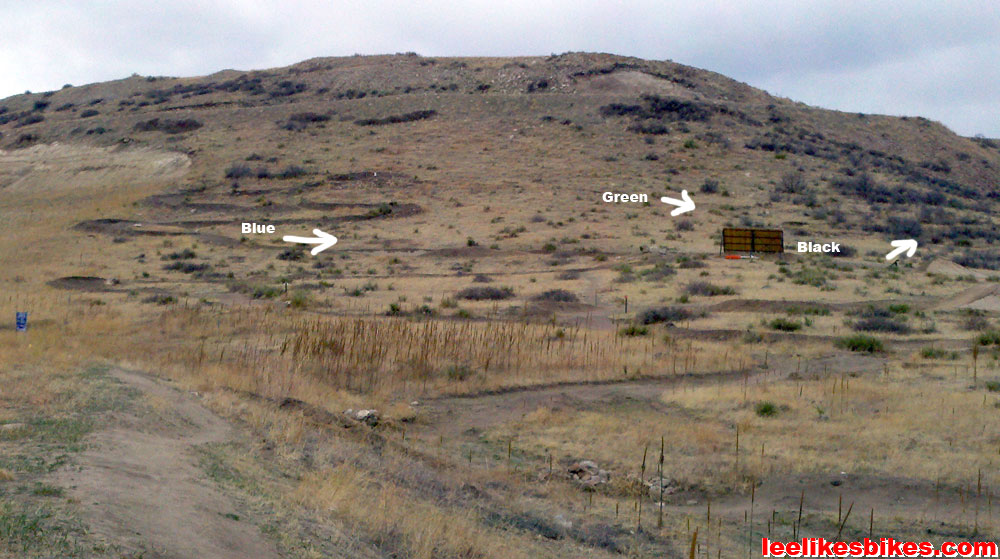 View from the bottom of the one-way climb. The downhills are one-way as well. Smart.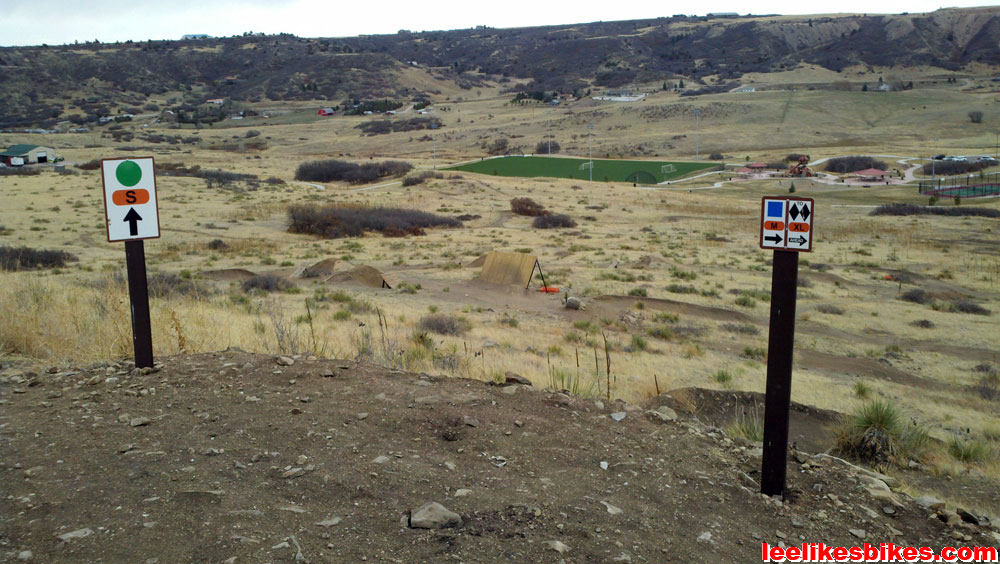 Choices … view from the top. This layout is clever.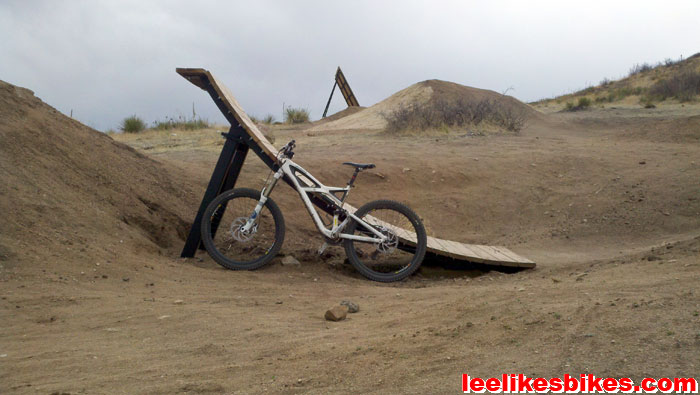 The jumps are made with steel frames and wooden decks. This seems like a great way to maintain consistency and reduce maintenance. As a park builder, I wonder how much of the budget/effort went into these ramps, and what percentage of Castle Rock park users are hitting these gaps.
Check out the Rhyolite Bike Park page at the Town of Castle Rock site.
---
Know more. Have more fun!
Join the leelikesbikes mailing list:
---
https://www.leelikesbikes.com/wp-content/uploads/2018/08/leelikesbikeslogoheader.jpg
0
0
leelikesbikes
https://www.leelikesbikes.com/wp-content/uploads/2018/08/leelikesbikeslogoheader.jpg
leelikesbikes
2011-03-26 09:18:50
2011-03-26 09:20:43
First ride: Rhyolite Bike Park