End-of-season training camps in Nathrop, CO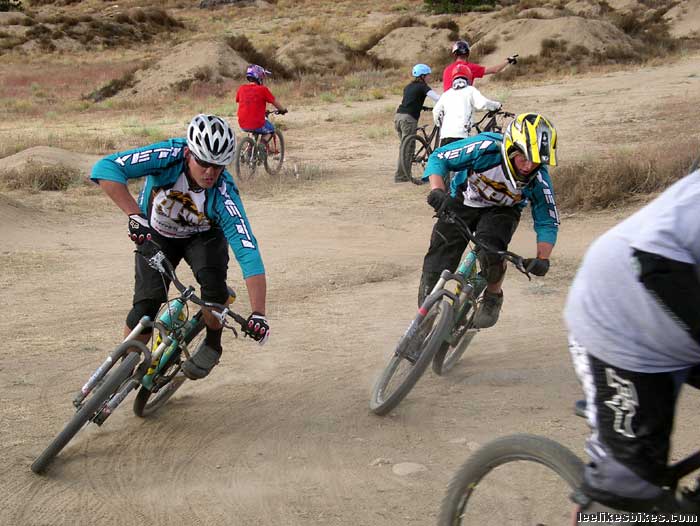 The 2008 Season Starts NOW! Join us at Darner's ranch Oct. 13-14 or Oct. 27-28 for two days of learning, riding and RIPPING!
You can still sign up for this weekend — rock it now!

We will make you faster next season — guaranteed! Coaches will include world-famous author/coach Lee McCormack, Keith Darner Himself and and pro racer Zach Griffith. No matter where you are, this team of experts will take you to the next level. We're also working on guest pros, to add some different styles and spice.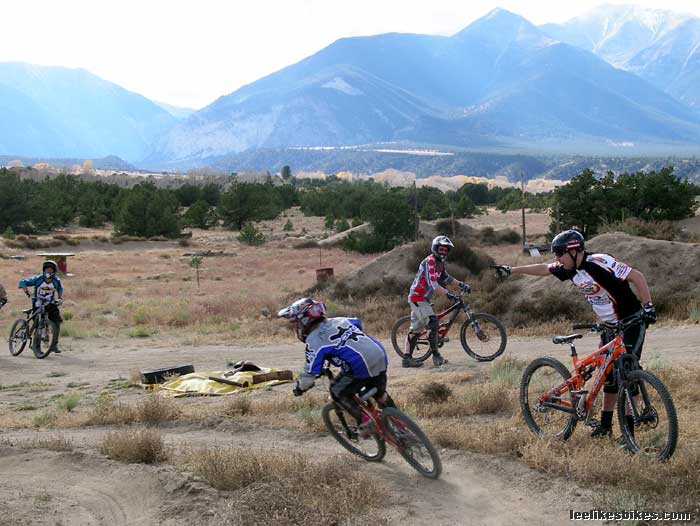 Zach Griffith yells at Madison "Mad Dawg" Bailey at last year's fall camp. Madison won his class overall this year. Sweet!
Check out last year's camp. It was awesome!
You'll learn all about
– Position and balance (it all starts here)
– Braking
– Cornering
– Terrain absorption (a.k.a. pumping and jumping)
– Jumping
– Gate starts
These skills form the trunk of the "skills tree." We'll give you a whole new feel for your bike, and we'll give you drills to practice in the off season. If you want to win in 2008, start improving now!
The Oct. 13-14 session is for people who haven't taken clinics with Lee. First timers, beginners, sports. Sign-up deadline: Oct. 10
The Oct. 27-28 session is for riders who have studied with Lee and/or who are expert+ racers. Sign-up deadline: Oct. 24
You also get
– A copy of the worldwide best-seller Mastering Mountain Bike Skills
– Handouts covering the core skills
– On-the-spot video analysis
– A basic off-season training program
The program begins Saturday at 10 a.m. We'll do drills then play until about 5 p.m. You WILL be tired. Sunday will be a half day, ending in early afternoon.
Cost and registration
Cost is $200 per person. Attendance is limited to 20 riders. Last year's camp filled up in a week.
To reserve your spot, go to www.paypal.com and send $200 per rider to lee@leelikesbikes.com. Please include each rider's name, age, racing class and which session you want.
Sign-up deadlines: Oct. 10 for the Oct. 13-14 session. Oct. 24 for the Oct. 27-28 session.
If you're not down with PayPal, email Lee at lee@leelikesbikes.com to pay by check or cash.
Lodging style
Captain Darner wants to keep costs down. He has graciously offered to let people camp on his property. That'll be super fun. If you want to get clean and sleep warm, Mount Princeton Hot Springs Resort will provide you a discounted room. Tell 'em Keith Darner sent ya. (888) 395-7799
What to bring
– 4X/DJ/DS bike. A trail bike will work too. Otherwise, bring what ya got!
– Riding gear. Helmet, pads, gloves, etc.
– Clothes for any weather.
– Basic drinks and snacks will be provided. If you want a heavy-duty lunch, bring one.
– An open mind!
Directions
22405 Us Highway 285, Nathrop, CO 81236
Here's a Google map
More info
Contact either Keith Darner or Lee McCormack.
Keith Darner
(719) 221-1251
keith@rpmcycling.org
Lee McCormack
lee@leelikesbikes.com
https://www.leelikesbikes.com/wp-content/uploads/2018/08/leelikesbikeslogoheader.jpg
0
0
leelikesbikes
https://www.leelikesbikes.com/wp-content/uploads/2018/08/leelikesbikeslogoheader.jpg
leelikesbikes
2007-10-10 00:47:49
2007-10-10 10:38:28
End-of-season training camps in Nathrop, CO