Effect of 26″ conversion on 2006 Bighit geometry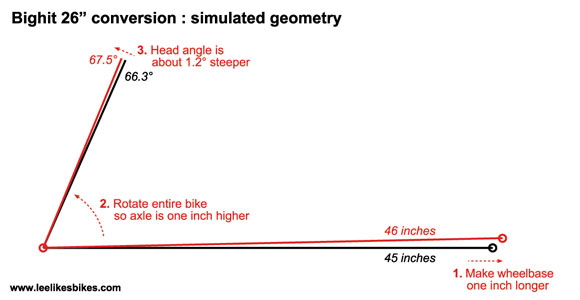 Hi Lee,
Great site. A quick one:
The Bighit 2003 came out standard with a 24″ rear wheel. I've changed the seatstay to accommodate a 26″ wheel and I use the most progressive (bottom) hole on the frame and position A on the shock link. How will this affect the headtube angle? I do a lot of DH and some "downhill" freeriding if I can call it that. I know with the 24″ rear wheel the slackest angle is 66.3 degrees, but I'm concerned it has negatively impacted that angle. I have a 2004 Boxxer Team up front – 7″, and a Fox Vanilla RC at the back.
Regards, Adrian
Hey Adrian,
I raced that bike for a couple seasons. Loved it. I'm sure it'll be even better with a full sized wheel.
I think that change will steepen your head angle by about 1.2 degrees, theoretically to about 67.5 degrees. These days that would be considered a good "freeride" head angle.
Real quick, here's how I attacked that question:
Pin it!
— Lee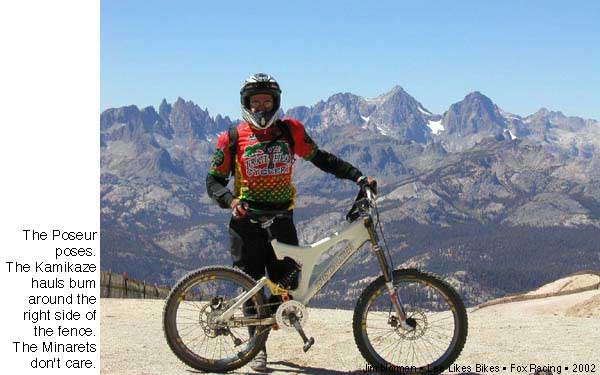 Me, 2002, at the top of the Mammoth Kamikaze. Note: With that 24×2.7″ rear tire, the rear diameter is almost as large as the front. With a 3″ rear tire, they're even closer. Don't you think it's easier to run a bigger 24″ tire than to convert your rear end to 26″?
---
https://www.leelikesbikes.com/wp-content/uploads/2018/08/leelikesbikeslogoheader.jpg
0
0
leelikesbikes
https://www.leelikesbikes.com/wp-content/uploads/2018/08/leelikesbikeslogoheader.jpg
leelikesbikes
2009-03-14 10:10:11
2009-03-17 08:34:07
Effect of 26″ conversion on 2006 Bighit geometry