Differentiation: Specialized Enduro vs. Ibis Mojo
Our man in NorCal wants to expand his quiver, but he needs to know his two bikes are different enough to justify each other.
---
Lee,
I ride a 05 Enduro with DHX 5.0 air shock and Maverick Duc 32 up front. I built this to be a do-it-all-bike so it could climb well and be good for the epic all day ride. As I have gotten better at using the full capabilities of the bike (Corral and Brail Trails at Demo) I am morphing this into a real all-mountain machine and want to get a Ibis Mojo for the blast fast rides.
I bought a Van 36 for the Enduro, put a XT double ring on it with a 24/36 and mid cage XO.
I am planning to put the XTR triple crank from the Enduro onto the Ibis with the long cage XO and the Maverick Duc 32 Fork.
I am confident I am going to be happy with the set-up on the Enduro. What do you think about the Ibis? I have Mavic 817 rims with Ti spokes on the Enduro so will swap out the front wheel (Enduro to Ibis) and build the same for the missing Ibis and Enduro wheel.
Thoughts?? Will the bikes be enough different? Will the Ibis work with the Maverick 6″ travel fork? I had it tuned up by Maverick and it is plush initially but ramps up nicely.
Randy Prout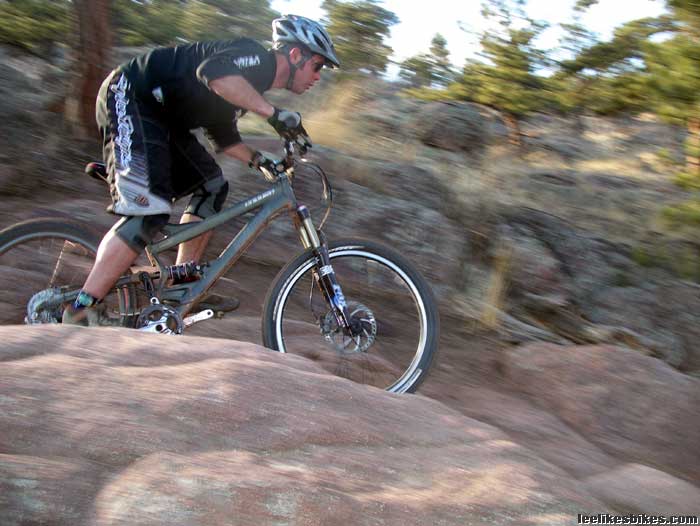 2005 Enduro with a chain guide: Oh so capable.
Hey Randy,
Dude, I love Corral and Braile at the Demo Forest! I first rode Corral in 1993 and Braile around 2000 … those were the days!
Enduro
– Sounds like your Enduro is now dialed for aggressive trail/all-mountain/freeride. You'll be able to wring that thing out on the steeper, gnarlier descents. Oh man, you have to RIP Braile! And take it up to Montara Mountain while you're at it.
– Get a chain guide for your dual rings. You're riding a mini DH bike, and it needs a mini chain guide.
Ibis Mojo
– The travel and geometry of an Ibis Mojo are analogous to a Specialized Stumpjumper.
– Yes, the Mojo will feel different than your re-tooled Enduro, especially if you give the Ibis XC tires and the Enduro DH tires. You can ride that type of Enduro way past the durability limits of XC tires. Every time I've tried to lighten my Enduro tires, I've gone back to burly.
– As for the DUC 32 fork, I'm not sure. Chances are it will be fine, but I would check: 1) the height of the DUC compared with the stock FOX 32 FLOAT, and 2) that the dual crown fork won't void your Ibis warranty.
– To enjoy the full benefits of your expanded quiver, you'll want your Mojo to run at the stock geometry. A too-slack fork will make it feel more Enduro-ish, and a too-steep fork will feel sketchy — especially down Braile.
It'll be interesting to see which bike you ride more often. There's a lot to be said for a light, quick trail bike. And there's a lot to be said for a full-aggro all-mountain bike. By the time you haul your carcass to the top of the Demo, you might be wishing for the Enduro. But at a flatter place like Saratoga Gap, the Mojo would rule.
Tell me how it goes!
— Lee
---
https://www.leelikesbikes.com/wp-content/uploads/2018/08/leelikesbikeslogoheader.jpg
0
0
leelikesbikes
https://www.leelikesbikes.com/wp-content/uploads/2018/08/leelikesbikeslogoheader.jpg
leelikesbikes
2008-02-01 12:12:31
2008-02-01 12:13:19
Differentiation: Specialized Enduro vs. Ibis Mojo