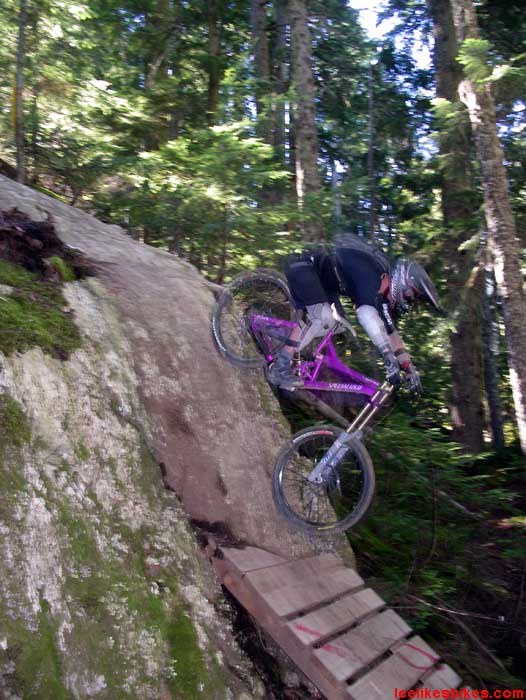 Hey Lee
I am currently riding an 07 Demo 8 size Medium Frame. I am 6′ 1″ and the bike feels cramped. I have a 50mm stem on the bike. Would putting a 65mm stem on the bike effect the bikes handling and stearing? Or would it be wiser to buy a size large frame for the Demo 8? Or even a size large Demo 7 which has the same wheel base as the Demo 8 but has a 1 degree steeper head angle as the medium Demo 8?
How tall are you and what size Demo do you ride? Do you know the size of the bikes the guys on Team America ride and their heights?
Thanks for your help.
Ted
Hey Ted,
DH bikes don't follow the strict sizing standards of road and XC bikes. Shorter cockpits handle more nimbly. Longer cockpits feel more like your XC rig. It's all personal choice.
I don't have specs for Team America's bikes, but I do know this:
– Curtis Keene is about your height, and he has always run a small DH frame. Curtis is a moto guy.
– Chris Herndon is closer to 6-3, and I believe he rocks a medium. Chris rides everything.
I am 5-9 and I've been riding medium Demos and Enduros for years. The relationships between my bottom brackets and handlebars are almost identical, which lets me switch very easily.
– Curtis and Chris have chosen nimble handling for their DH race bikes (pro racers tend to do this).
– I've chosen consistency (although, as much as I ride my P.3, I might like a shorter DH bike).
It sounds like you are used to a longer cockpit. A 65-70mm stem will add length without messing up your handling. If that doesn't feel right, step up to a large frame.
A Demo 7 is a different beast. If you're not racing DH, it's probably a great choice. For next year I'm thinking about stepping "down" to an SX Trail (but that's another post!).
| | | | |
| --- | --- | --- | --- |
| Curtis Keene, Schleyer, Whistler, 2005. | Chris Herndon, Boneyard Slopestyle, Whistler, 2005. | Brandon Sloan (product manager for Demos), The Manager, Whistler, 2005. Brandon is about 5-9, and I think he rolls a small DH bike. | Me, North Shore, 2004. This is my awesome medium Demo 9. |
And I have to say this: Pay attention to your body position. If you are properly balanced on your feet, and your hands are neutral, you can feel good on almost any bike.
Braaap!
— Lee
---
https://www.leelikesbikes.com/wp-content/uploads/2018/08/leelikesbikeslogoheader.jpg
0
0
leelikesbikes
https://www.leelikesbikes.com/wp-content/uploads/2018/08/leelikesbikeslogoheader.jpg
leelikesbikes
2008-08-18 09:43:52
2008-08-18 09:43:52
Demo 8 sizing?