Danger: That little aggro voice
A reader asks how dangerous downhill and freeride really are. Well, that depends on which voice you listen to.
Lee,
How many serious injuries are there every year as a result of DH freeride etc… I mean compared to the amount of racers and at what level do the injuries increase????? I have been reading a lot about broken necks comas and stuff lately in the mountain biking world, is it just that the injuries stand out or is there a need to be concerned???? My wife bugs me about racing even though I race sport DH I don't huck 30 foot cliffs but I love stuff under 15 with a great transition!!!! Should I listen to her or are the statistics on my side???? I know you can injure yourself doing all most anything, including bass fishing!!!!
Your insights as to injury to racers would be greatly appreciated so I can race without the nagging!!!!!
Thanks,
John Marks
Executive Chef, UWHC
---
Hi John,
I don't have statistics for freeriding, but I did find some for cross country and downhill. Here are the primary risk factors for mountain biking injuries: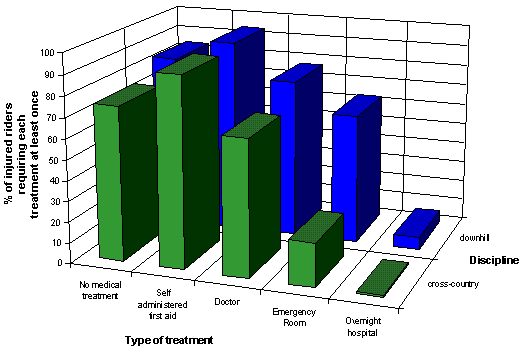 This chart, from this article, shows downhill racers are far more likely to need medical treatment than cross country racers. Also interesting: More DHers seek no treatment for their injuries. Click for big.
• Rider is male.
• Rider is 20 to 39 years old.
• Rider is from an unstable family environment, has a preexisting psychiatric condition or is intoxicated (hey, that's most of my friends!).
• Rider is going downhill. In one study, 75% of injuries occurred on the drop.
• Rider is involved in competitive mountain bike racing. One study showed racers get hurt four times as often as non-racers. Another showed 90 percent of elite racers had been injured in the previous year. Ninety percent!
• Downhill and cross country racers endure the same number of debilitating injuries during each event (about one in 250). But considering injuries per hour spent racing, downhillers get hurt about 40 times more often than XC racers. Forty times!
To sum it up, if you're a young, crazy male downhill racer, you're in big trouble. You can't do much about your youth or masculinity, but you can control your craziness.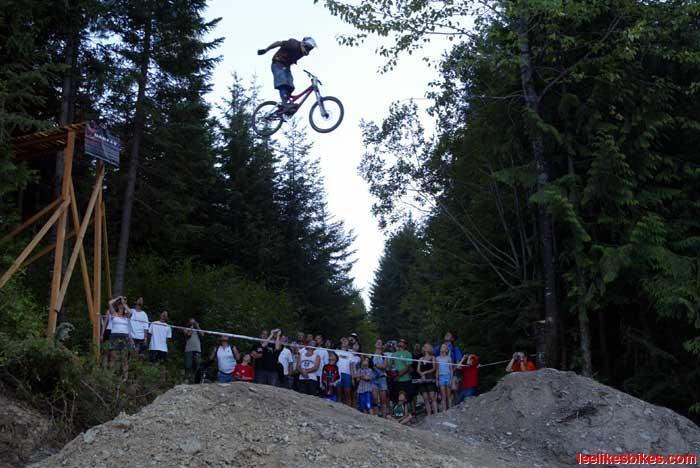 High amplitude but low risk when you're as good as Kyle Straight.
Any time you push it, you dramatically increase the chance you'll make a mistake. I made it from last October to this June with no injuries. That's alpine skiing, riding XC, dirt jumping, downhilling, in-line skating or motocrossing almost every day, smoothly and without drama. As soon as the race season started, I entered racer mode and suffered two serious injuries in two weeks. BAM! Sprained ankle. BAM! Torn thumb ligament. What was different? That little aggro voice exhorting me to go faster. I can ride precisely all day long, but as soon as I get hyper-aggressive (or too tentative) I start making mistakes.
The faster and the higher you go, the more your mistakes cost. Riders have been getting hurt since mountain biking started, but there's no doubt the amplitude is higher these days. When you double your speed (either pedaling, coasting or free-falling) you quadruple the amount of energy in a crash. So the riders who go fastest and highest get hurt the worst.
Despite all that potential gnarl, mountain biking is a beautiful, life-affirming sport. And overall mountain biking is no more dangerous than other outdoor sports. To keep it as safe as bass fishing:
• Master perfect technique. I swear 99 percent of riders are making fundamental mistakes in position, braking, cornering and terrain absorption. Get that stuff straight so you stay safe — and have more fun.
• Step up the amplitude gradually. Don't drop four feet until you can drop two feet perfectly, every time. Accomplished riders can safely stick 10-foot drops and 20-foot doubles all day long.
• Don't push it. I know this counters the extreme-cool-dude image, but remember that every time you push beyond your limits you roll the dice. When you decide to go bigger or faster or radder, do it from a place of quiet flow, not noisy aggression. If you feel loose and can envision the move, go for it. If you find yourself listening to your little aggro voice, watch out.
Lee in Whistler
---
The stats came from these articles:
http://www.aafp.org/afp/20010515/2007.html
http://www.mountainbike.co.nz/politics/articles/anstiss/chapter2.html
https://www.leelikesbikes.com/wp-content/uploads/2018/08/leelikesbikeslogoheader.jpg
0
0
leelikesbikes
https://www.leelikesbikes.com/wp-content/uploads/2018/08/leelikesbikeslogoheader.jpg
leelikesbikes
2005-09-22 13:20:37
2015-03-30 16:40:30
Danger: That little aggro voice