Mammoth national championship action
And now a quick report from the Mammoth national championships. Cool folks, fun courses and dust — lots of dust.

No time to make photos. Please send good ones to lee@leelikesbikes.com
All the characters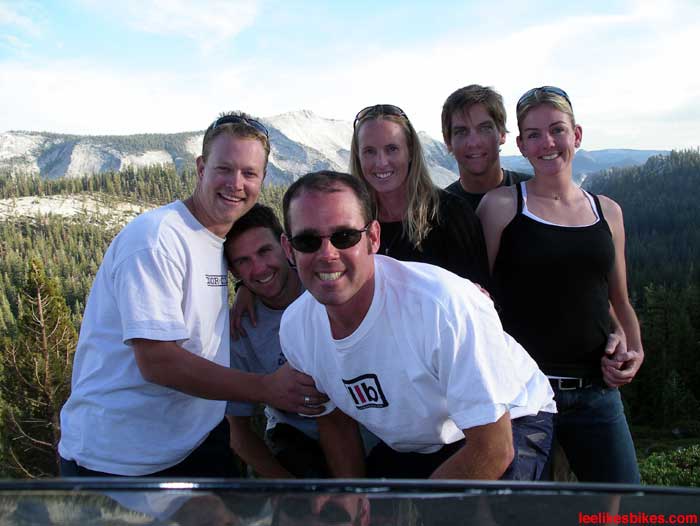 Sub-crew A on the way home through Yosemite: Cole, Buck, me, Jen, Brandon and Sondra. Good people and good times.
The coolest thing about the race scene has to be the characters. When you get hurt and miss races you can certainly keep yourself busy, but you miss out on the circus. After two days and 17 hours of driving we hustled to registration and — whoa — there everyone was. Mark and Scott from Decline, my co-coach Hawkes from Boulder, the army of fast NorCalians, and on and on. Seeing the crew and knowing what was coming made me crazy. I was jumping around and shaking hands and slapping backs and going nuts. Our condo contained 13 excellent folks, so it was wide open the entire weekend.
Pumice power

Mammoth doesn't have soil in the technical sense. Heck, it barely has dirt in the technical sense. Much of the riding takes place in a kitty litter of ground up pumice. This volcanic rock is porous and very light. Depending on whether your tires carve or plane, the effect resembles steering a boat with a rudder or steering a car on marbles. Best hope to penetrate a bit, lean your bike and wait for it to displace enough pumice to make a difference or, more likely, to catch in a rut and fling you toward the next turn.
Pro/expert downhill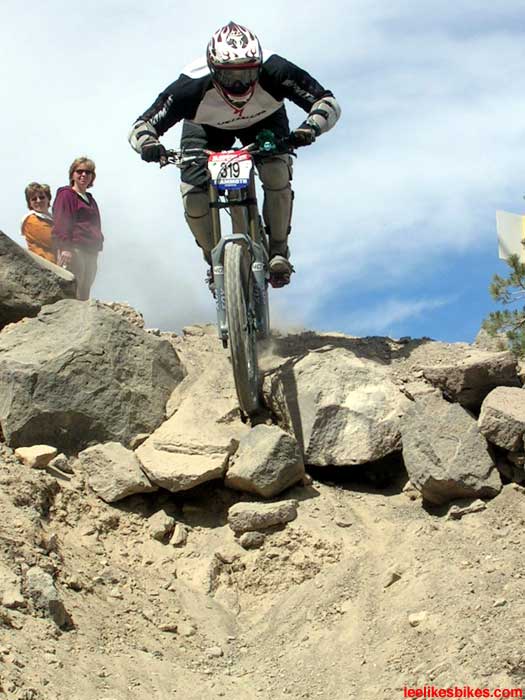 Me — not going fast, but displaying perfect form — over the last rock drop. Photo by Neven.
The Bullet mixes high speeds, smooth flow, coarse flow and a few serious rock sections. You basically haul ass for a while, trying to avoid getting stuck in the deep pumice, tip-toe through a rock garden, then get back up to speed. The first rock garden gave people fits. The second started gnarly but got easy. The third, entangled in roots, never got easy unless you went fast enough to plane across the funny business. A booter jump crossed the XC course and whipped riders out out to an infinite backside — whoosh — then into a micro lip to a 30-foot double. So fun.
I'd like to put this into a bottle: Carry speed across a mini ridge, cut left then bap bap bap over three log drops. Lean back and plane through a bumpy tunnel of trees — dup dup dup — fade right, then loft a downhill jump into a left. Wheee! You land so far down there you're cornering before the back wheel lands. Hold on, brake hard, then dive into a hard, rutted right. Ten seconds of speed and G-forces. Oh, man. Put that in a bottle a take a swig in January.
No. 1 ranked Cody Warren spanked the pro men in like 4:06, winning by a full 8 seconds. X and Y were second and third. Women ETC. Our boy Curtis Keene threw some style crossing the bottom water bar — very unusual — then sat up and coasted across the line. What was that? He didn't know. He didn't remember his run. Only a fresh helmet wound hinted at the carnage up above. Pro downhill is serious business.
As for me, on race day I let the pressure of semipro downhill get to me, and I almost stressed myself out of racing. Bobbi Watt helped me remember to keep it fun, and that's what I did. I had a perfectly clean run, feet up the whole way, heart rate low enough to notice friends cheering. Going over the big booter I tried to squeeze the rubber turtle squeaky toy on my handlebar, but no dice. I ran a 5:00 and would up 43rd out of 49 semipros — not stellar, but far better that 51st out of 52 experts back in 1999. Even with my cruiser run I would have been second in my expert age group, so I guess semipro's the class for me. I think an aggressive run would have put me mid-pack. That's enough to keep me focused over the winter.
Beginner/sport downhill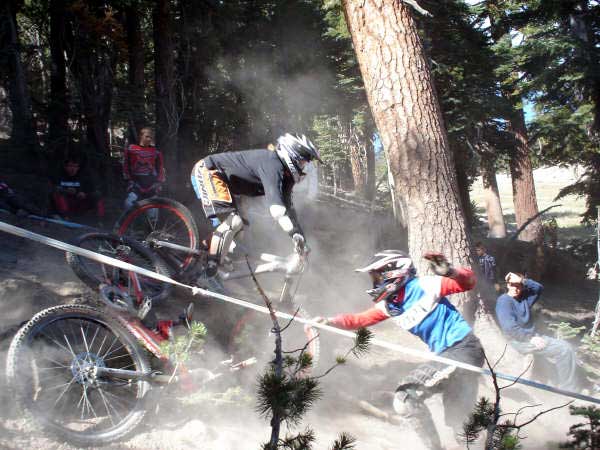 Sondra Williamson pokes her way through some last-drop carnage, Sport women 19-29 style.
Superdamnfun. Coaching mega-monkey Ben Gager for his DH adventure gave me an excuse to enjoy some high speed, a few little rock sections and lots of turns. I can see how this course would be a handful for a lot of beginners, but I'll tell you this: it would be sweet on a 6-inch trail bike. BRAAAP!!!
Young Ben broke his wrist eight days before the race but manned up and put down a clean run, placing 13th in junior beginner 16 and under. Totally cool, and he was stoked.
Mountain cross
There was the usual complaining. There aren't enough jumps, the turns suck, blah blah blah, but I must say this course looked like fun. It was built into the snowboard half pipe, and it made maximal use of the ups and downs and lefts and rights.
Out of the gate straight to the first turn. Surface: Loose pumice. Tactic: Get out front and block. Drop into the halfpipe, step up onto the opposite back, rail a berm, step down into the pipe, jump out again, carve right back down into the pipe, carve left, step down, up and right, straighten out, then a BMX triple to the line.
Jill Kintner dominated the pro women right from the gate. Eric Carter performed surgery against the men's class. Gate after gate: BRAAAP!!! and he was gone. I saw some of the EC goggle play too: The other riders stand up and apply full power against the gate. They're burning mental and muscular energy, then right at the apogee of focus, EC waves to the starter. His goggles are on his handlebar. Time to start over. EC is ready; everyone else is a bit fried.
Super D
Mammoth had 240 Super D racers, which is almost twice last year's turnout and a sure sign this event is growing. The XC guys are coming on strong, and the courses have been catering to them. Mammoth's course had a nice mix of terrain — top of the Kamikaze to a steep run-up to a long traverse then a loose descent — but the winning happened on the traverse, and the XC guys killed it.
I ran a new 2006 Specialized Stumpjumper (carbon frame and Brain Fade shock — snazzy) with light hardpack tires (a 2.4 WTB MutanoRaptor in front and a 2.0 Maxxis Oriflame slick in the back). This setup felt sketchy at 50 mph on the Kamikaze, and it swam a bit in the pumice, but it felt superquick in the pedaling sections and tight turns. I passed my first guy on the run-up, then churned through traffic on the traverse. Heart rate monitor bouncing around 170, Gravity Dropper at full XC height, all good until my asthma took over. I'm used to a little spasm in every race — just back off until the lungs loosen, then get back on it. But this one kept tightening: 90%, 80%, 70% lungpower. When will this stop?
It didn't. I backed off but kept passing people until the descent. I wrung the heck out of my little bike — no way anyone else is going this fast — through turns, off drops and onto people's back wheels. Dude, I started two minutes behind you. Please let me by. But the burly DHers were giving no love to this Lycra death sausage. OK, then I'll pass here. And here. BRAAAP!
The course dropped onto the parking lot, and I sprinted for the line. 24:40, 11th place in men 30-39. The fastest age groupers were two minutes faster; the fastest pros were another two minutes faster. For a couple years there a fit downhiller could destroy Super D. Now it's a skinny pedaler's game.
Arm wrestling
A boatload of freeloaders took advantage of the Gamut USA pizza party, and I was one of them. After a couple beers the idea of arm wrestling came up. My rival would be Cole from Specialized, a young, burly football player type of guy. I was like, "Dude, I'll arm wrestle you, but I have nothing to lose. It's obvious you'll beat me. And if you win no big deal — you only beat some old, balding weakling." Cole disappeared for a while then came back ready to rock.
We found a quiet corner and set up. Next thing I knew, the whole place was cheering. Go Lee! I was definitely the underdog and the crowd favorite. OK, it's on. When Cole grabbed my hand I saw a massive bicep stand up under his t-shirt. Yikes.
1 … 2 … 3 … Go! He gave it a snap, but I must say it was weak, and I engaged my yoga muscles — abs, hips, back and shoulders — to crush the young man's ego. We switched sides and this time he held up for a second, but treachery and total muscle recruitment won again. Yay!
To sum it up: Great weather, cool people, fun courses, 43rd in downhill, 11th in Super D and 1st in arm wrestling. What a fun weekend.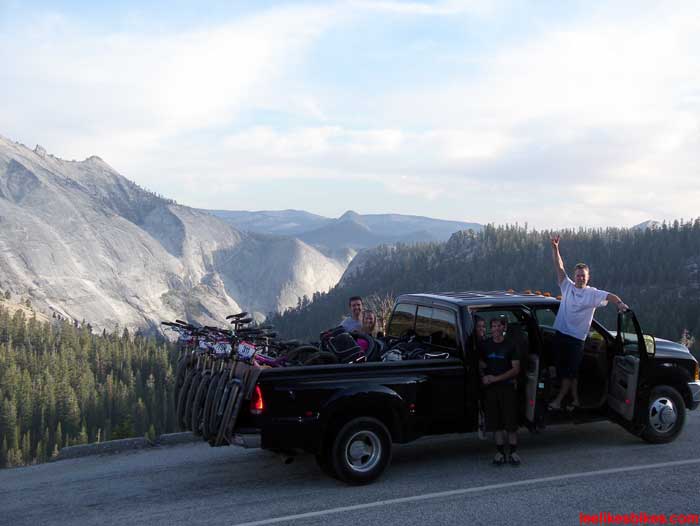 Quick stop in Yosemite.
https://www.leelikesbikes.com/wp-content/uploads/2018/08/leelikesbikeslogoheader.jpg
0
0
leelikesbikes
https://www.leelikesbikes.com/wp-content/uploads/2018/08/leelikesbikeslogoheader.jpg
leelikesbikes
2005-09-22 13:25:59
2005-10-03 13:36:46
Mammoth national championship action