Clinic love: "Carning" in California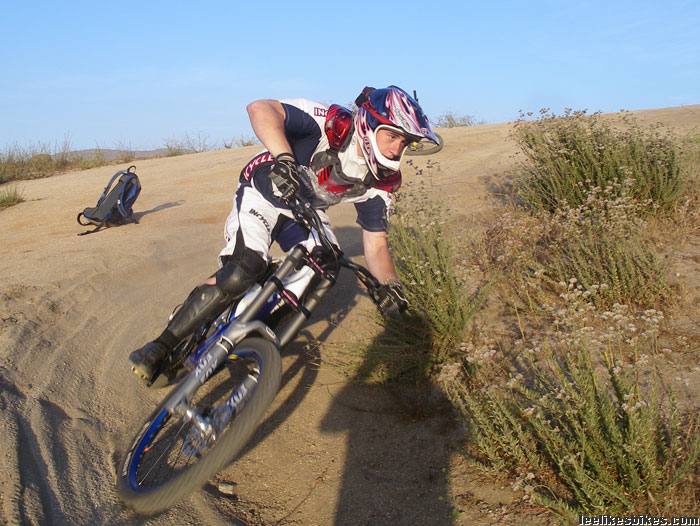 Hi all. Just returned from two weeks away; one in California teaching, one in Martha's Vineyard sleeping and fishing. The sleeping was much more successful than the fishing. Highlights from the clinics, and the word of the week:
carn verb. To crash, to damage one's flesh. Dude, my front tire washed out and I totally carned!
Southridge Park, Fontana, CA
Pinned from 10 a.m. to 9 p.m.: I did a private with professional percussionist Eric (great rhythm), then I rode DH with my buddy Jason, then I taught seven guys from the InCycle DH squad.
While I was riding with Jason I made a mistake that resulted in two very bloody elbows. When the InCycle race guys showed up, they were like, "Wait, the guy who's supposed to teach us just carned?" Carned … great word.
| | | | |
| --- | --- | --- | --- |
| Eric and I did drills in the parking lot, then we pumped the 4X track, then I showed him how The Pump applies to natural terrain. He pins an aggressive line on my P.3. | The team started with parking lot drills, then we sessioned the trail they has just raced. Kevin has squared the turn on the entrance bank, and now he's eyes-out and railing. Well done. | This rock has magnetic powers! We practiced looking past this turn to the dip we're about to pump. | Jason threads a tricky needle. Thanks for organizing the clinic – the best team manager ever! |
Aliso/Woods Canyons, SoCal
My buddies and I used to ride this park back when it first opened. The park is now surrounded by houses, but the trails still rip. To think I used to hit 50 mph on my hot pink 1990 Diamondback Apex in full Lycra (also hot pink) …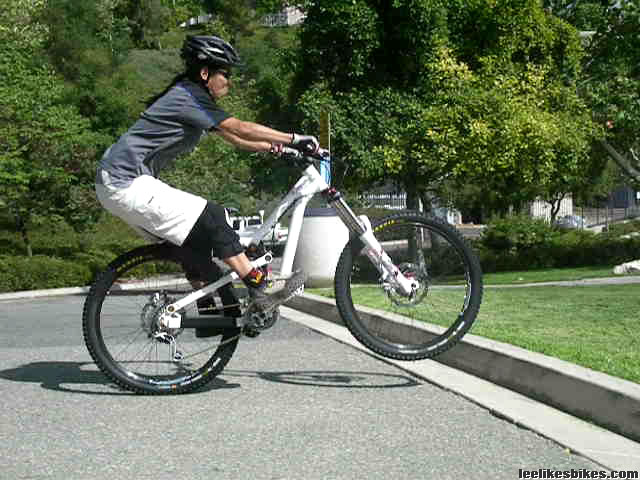 Naoko and I rocked a private session with the goal of hopping her 6″ Transition Siren (sweet bike). Here she lays back into a nice manual. From here, it's a matter of compressing the rear suspension and connecting with the ground. Funny: While I was demonstrating "wrong" technique, I slipped a pedal and carned my shin.
| | | | |
| --- | --- | --- | --- |
| Ramon practices his Brake Fu. It's all about driving the net force into your cranks. | Ramon sets an edge and lets his Turner do its thing. | Todd demonstrates perfect, if blurry, technique. Sorry — these are video frames. When you approach a steep roll-in, get as low as you can, then push your front end down into the transition. This insulates your head from the terrain and keeps you connected to the ground. | This is a very tricky turn on the Rockit trail. Todd, a former MXer, keeps his elbows out and makes an edge. I had SO much fun sessioning this trail on my 2008 Stumpy Pro Carbon. Back in 1990 we survived this trail — now we BRAAAP it! |
Mere Mortals, NorCal
"Everyone else's slow is our fast" is their motto. They are a fun group who rides with "no drops, no pressure and no egos." www.mere-mortals.org
| | | |
| --- | --- | --- |
| Explaining the fine points of braking. Lars from Trail Head Cyclery helped me coach, and he took photos, so I was happy to rock the THC jersey. | My shadow looks like a duck, huh? … Note the carn (yeah, it's a noun too). | This ain't Southridge, but it's all relative. The loose gravel and water-bar-into-corner gave us a chance to practice loading the tires. Braaap! |
| | | |
| --- | --- | --- |
| Anne and I did a private session the next morning, and we focused on absorbing and pumping bumps. When I say you should be low across the top, this is what I mean. Anne's bike. | Anne is getting it. The lower you get, the more you absorb, and the more you can PUMP! | When in Rome. The back of the Mere Mortals jersey says, "If you can read this, you can join us." |
And back in Boulder …
I was home for 16 hours between trips, and we rocked a fun Core Skills clinic.
| | | | |
| --- | --- | --- | --- |
| The parking lot slalom is a great way to build and reinforce core skills. Ben was a very quick study. | Mike sets a strong edge. This is about smooth side-to-side transitions. | Chris is feeling the love. He came back out for yesterday's Aggro Clinic. | Emily straightens her inside arm to set a good edge. Sweet! |
It feels great to be back home. Yesterday's Aggro Clinic was super cool, and I have a private group this afternoon. These guys are all gnarly MX and ski patrol dudes.
Dare I say braaap?
---
https://www.leelikesbikes.com/wp-content/uploads/2018/08/leelikesbikeslogoheader.jpg
0
0
leelikesbikes
https://www.leelikesbikes.com/wp-content/uploads/2018/08/leelikesbikeslogoheader.jpg
leelikesbikes
2008-06-22 12:08:17
2008-10-02 15:32:36
Clinic love: "Carning" in California