Mail: Choosing knee guards
Hey Lee
A quick question. I noticed that you just wear knee pads and not full knee shin armor. Is there a reason why you just use knee pads? I'm trying to decide what to get after a fall involving some leaves last weekend. I'm only doing small drops 3-4 feet and I don't want to use too much body armor nor leave myself not well enough protected. Any recommendations between the two types. I like the new website.

thanks
Kevin
---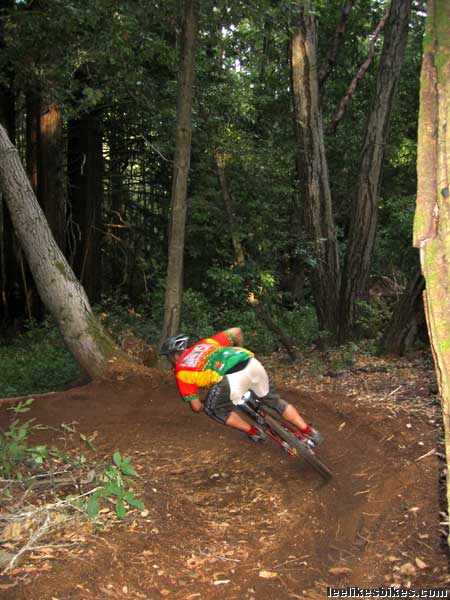 Level 1: The loamy, leafy Santa Cruz forest.
Hey Kevin.
I really like the Fox Radius pads. These neoprene sleeves are easy to wear, they keep your knees warm and they take the edge off crashes. I've had a run of good luck lately, and I've taken to riding aggressive XC and dirt jumping in just the Radii. But burlier situations call for burlier protection.
Here is my order of escalation:
Level 1 – XC, Super D, pump track, "mellow" dirt jumping – Fox Radius pads. I basically wear these every day. I feel completely comfortable in them, and they take the edge off minor impacts. Bummer: It looks like Fox isn't offering them anymore. The 661 Veggie Wrap looks great (661's armor looks great in general).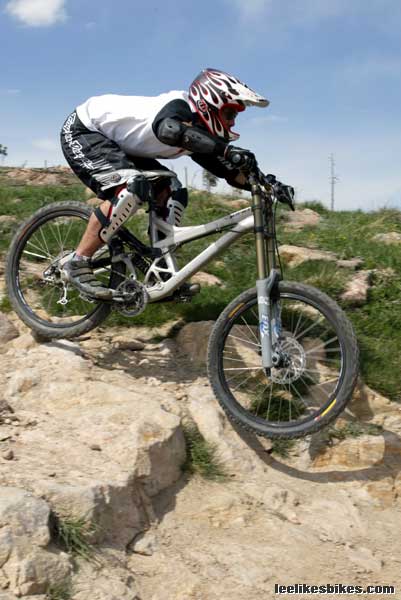 Level 2: Left Hand Canyon OHV area. This is really Level 3, but we hiked to the top.
Level 2 – ultra aggressive trail riding, aggressive dirt jumping – Fox Raptor knee/shin guards + some old Fox 911 elbow guards. For turbo love, I put Radii under the Raptors; the Velcro on the Radii make the Raptors stay put even better than usual. I ran this setup for DH in most of 2004, and it was excellent. If you're going to crash on rocks, you need hard protection.
Level 3 – downhill, moto or anything scary – Full Dainese suit (for which I paid full retail on the way to the 2004 DH worlds). I'm discovering the knees aren't burly enough for moto, so I'm looking into fortifying them.
You can't go wrong with lots of armor, but there's definitely a balance. Too much armor restricts you, can mess with your confidence (it works both ways, depending on your disposition) and can make you feel like a dork. Too little armor gets you hurt. If you don't feel good about your armor, you don't use it, and then you get extra hurt.
So buy protection that you'll actually wear. In order of importance: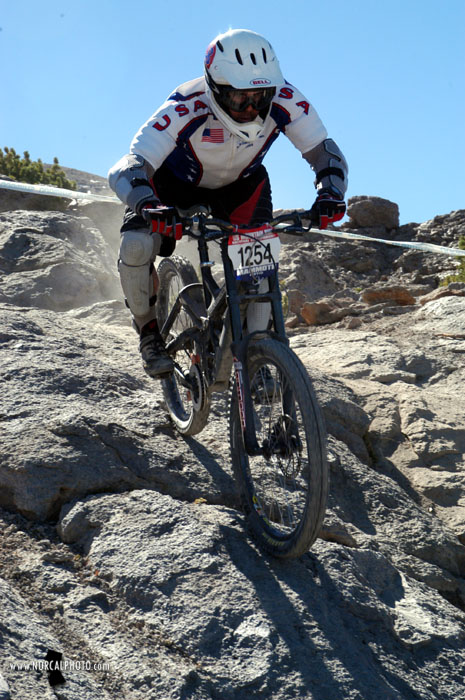 Level 3: 2004 Mammoth national DH course.
1. Type of protection. Soft pads protect against scuffs and cuts on smooth ground. For rocks you need smooth plastic. For vertical impacts you need a hard shell with tons of padding.
2. Fit. Every manufacturer models their pads after a different shape, and everyone's shaped differently. The most important strap is the one below your knee. Make sure it wraps above the meaty part of your calve — this holds the pad in place. Also, make sure the knee cup doesn't slide down or open up when you crash. Useless!
Look for knee guards with multiple hinges, like the made-for-moto Fox Raptors. These mimic your knees' motion. In my experience, pads with simple hinges tend to slip down and move when you crash. If you run simple pads, make sure they fit perfectly, or hold them in place with Lycra leg warmers.
3. Fastening. I dig strap-on pads, rather than slip-ons. Why? Because you can climb without 'em and descend with 'em. The easier they are to carry and don, the more likely you'll use them.
Gee, that's a lot of info. I hope it helps.
— Lee
https://www.leelikesbikes.com/wp-content/uploads/2018/08/leelikesbikeslogoheader.jpg
0
0
leelikesbikes
https://www.leelikesbikes.com/wp-content/uploads/2018/08/leelikesbikeslogoheader.jpg
leelikesbikes
2005-11-21 10:47:03
2005-11-30 08:52:55
Mail: Choosing knee guards