Broken clavicle: Now what?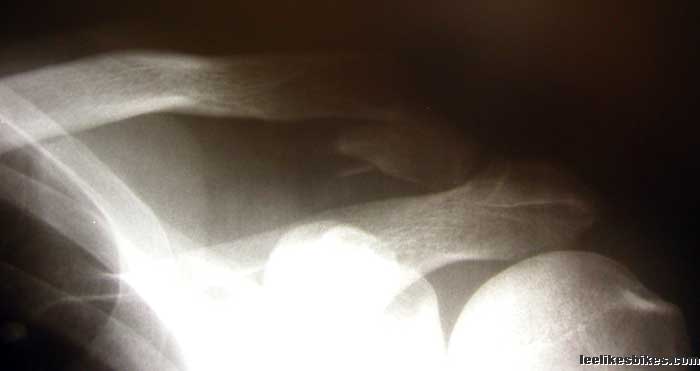 Lee,
Oh no! I broke my collarbone pumping and jumping… as I'm sure you know with this stuff, occasionally, sh!t happens. I'm not looking for sympathy, but I am looking for some tips on
training tips for once the healing process begins.

I'm planning on hitting the trainer as a lot of the riding I do involves climbing fitness as well as riding skill, but during the period where I can't really be on a bike (trainer aside), do you have any advice/tips? Just leave well enough along? Spin on the trainer and work hard once I'm back on a bike? Or maybe think about pumping/jumping on skis once I'm that far along to transfer skills to the bike? I dunno… just brainstorming here. Ahah… maybe get on the trainer and watch the Earthed movies!
Good luck with the gums. Glad to hear you are listening to the doctor. A friend of mine from work didn't listen to the doc after the same procedure and ended up splitting the healing wound at work while laughing… not pretty.
Hope all is well.
Brett
---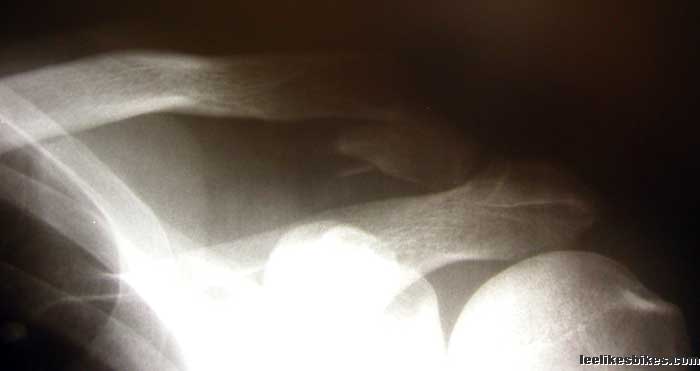 My own personal clavicle in October 2003. I still have a bump.
Hey Brett,
Dude — I'm sorry. Clavicles hurt. But it sounds like you have the right approach.
Ride your trainer. The circulation and overall health will accelerate your healing and keep you sane.
Watch the videos. Turn of your brain and just put yourself in the bodies of the great riders. What are they doing? What are they feeling? Visualizing great riding will improve your skills way more effectively than merely riding. This is one reason so many injured riders come back better than ever.
Use your legs. As you know, most of the love happens through the bottom bracket. Your weak/sore shoulder is a great excuse to really dial in your Attack Position and work through your pedals.
Rip your skis. Wait until your shoulder is safe, but skiing is great training for mountain biking. All of the pump action is identical. Rock your Pump Track Nation on a bump run … oh yeah, nothing but back sides!
Take it slow. Listen to your doctor. Re-engage your shoulder very gradually. I'll never forget: When my right clavicle felt like it had fused, I grabbed a full can of Coke and — POP! — back to square one.
Also read: I just hurt my shoulder – what to do?
Heal!
— Lee
---
https://www.leelikesbikes.com/wp-content/uploads/2018/08/leelikesbikeslogoheader.jpg
0
0
leelikesbikes
https://www.leelikesbikes.com/wp-content/uploads/2018/08/leelikesbikeslogoheader.jpg
leelikesbikes
2007-11-23 13:02:48
2007-11-23 13:11:58
Broken clavicle: Now what?