Bar-ins: the new bar ends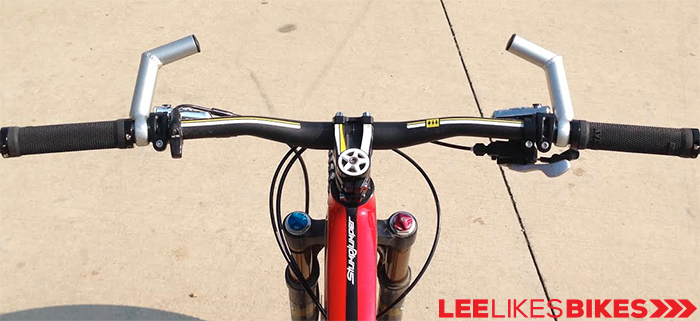 Position your grips for ultimate handling and peak power — and give yourself another position for mellow pedaling.
Here's how.
---
Remember when handlebars were narrow and we all used bar ends? The Onzas gave us extra reach, faced our palms inward and helped us pull with the big muscles on our backs. This setup felt like the hoods on our road bikes, and it made sense.
As handlebars got wider, we hooked more trees, we started pulling with the small muscles in our shoulders and bar-ends went out of fashion. Bar ends are still used on narrow XC bars, but you rarely see them on wide trail bars.
Do you still have some old bar ends?
Cool. Find 'em.
Step 1: Put your grips where you like them
For most of us on modern trail bikes, that means a short stem and wide-ish bars. The classic bar-width test: Do a bunch of pushups and see where your hands end up.
I have a simple, effective method to position your bars for optimal handling and peak power. To dial in your cockpit, take an LLB skills class or buy one LLB remote coaching lesson.
Questions? Email lee@leelikesbikes.com.
Step 2: Mount your bar-ins
If you run God's own Shimano brakes, bar ends will fit between the brake clamp and grip. The width will be about equal to your shoulders — very much like your road bar width.
You'll probably like the bar-ins pointed slightly up. Experiment to see what works best for you.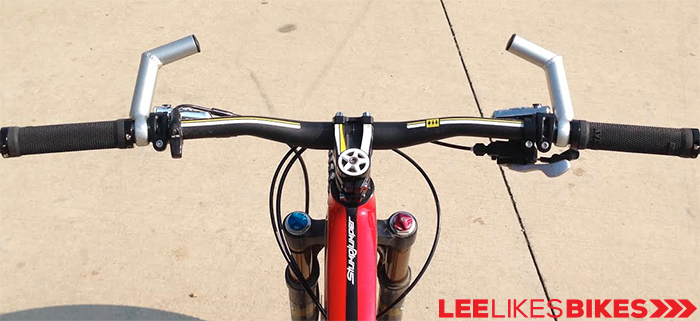 Shimano PRO DH stem and bars for shred. Bar-ins for non shred.
Step 3: Ride!
When it's time to shred, grip your grips like always.
On the road and mellow climbs, put your hands on the bar-ins. Keep your palms facing inward and your shoulders externally rotated. It should feel nice, especially if you have bad shoulders.
I've ridden this setup on road, trails, pump track, slalom track, dirt jumps and slopestyle. The bar-ins look funny, but they are not in the way.
Step 4: Tell me how it goes
I'm curious to see and hear how this setup works for you. Post photos and findings to the Lee Likes Bikes Facebook page.
Don't let fashion interfere with your awesomeness.
Lee
---
Know more. Have more fun!
Join the leelikesbikes mailing list:
---
https://www.leelikesbikes.com/wp-content/uploads/2018/08/leelikesbikeslogoheader.jpg
0
0
leelikesbikes
https://www.leelikesbikes.com/wp-content/uploads/2018/08/leelikesbikeslogoheader.jpg
leelikesbikes
2015-10-01 08:51:48
2015-10-01 08:51:48
Bar-ins: the new bar ends