Two rides on a Specialized Fuse Expert 6Fattie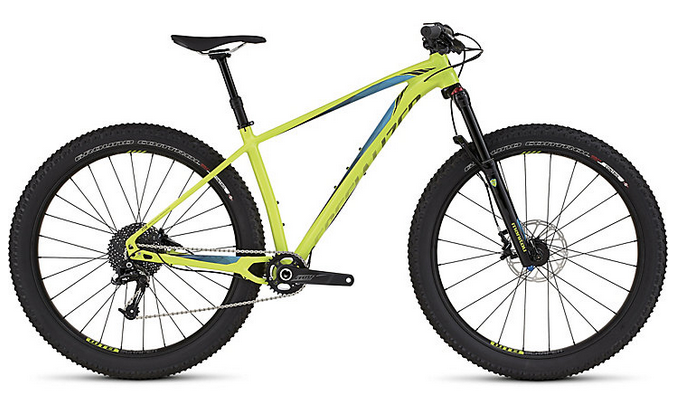 The 27.5 x 3″ tires on this hardtail deliver micro float with mega pump: Perfect for shredding rocky trails.
Bonus: 6Fattie wheels on my S-Works Enduro 29!
---
The Specialized Fuse Expert 6Fattie costs $2,100. I got it straight out of the box with a TransX dropper post, SRAM components and a Manitou fork. Nothing fancy there. Geometry is modern and shred approved. The exciting bit: 45mm rims with Ground Control 3.0 tires!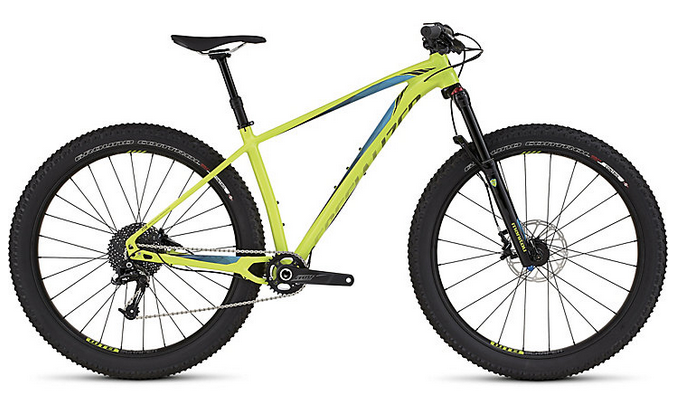 Specialized Fuse Expert 6Fattie
According to my high-pressure gauge, I like these tires at 18 psi front, 20 psi rear. Lennard Zinn's digital low-pressure gauge read 13 psi, so who knows.
I got two rides at Heil Ranch outside Boulder, CO. This place has loose rocks, embedded rocks, rock piles and random rocks — all goading aggressive riders into coarse flow.
Climbing on smooth ground, the tires feel (or maybe just sound?) slower than normal. No biggie unless you're in a hurry.
Climbing on rocks, the tires feel — smooth! Easy. The bike feels soft like a Camber or Stumpy but snappy like the hardtail it is. This I like.
Reach the top. Drop the seat. Attack.
I was riding with Coach Kevin Stiffler: a great rider on his ~$6K carbon Enduro. We pinned it! We pinned it so fast Kevin PRed most sections. And the $2K stock Fuse was freaking awesome.
Loose turns where Kevin was drifting? I was carving, feet up, waiting for the next thing. The amount of traction was incredible. Life changing.
Bad lines over and through nasty rocks? Whatever. The bike tracked like my Fox-powered Camber. Blap blap blap, sorry about the dented rim, but I didn't notice it happening.
Barreling through random mess? What mess? The huge tires suck it up better than suspension ever can.
Pumping and hopping and cavorting? Heck yes. This bike gives you mega traction and cushion, yet when you load the tires it hooks and pumps like a hardtail. This, right here, is the magic. A bike that floats and claws when you want it to — and pumps and carves when you want it to. Load into your feet and it's a totally different, snappier, ride.
So much of the MTB press says plus bikes are for beginners, and I can see that, but dude. Dude! All that traction and small-bump absorption, plus the connection of a hardtail — this is one fun bike! And a real weapon in the right hands.
I can't wait to ride the new Stumpjumper FSR 6Fattie. Everyone who's ridden one says there's no going back — even to their trusty 29ers.
Bonus: 6Fattie wheels on my S-Works Enduro 29
They fit. Tightly. But they work, and they show what can be done with big tires plus suspension.
160 mm FOX 36 fork + 155 mm FOX Float X shock + 3-inch tires! This thing is a +++ bike!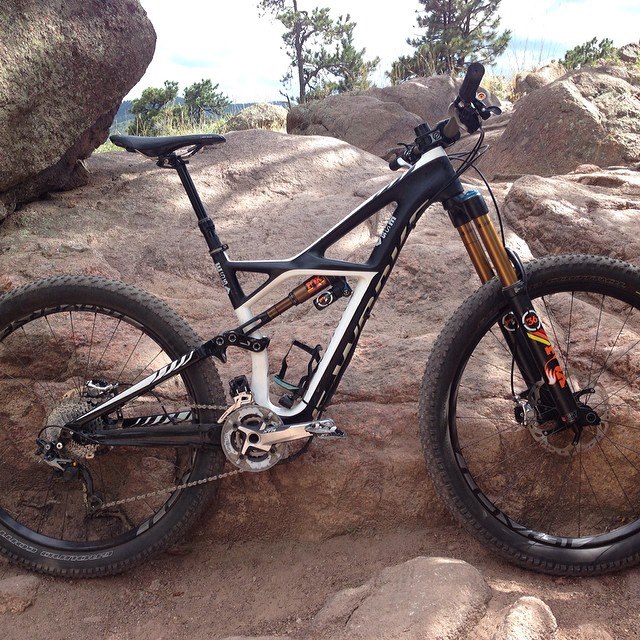 After a couple rides, it looks and feels normal. The new normal.
No surprises here:
Crazy amounts of cornering traction! Turns that should be sketchy … just plain aren't. We'll have fun finding the new limits.
A new level of bashing through stuff! A 6-inch bike with 2 inches of tire travel is basically a downhill bike.
Micro float! This is my favorite thing about plus tires. Pointy bumps penetrate the airspace easily so you can roll over rocks smoothly. When you load the pedals, the tires become firm so you can snap corners and pump backsides. Float like a butterfly and sting like a bee.
Also:
Normal Q factor! We mountain bikers can currently ride tires between 2 and 5 inches wide. Above 3 inches, the cranksets have to get wider. For me, a 3″ tire delivers the most grip with the least knee pain.
Two-bike quiver! God forbid I ever have to live with just two bikes, but a plus hardtail and a plus trail bike, a la the Fuse and Stumpjumper, would be a heck of a quiver. Both bikes accept 29er wheels, just in case you need that.
Many of us will be riding plus bikes soon enough. Go try one.
Lee
---
Know more. Have more fun!
Join the leelikesbikes mailing list:
---
https://www.leelikesbikes.com/wp-content/uploads/2018/08/leelikesbikeslogoheader.jpg
0
0
leelikesbikes
https://www.leelikesbikes.com/wp-content/uploads/2018/08/leelikesbikeslogoheader.jpg
leelikesbikes
2015-09-15 16:17:37
2015-09-16 14:50:09
Two rides on a Specialized Fuse Expert 6Fattie