Are your dirt jumps safety certified?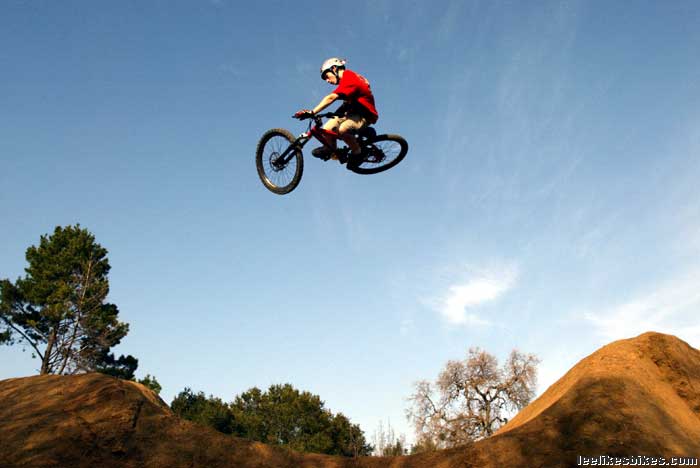 Pending court case could force cities to adopt "industry standards" — or break out the bulldozers.

---
By Lee McCormack. This story was written in January '05 and ran in the April/May '05 issue of Decline magazine.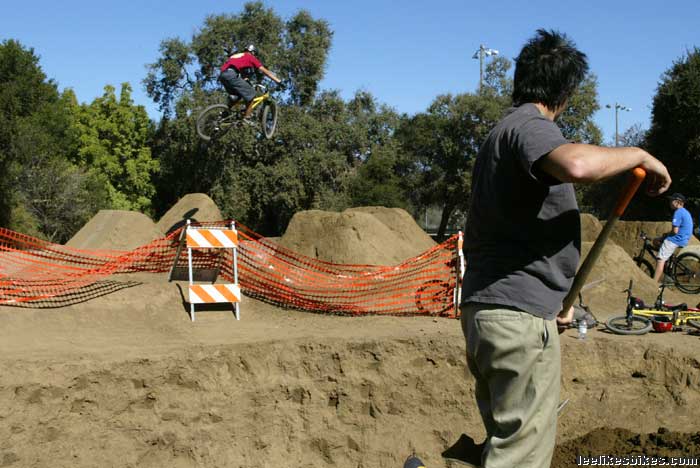 The cycle is as old as BMX itself. Kids find a patch of fallow land and build a few dirt jumps. As the number of riders and their skills increase, the jumps multiply and grow. That is, until they become a nuisance. Maybe someone gets hurt, or maybe the jumps just seem too big. Either way, the city destroys them. The kids rebuild them. And so it goes.
The jumps at Calabazas Park in San Jose sprawl along the edge of the greenery, between a paved walkway and the playground, ballfields and picnic area. As jumping spots go, this is paradise. Oaks cast shade, faucets flow cold and curbside parking eases access. Not to mention the jumps themselves: a mix of rhythms large and small, a smattering of tables, a few step-ups and some railable berms that add serious Gs to the equation.
Calabazas has been rolling longer than most of its riders have been alive. In the past 30+ years it's churned out numerous top pros and innumerable stoked amateurs, and it's seen its share of the build and bust cycle. According to Jim Cogan, chief of staff for San Jose council member Linda LeZotte whose district contains Calabazas, the city has seen the jumps' value to the community and allowed them to exist. When the mounds grew to ridiculous heights, the city would cut them down to size. There was no outcry, no public protest. It was the natural way of things, the seasonal growth and death cycle. Old jumps must die to make room for news ones, to germinate the creativity and muscles of the next generation of diggers.
The rise …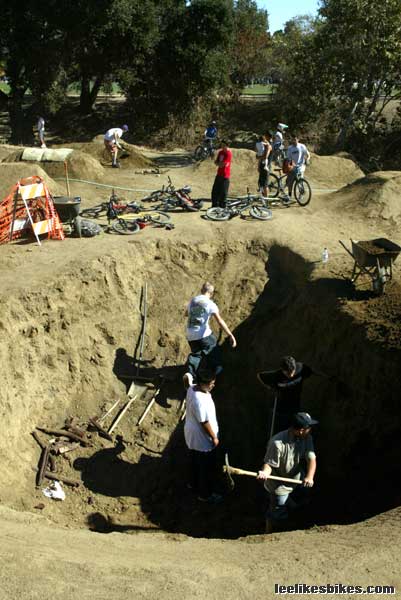 Five years ago a crew was told to knock the jumps down, like usual, but instead it leveled the entire area. The community was incensed. Everyone knew riders loved the place, but it turned out parents loved that their kids loved the place. Friends of Calabazas organized, presented their case to the city and won casual permission to resume the operations. Rob Carnahan and the late Cecil Johns, both pro riders and leaders of the scene, went to the city with a big sketch of how the park used to be. Says Carnahan, "They asked us, 'Can you build it?' and we said sure." The city agreed to a rough design and even provided a shed for tools and hoses.
The ensuing years saw a flurry of building activity. On Saturdays, chain gangs of groms ferried dirt from deep pits to the experienced shapers working on the lips. The scene was so bustling, so industrious, the kids seemed ready to break out in song: "Oompa, loompa …" On these days, it seemed like the kids were all right, that they'd found a positive outlet for their energy. Credit the rise of dirt jumping as a mountain biking niche and the migration of the youth from team sports to individual, "extreme" pursuits. Participation in Little League is at an all-time low. Kids don't want to do throwing drills and run laps. They want to hang with their friends and express their kinesthetic creativity in a non-linear fashion. That and go huge.
Calabazas had a nice collection of beginner-level jumps, but most of the building passion went into the bigger stuff. Advanced riders built near-vertical takeoffs with even taller, pinpoint landings — with gruesome gaps in between. Everyone knows tabletops are safer than double jumps, but filling those gaps is a ton of work and, besides, the thinking goes, if you're worried about landing short, you don't belong on these jumps. "The jumps evolved to match the sport, which is good," said Cogan, "but they didn't mach the abilities of all the riders."
… and the fall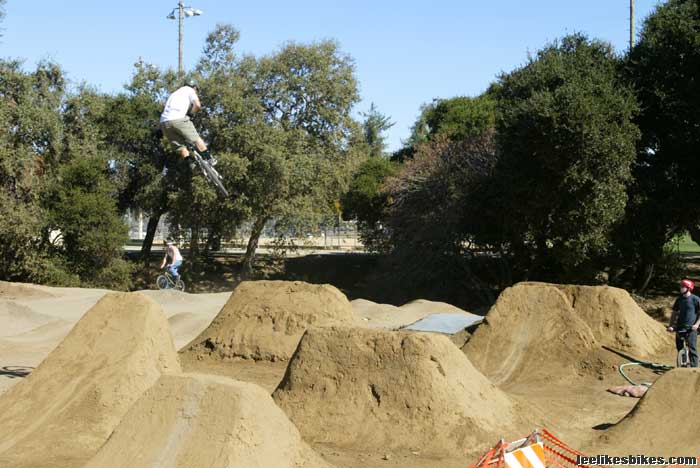 As long as riders learn proper technique and stay within their limits, dirt jumping isn't particularly dangerous. The problem is, bike riders in general and kids in particular aren't great at knowing their limits and staying within them. Said Carnahan, "Kids watch jumping on TV, and it looks easy. They play their video games, and it looks really easy. They don't realize that dirt jumping takes a lot of training, so they go out there and break themselves."
For the most part riders accept scrapes and fractures as the price of glory, but once in a while a serious accident permanently affects the lives of a rider and his family. In July 2004, 16-year-old Alex Ghenis clipped his front tire on a landing ramp of a large double, went over the bars, landed on his head and broke three vertebrae in his neck, paralyzing him from the chest down. (As of April 2005, he's regained some feeling in his arms, hands, neck and head. He can move his shoulders and extend his arms, but he can't move his fingers well.)
Of course, this wasn't the first time the city learned of an injury, and it turns out safety isn't the only issue concerning the park. Pedestrians have complained of near misses with bikes on the walkways, and residents have complained about too many riders teeming around the neighborhood. Calabazas has become a destination for dirt jumpers from the Bay Area and beyond, and on busy weekends they park on the neighborhood streets. Said Todd Capurso, San Jose's landscape maintenance manager, "We have to put the needs of the neighborhood first. The park needs to be built for the area of town that it serves, not for the bikers who are coming in from 30 and 40 miles away."
In October the city fenced off the jumps and held a public meeting to discuss the park's fate. Residents and riders showed up in force. Pro BMX freestyler and dirt jumper Ryan Nyquist, who grew up in nearby Los Gatos and cut his teeth at Calabazas, traveled from North Carolina to offer his assistance. Because of the "overwhelming response," says Cogan, the interested parties were whittled to a small but representative planning committee that will discuss the future of the bike park and make a recommendation to the city. Meetings began in December. Carnahan estimated the soonest the park will be up and running will be summer '05.
At the core of the discussion will be these questions: A) Do dirt jumps belong at Calabazas Park, or should they be placed elsewhere, B) What level of jumps fits the skills of the riders, and C) What safety standards must a city-authorized dirt jump park meet?
Following Alex's accident, his father Paul filed a claim with the city of San Jose. This written record can be considered a predicate to a lawsuit. Alex says his father wants to sue the city to recover medical expenses, but Alex refuses to go along with it, insisting that he's responsible for his own crash.
"The only person that believes (a lawsuit) would ever work is my dad, who is irrational and greedy, so much that he kicked me out of his house 10 days after I was discharged from the hospital," said Alex Ghenis. "I'm now living with my mom and stepfather in Oregon, and haven't talked to my dad in close to three months."
Paul Ghenis has raised an important question: The Calabazas jumps had no design or safety standards, and by allowing people to build as they please, did the city allow a dangerous situation to exist?
"A city has an obligation not to create a hazard," said Wesley Hoyt, a Colorado plaintiff's attorney who has been trying cases like Ghenis' for three decades. The public nuisance doctrine states a city that knowingly allows a hazardous situation to exist can be held liable for damages. This doctrine does not apply to natural terrain, but it does apply to man-made obstacles such as dirt jumps. The city-provided tool shed indicates San Jose knew the public was modifying the terrain. "That's the smoking gun," said Hoyt. "As a plaintiff's lawyer, I look for a standard. If I find a standard that the city hasn't met, then they're on the hook."
Many states have capped the size of settlements governments can be required to pay. However, an egregious public nuisance can blast right through that cap and result in a huge settlement. If an adult who earns $250,000 a year gets hurt, his attorney will multiply that figure by his life expectancy and file a $20, $30 or $40 million lawsuit, Hoyt said.
For a city, the best defense against liability is to show it has taken reasonable steps to provide a safe environment. As Cogan said, the city would like to find an established expert — as it did with its skate parks — who can build the jumps to an "industry standard." In this case, the city would like to re-open the park with posted rules and no active supervision. Smart cities already install playground equipment that meets current safety standards, and failure to do so would place them at risk. Said Cogan, allowing riders to build their own jumps "is like allowing somebody to put up their own swing set. We don't allow that."
Certified dirt jumps?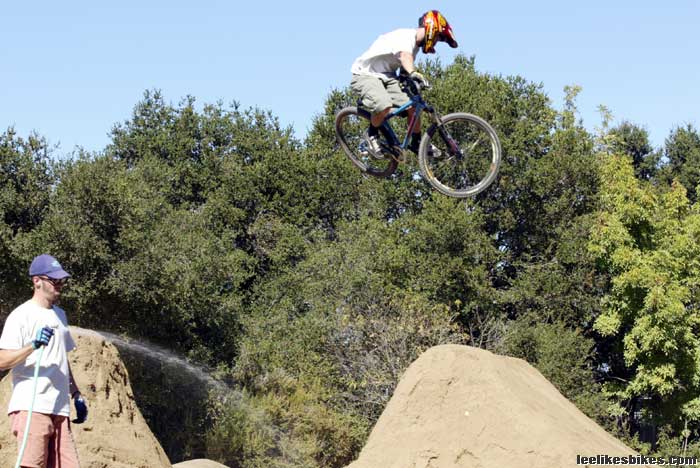 For both cities and attorneys, the crux question becomes, what is the industry standard for dirt jump safety?
Carnahan, whose family owns Calabazas Cyclery (named after the park) and who serves on the planning committee, says the park can be safe if jumps are built correctly, and if separate sections are created for beginning, intermediate and advanced riders. Pro riders could teach clinics on the weekends to help elevate the skills of the riders. Carnahan muses that riders might have to pass competency tests or carry a certification card to ride the advanced sections, but he admits that program would be hard to run. "It's a free for all out there, " he said, "but you don't want to stifle that. When I was 12 to 14 I crashed a lot, and luckily I never broke my neck, but when I finally got something big it was a great feeling. You don't want to take that away."
A crop of companies has sprouted up to serve the growing market for municipal skate parks. Dreamland Skateparks has the process as dialed as anyone. They establish space and budget constraints with the city, hold public design sessions to get buy-in from the community, build to a pro standard and even provide liability insurance.
American cities have begun to approve and build jumping parks (SEE SIDEBAR), each in its own way, but so far no one has laid out a replicable process for creating a legally safe dirt-jumping environment. One group, BikeSkills in Mill Valley, Calif., is trying to make one. They've been meeting with bike industry leaders as well as coaches, physicians, lawyers and psychologists to build a safe, progression-based program for dirt jumping.
"I think the one central question, which is missing so far, is 'Is this a healthy activity for children or not?'" said Rob Howard, BikeSkills' founder. "If we determine that dirt jump parks are good for our kids and communities overall, then it's incumbent on people like us to try to come up with something — to the degree that's possible — that's relatively safe."
That means studying the causes of injuries then specifying terrain and equipment that will minimize common problems. Howard says he'll borrow from other so-called dangerous sports like gymnastics and skiing. They embrace the concept of organized progression, which is absent from the sport of dirt jumping.
"We'll have to take a hard look at the sport itself," he said. "It'll be, 'Do you want to do this at all? Because if you do there are going to be some changes. There's going to be some structure, and certain things are going to be required.' That's really the only way."
Dirt jumping has a lot in common with freestyle skiing, in terms of the potential consequences of the stunts and the time it takes to master them. "Accidents happen unnecessarily when people try things they are not prepared for," says Dr. David Goltz, an orthopedic surgeon with the freestyle division of the U.S. Ski Team and a BikeSkills advisor. "If you want to have public-funds-supported places to jump, they have to be tame. There are just not enough rippers to make it worth public expense to center parks around them."
Besides, Goltz says, if you truly rip, what are you doing ripping at the local duck pond? Are you trying to impress the little ducks to feed your ego, and in the process inspiring them to try imprudent things? The city of San Jose has no desire to push the boundaries of the sport. It just wants to create an enriching environment for its residents. Over time, the truly gnarly stuff will likely end up in private (or secret) settings, while public places will get tamer and more organized.
Goltz says even tame jumps should require skills certification. He envisions green circle, blue square and black diamond jumps, all built by qualified builders and requiring some sort of tag that states riders are qualified to ride the areas.
Both a pro BMXer and a ski team surgeon are saying the same thing: Build safe jumps and control riders' access to them. Of course, it will be impossible to impose this order on random piles of dirt, and it will prove difficult even inside public parks.
What now?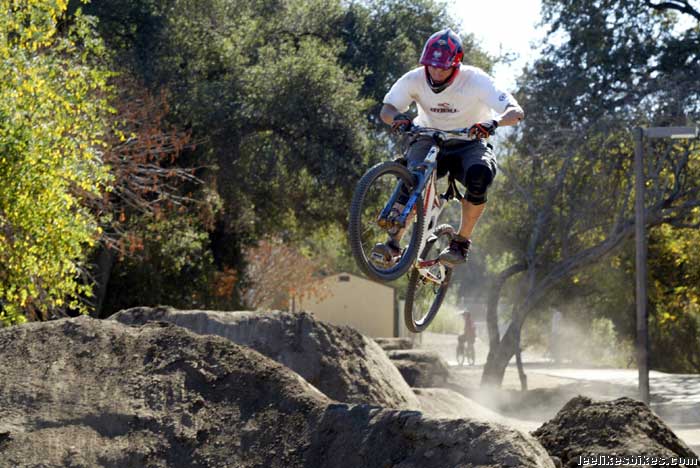 To get back to the issue of legal liability, if some cities install "certified" jump parks, they could in effect make all others "non-certified." Lawyers will interpret non-certified parks to be public nuisances, which will expose the cities to liability claims. Cities will then have two choices: 1) Build jump parks that meet the industry standard for safety, whatever that ends up being, or 2) Bulldoze the jumps and keep the kids away. This might be a turning point for dirt jumping. It will officially enter the mainstream, or it will recede farther into the shadows.
It's too soon to predict what will happen at Calabazas, but few will be surprised if San Jose decides to avoid liability and tear down all dirt jumps it finds. If San Jose does retain some sort of dirt jumps, they'll be a kinder, gentler breed. They'll be separated from walkways to protect terrified pedestrians. They'll be minimized so they don't draw riders from across the state. And they'll be made "safe," which will mean roll-able lips and no gaps.
The beginners and intermediates will be stoked to buzz through the new sets, but the advanced riders will look elsewhere. No doubt they'll find a new patch of fallow land and build a few dirt jumps. The jumps will grow until they become a nuisance. The city will level the place. The kids will rebuild. And so it goes.
See Public dirt jump success stories
---
Update 12.08.05
– In August Calabazas received $10,000 from Toyota, sponsor of the Dew Action Sports Tour in San Jose.
– The city of San Jose is accepting proposals from landscape architects.
– Grading is scheduled to begin in Jan/Feb.
– Opening is scheduled for April. Cool!
https://www.leelikesbikes.com/wp-content/uploads/2018/08/leelikesbikeslogoheader.jpg
0
0
leelikesbikes
https://www.leelikesbikes.com/wp-content/uploads/2018/08/leelikesbikeslogoheader.jpg
leelikesbikes
2005-12-08 15:51:35
2005-12-08 16:22:12
Are your dirt jumps safety certified?