A big day at the bike park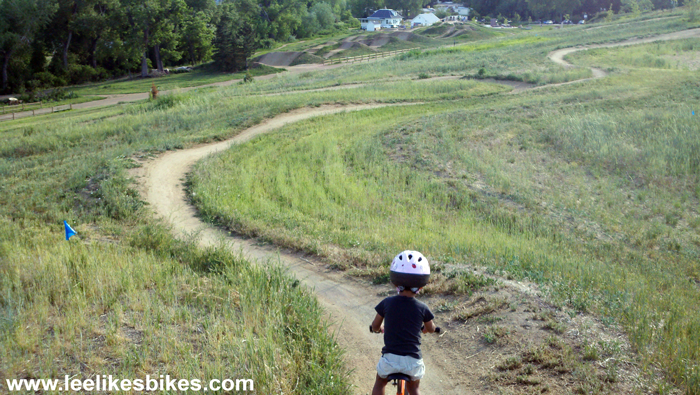 It's official: The Bugs are now mountain bikers.
---
Yesterday morning at Valmont Bike Park, I enjoyed an awesome pre-clinic slalom warmup — 20 laps and easily doubling the step-ups on the 29er! — but that accomplishment pales compares with this:
After nap time (for me and The Bugs), The Wife and I took Finley and Fiona to Valmont.
Pump track babies!
I've been wanting to get Finley and Fiona onto the lower pump track, but I had no expectations about their "performance." Well …
Fe charged right in and strode all the way around the track. Finn was nervous, but after a little coaching she too was ripping. At one point Fe asked for help, and I ran her really fast around a berm.
Mistake!
"I don't like it," she said, and that was it for pump tracking.
Lesson learned.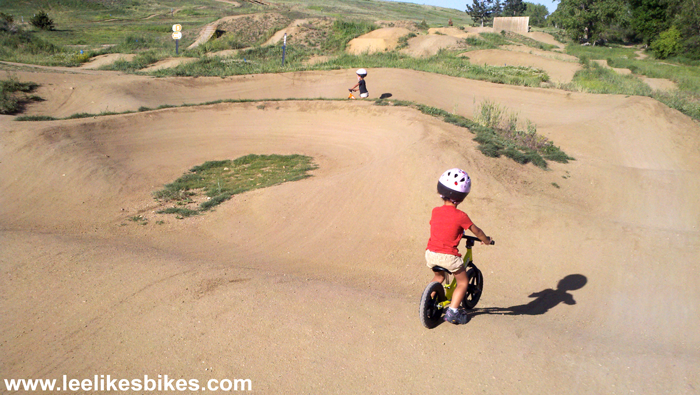 The high seats are optimized for striding, and I think they get in the way of handling. Hmm, remote seatposts?
Ripping trail!
The Bugs rode up the main dirt road to the top of the mesa, then we rocked two laps around the top XC loop. They loved it!
I was super worried about the steep (for little people) downhills, but the girls basically pinned it. I chased as fast as I could with a huge diaper bag.
Finn especially had the greatest smile. She was giddy. I was stoked for her, and trying not to plan her and her sister's MTB futures.
My girls are loving their bikes, and that is rad.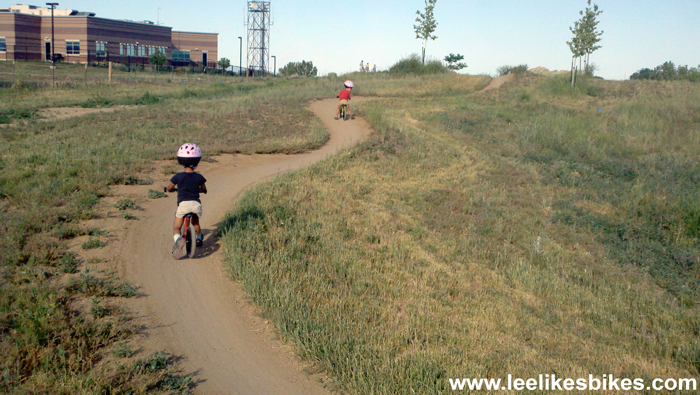 Earning some turns.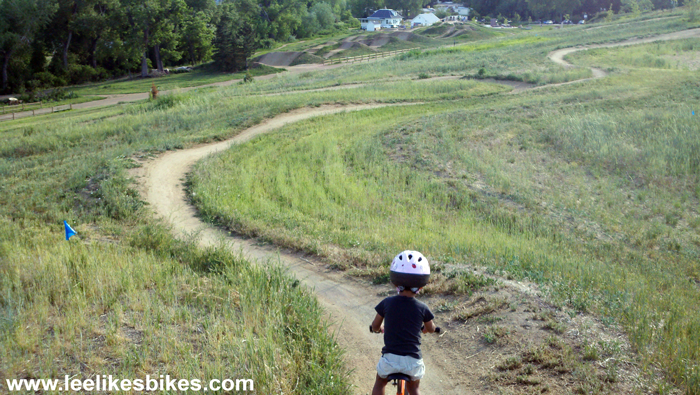 I was worried, but Fiona was not!
---
Know more. Have more fun!
Join the leelikesbikes mailing list:
---
https://www.leelikesbikes.com/wp-content/uploads/2018/08/leelikesbikeslogoheader.jpg
0
0
leelikesbikes
https://www.leelikesbikes.com/wp-content/uploads/2018/08/leelikesbikeslogoheader.jpg
leelikesbikes
2012-05-29 17:00:56
2012-05-29 17:02:16
A big day at the bike park