5 benefits a pump track will bring to your city
A guest piece from Shawn Wilson, owner of Epicenter Cycling in Aptos, CA and designer of the original Epicenter Pump Track.
---

How can a city provide a public venue for all ages to enjoy, without spending a fortune? I discovered one way to accomplish this when myself along with scores of local residents and bicycle enthusiasts put together and implemented a plan for a pump track. Operated by the city government and open to all that abide by the regulations posted upon entry, our pump track was constructed at the cost of one sign. Yes, all the city had to buy was one sign that posts the rules of the track. Our pump track has provided many other benefits to our community as well. From my experience with this project, I have gathered the top five benefits I believe a pump track could bring to your community.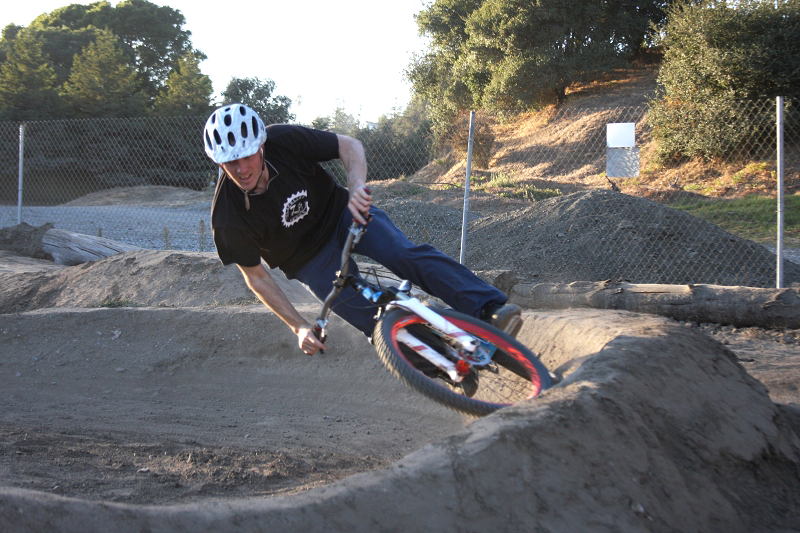 Evan Turpen designed the latest iteration of the Epicenter Pump Track. He is also a big-time ripper.
1. The community gets a valuable asset at a low cost
Contrary to building an concrete park, building permits and contractors are not required to build a pump track. Our pump track consists of soil and grass. It was constructed using the shovels and elbow grease of volunteers who put in whatever time they could during our build days. Yes, the whole track was built by volunteers! It was built by the very people who now get to ride their bike on the track day after day. For the heavy duty soil moving, the use of one small tractor was donated for a couple days. All soil was scraped from the site itself. Even the land upon which we built the track was free. It is owned by a bicycle enthusiast who decided to lease the land to the city for pennies so that we could ride. With the right passion and the right group of people, a pump track can be created without a big city budget meeting!
2. All ages and skill levels can learn in the same location
Although the track was built by those who already had enthusiasm for cycling, many of those who use the track are just beginning. With a focus on developing technical mountain biking skills in a small amount of space, pump tracks are not too intimidating for a beginner or too easy for a professional rider. In fact, on our track there is even a separate kids zone where parents can walk with their kids over the features! In addition, the same track hosted a professional pump track bike race in its first year of existence. Cyclists of all ages and skill levels ride our pump track every day.
3. Pump tracks create a fun and positive atmosphere
This is a place where people want to be. Kids hold birthday parties at our pump track on a regular basis. Adults get off work and come straight here to get a few laps in before dark. Riders of all ages come on the weekends and stay for hours on end. On the whole, people come together here to enjoy the simple sport of cycling and in doing so create a unique social setting for building friendships and new acquaintances.
4. Many people can use a pump track without disturbing the neighbors
Two types of noises are emitted from a pump track; bikes and voices. Tires rolling on soil create a surprisingly low level of noise. The edge of our city's pump track is located within 100 feet to the front door of my bike shop and I barely hear the bikes hitting the dirt. Nor do I commonly get complaints from customers, by passers or local residents that the bikes are too loud. In fact, most of them love it! Also, the sounds of voices coming from the track are usually confined within the boundaries of the track itself.
5. The community gets a valuable asset without emitting a lot of pollution
No concrete was used to make our pump track (with the exception of the base of the sign post). Compare that with a concrete or paved park and the difference in carbon dioxide emission is significant. Before grass settled in to hold the dust down, some dirt was tossed into the air. However, the effects were minimized by spreading water over the area. In terms of carbon dioxide emissions, the only particles we emitted originated from the short usage of one small dirt mover. Otherwise, some volunteers did drive to the site to help with construction but most arrived on bike!
In the opinion of myself and many others I know in my community, the Epicenter Pump Track has become a valuable asset to our city. With a low cost of entry, your community could have the same benefits. Cycling is a great sport and if you feel the same way, do something about it!
About the Author
Shawn Wilson is the designer of the original Epicenter Pump Track in Aptos, Ca and owner of Epicenter Cycling, which sits adjacent to the pump track (Epicenter Cycling also has a Santa Cruz bike shop location). Shawn has raced professional Downhill Mountain Biking and has worked in the cycling industry for many years.
About the Aptos Pump Track
If you want to visit the pump track talked about in this article, it can be found at 8035 Soquel Dr, Aptos, Ca 95003. It is open from dawn until dusk. Ample parking is available on-site. Call Epicenter Cycling for more info at (831) 662-8100.
---
Know more. Have more fun!
Join the leelikesbikes mailing list:
---
https://www.leelikesbikes.com/wp-content/uploads/2018/08/leelikesbikeslogoheader.jpg
0
0
leelikesbikes
https://www.leelikesbikes.com/wp-content/uploads/2018/08/leelikesbikeslogoheader.jpg
leelikesbikes
2012-05-26 14:19:23
2012-05-26 14:19:23
5 benefits a pump track will bring to your city