6'4″ rider: DH bike sizing (and technique)
Dear Lee,
First let me start off by saying how sorry I am to hear about your recent family trouble. My heart goes out to you.
Now onto less pressing albeit still important issues. I'm in the market for a new frame and have been checking out the Transition Gran Mal. My issue comes from deciding what size frame to get, Gran Mal is offered in 2 sizes. The difference between the sizes are Short = 22.5 eff.Toptube/ 45.75 wheelbase or a Long = 24″ eff. toptube/47.25 wheelbase. I'm 6'4″ and currently ride a large 03 Big Hit, which feels somewhat unstable on straight choppy fast trails (ala: Reaper at Bootleg Canyon), but doesn't seem to corner all that well on tight sweeper (probably my bad technique). Anyhow looking for some insight from someone with more knowledge than I'm able to muster.
BTW, I tend to ride Bootleg alot, race at Fontucky and ride alot of different SoCal areas (telonix, san juan, etc.) Thanks for your time and keep your head up, our prayers are with you.
Sincerely,
David

The more you click, the more I can post. Lee Likes Groceries dot com!
---


High atop Bootleg: Brandon Sloan tests a prototype Enduro, circa January 2004. His position is almost perfect. His CG is just a hair forward of his bottom bracket.
Hey David,
Thanks for the kind words. Now to business:
1. No modern bike is both sketchy at speed and sucky in corners. I'll guess your weight is too far forward or back (depending on your fear level), you're holding on too stiffly, and you're not leaning the bike in the corners.
2. The 24″ rear on your BigHit makes the bike handle really well in tight stuff, but it does hang up on square edges. On a DH bike, 26s are a noticeable improvement. (I raced a 2002 BigHit for two seasons. I won local expert races on it, but the Demo 9 upgrade took me to the masters Worlds.)
3. If you do the Transition Gran Mal, get the long frame. On the Transition site they say:
5'5″-6'0″ – Short
6'1″-6'8″ – Long
The Gran Mal's long wheelbase will be super stable at speed, but you'll have to lean like a champ to make the switchbacks. Also, those chainstays are pretty long; that means you'll need full range of motion to manual.
That's the sort of stuff I teach in my clinics. It's in the book too.
Have fun, and just say BRAAAP!
— Lee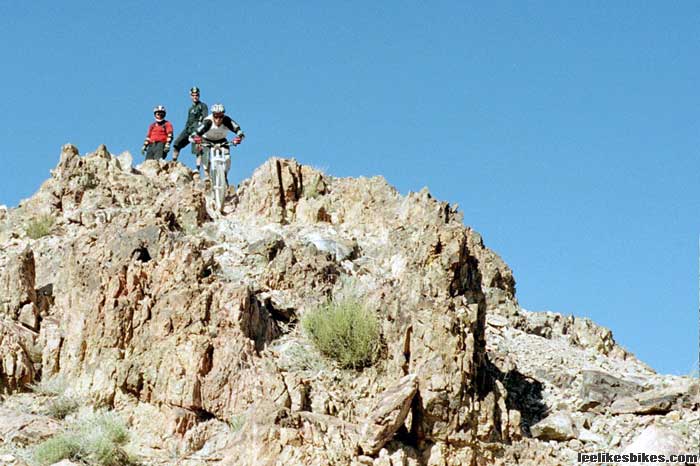 I've heard that Bootleg has a few rocks. Local honch Tony Santoro rocks like the star he is.
https://www.leelikesbikes.com/wp-content/uploads/2018/08/leelikesbikeslogoheader.jpg
0
0
leelikesbikes
https://www.leelikesbikes.com/wp-content/uploads/2018/08/leelikesbikeslogoheader.jpg
leelikesbikes
2006-12-27 12:26:47
2006-12-27 12:34:47
6'4″ rider: DH bike sizing (and technique)