24″ mountain bike or BMX cruiser?
Chris is riding dirt jumps and skate parks on his P.2, and he wants a lighter, more maneuverable machine.
Lee,
I have a question that I cannot seem to answer. I am looking to buy a new dirt jump bike and think 24″ wheels are what will best suit my riding. I currently ride dirt jumps(mainly)and skatepark on a 26″ P2.(just purchased a Heckler for all-mtn duty) As I progress and begin to try to throw tricks I am becoming more and more convinced that 26″ wheels are too big. The bike is so slow, cumbersome and heavy, part of me wants to be true to the 26″ scene, part of me thinks 24″ is the right tool for the job, (20″ is out, feels way too small).
My understanding is the larger the wheel the better it rolls over rough terrain @ speed, so big wheels on smooth surfaces not much benefit? my next question 24″mtn style or bmx cruiser style? The problem with the cruiser is it is usually only offered as a low end complete and the top tubes are generally too short.
What I really would like is a top tube @ about 22in. and as tall a bar height as I can get(prefer to be more upright and less out over the front end.)Some brands i have considered are 26″ Blk Mrkt or Transition. 24″ NS, Static DMR, Mirraco, Haro, DK. Can you help clear some of this up? Would like to find a frame btwn. 3-4 bills, w/ 22 TT quality steel (chromoly)?
Any recommendations? Also, there are no shops nearby that I can go demo the different style bikes, I did demo a MCS cruiser that felt good, but would you recommend a race bike in this application? Thank You for your time.
Chris Smith
---
Hey Chris,
I see your options like this: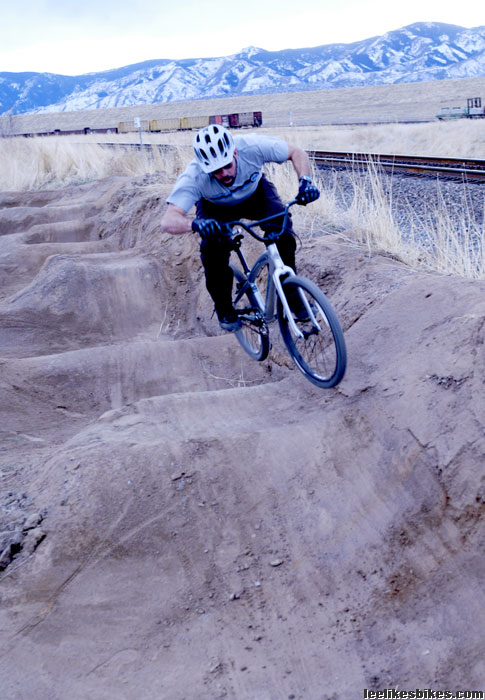 BMX cruisers are WAY snappier than DJ hardtails. 20s are WAY WAY snappier. Pump track action on the Intense.
1. Keep your P.2 and learn to ride it. Unless you're very good, that bike isn't holding you back. Zach and Yellow on the Yellow Designs Stunt Team throw all of their tricks on 26″ wheels. DJ hardtails like the P.bikes are hard to beat from a fun and versatility standpoint. Keep your P.2 no matter what.
2. Get a 24″ mountain bike. That seems silly to me. Why go to the trouble and expense for a half-@$$ solution?
3. Rock a BMX cruiser. It sounds like you want a BMX cruiser to feel like your mountain bike. That is not going to happen. Accept that the cruiser will be smaller and stiffer (and lower), and accept that those traits make it more capable — after you learn to ride it.
You can get a cruiser with a 22″ top tube, but not as a complete bike. Stop trying to re-create your MTB. Getting a complete Pro XL bike for $400 to $800. My Intense Factory Alloy 24 costs less than $700 complete. It has a 21″ top tube (like my short P.3), and it rips. Unless you're a total maniac, a low/mid range race bike will hold up fine.
4. Go all the way and ride a 20″ DJ bike. These start around $400. These bikes are made specifically for throwing tricks at DJs and skate parks. Nothing is more responsive. Nothing will develop your skills so effectively. I had a chance to ride one of these in some concrete bowls, and the difference between it and my cruiser was night and day. The difference between a 20″ and a MTB … that's tonight and two days from now.
Decide what you want to do, and pick the appropriate tool. Based on what you're saying, I think you should either:
A. Stick with your P.3 and learn to ride it.
B. Get a 20″ and learn to ride that. When you get good on the 20, you'll be superhuman on your mountain bikes.
It's hard to find these bikes for test rides. Ask friends or go to a specialty shop like The Fix in Boulder.
Braaap,
— Lee
---
https://www.leelikesbikes.com/wp-content/uploads/2018/08/leelikesbikeslogoheader.jpg
0
0
leelikesbikes
https://www.leelikesbikes.com/wp-content/uploads/2018/08/leelikesbikeslogoheader.jpg
leelikesbikes
2008-07-03 10:50:37
2008-07-03 10:50:37
24″ mountain bike or BMX cruiser?