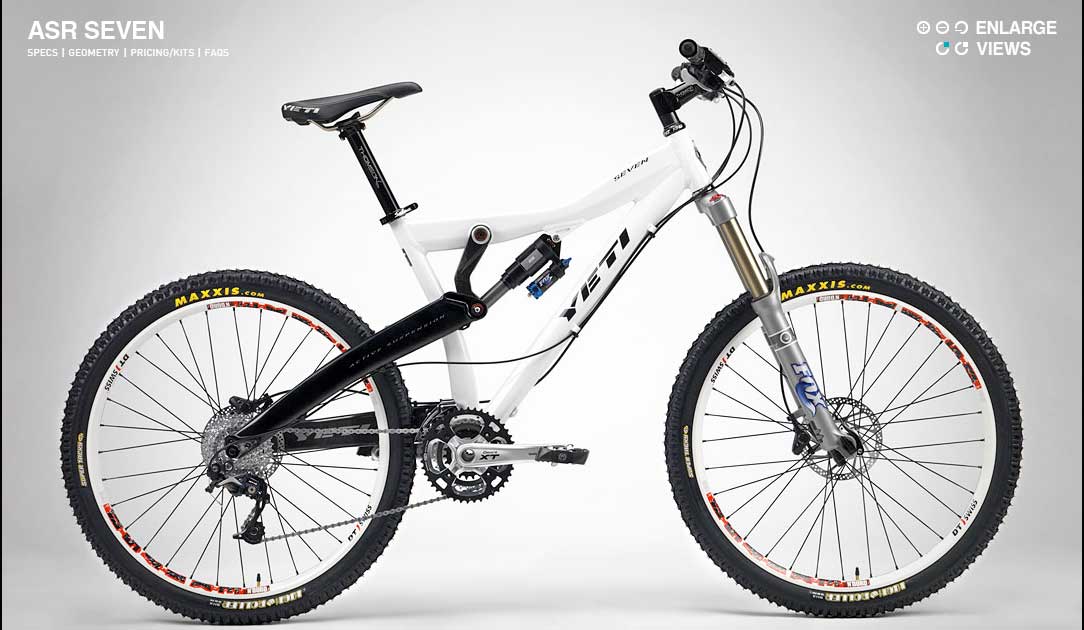 Lee
GREAT site! Love it! If you have time for a quick question I would love your insight. Living in Texas good first hand information on mountain biking is no easy to find. =) I use to race moto x in the pro class for years just local with few national races nothing huge but I have experience on two wheels.
My cousin Chris Myers of Colorado Springs races DH etc he was sponsored by Brodie Bikes for a while.
MY QUESTION: I will be visiting him in Aug and do some riding. I'm 6'0 175lbs he told me to go ahead and plan on getting a the Yeti 575. I have seen the new Yeti ASR-7 I did read your article about the 575 vs the ASR. Do you have any insight on the AS-R 7 I e-mailed Yeti and they said it would be out July 2008. I found this article but would like your input: http://www.bikeradar.com/news/article/yetis-dramatic-new-seven-up-close-12577
James Robertson
Hey James,
– First of all, from where I'm sitting, racing pro moto at any level is a big deal. No question you know about speed and braaap.
– Second, I know Chris. He's a super nice guy, and a heck of a rider. Any cousin of his …
And, finally, the bikes
| | |
| --- | --- |
| 575. Photos snagged from the Yeti site. | AS-R 7 |
Yeti 575 vs. ASR-7.
– They are different animals. The 575 is an all-around trail/all mountain bike that climbs as well as it descends. The AS-R 7 is a heavier duty all mountain/freeride rig that will climb OK but will truly shine in braaap mode.
– This decision is analogous to a Specialized Stumpjumper vs. an SX Trail. It's a question of terrain and riding style.
– The 575 will serve most riders very well on a wide range of terrain (and can be ridden very hard/fast). The ASR-7 makes sense if you have big terrain and bigger ambitions.
– If you need a bike in August, I suggest grabbing a 575 now. I would not bet on that July delivery date.
Rock.
— Lee
---
https://www.leelikesbikes.com/wp-content/uploads/2018/08/leelikesbikeslogoheader.jpg
0
0
leelikesbikes
https://www.leelikesbikes.com/wp-content/uploads/2018/08/leelikesbikeslogoheader.jpg
leelikesbikes
2008-05-07 08:33:00
2008-05-07 08:33:00
Yeti 575 vs. AS-R 7?