World Champion of Lyons Endurance Pump
Until today, our friend/rival Will at LateApex4Life held the record for 100 laps of Lyons pump. The jerk actually texted me right after his ride: "Will McDonald, June 27, 100 laps on Lyons pump track, 31:59.2"
OK Tough Guy, it's ON!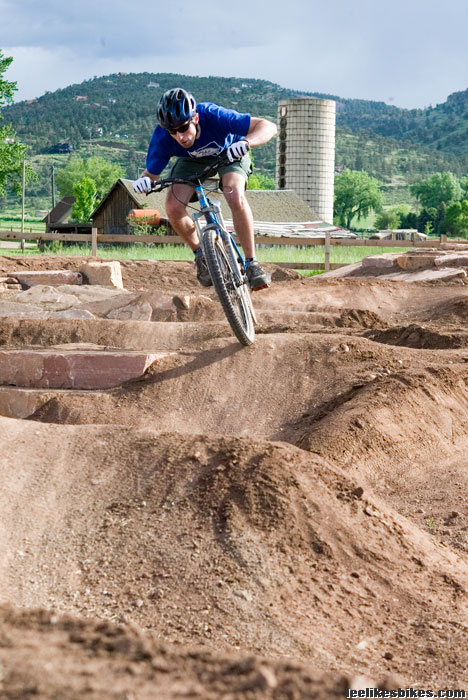 Will gets some on opening day.
This evening I hit some Lyons jumps with Ian and his buddies, then, when everyone cleared out, I got down to business.
Protocol
Set the cell phone on a rock in the infield. Hit Start. Do 10 laps clockwise with my right foot in front. Roll to the cell phone. Hit Stop. Rest until things start to make sense. Hit Start. Do 10 laps counterclockwise with my left foot in front. Hit Stop. Repeat for a total of 100 laps.
Bike
Specialized P.3. Fox F100 set very stiff. Sun Charger 27 wheels (pretty light, nice and stiff). Specialized Eskar tires (my new official rubber; they roll plenty fast and RIP the turns). Hayes Stroker brakes (unused).
Five.Ten Impact shoes. Specialized Enduro shorts (so sweet). The Fix Bike Shop t-shirt. Mismatched socks (mandatory). Clean underwear.


I get some on race day. Photo: Photo-Cycle.com
Results
The first sets were around 2:10, then I settled into a 2:30 pace, then the pain came. Laps 80-100 were brutal! It was like, just get this one roller or turn really well, then cruise the rest of the lap.
Heavy feet, light hands! Tea Party fingers!
Total riding time: 26:42
Caveats
Will did two sets of figure eights at the end, which added about a minute to his time. Full details on Will's feat.
My time includes a fair amount of fiddling with the cell phone.
My rest intervals were not measured. They were probably longer than Will's.
This protocol isn't suitable for UCI competition, but it's good enough to make me the World Champion of Lyons Endurance Pump. At least for now.
Throwdown
All right you fast/fit meatheads. I know you're out there. Who's gonna take this?
Braaaaaaaaaaaaaaaaaaaaaaaaaaaaaap!
— Lee (WCoLEP)
---
Know more. Have more fun!
Join the leelikesbikes mailing list:
---
https://www.leelikesbikes.com/wp-content/uploads/2018/08/leelikesbikeslogoheader.jpg
0
0
leelikesbikes
https://www.leelikesbikes.com/wp-content/uploads/2018/08/leelikesbikeslogoheader.jpg
leelikesbikes
2009-07-07 22:24:41
2009-07-08 07:35:12
World Champion of Lyons Endurance Pump