Win a set of Geax Lobo Mas Loco White Collection tires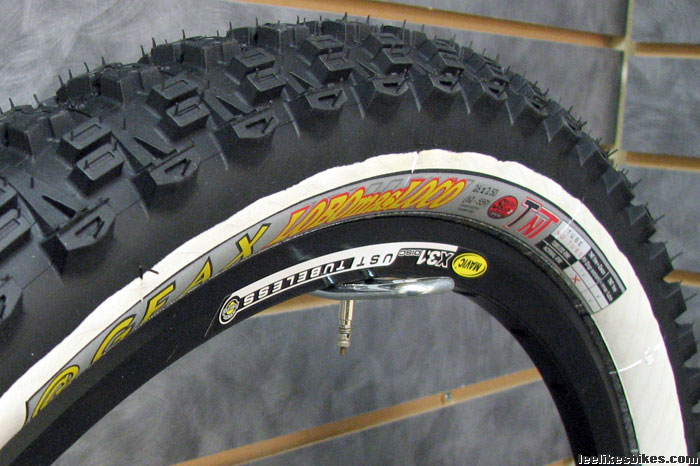 Two of the greatest powers in the world: 1) the written word and 2) whitewalls.
Show us your word power, and win some sweet whitewalls.
The prize
A pair of very lightly used 26 x 2.5″ Geax Lobo Mas Loco White Collection tires. These work well in a range of dry, heavy-duty conditions, but they are designed specifically for "new school" freeriding on packed terrain. A-Line!
– Tons of edges.
– Huge, reinforced casing.
– Mid-durometer (60A) compound for fast rolling and long wear. Holds steady under high-G braaapitude.
– Super-pimp white sidewalls.
– Whitewalls!
BTW: I rode a pair of White Collection Saguaros for over a year, and they were great.
The challenge
Tell us in one sentence why we should send these tires to you. This sentence can be any length or style, and you can say anything you want. Your sentence will be judged on:
– Structure
– Style
– Raw impact
Post your sentence in the comments field below. Include your email address when you sign in. Other rules:
– No profanity. This is a family site.
– Spelling and grammar count. You can bend the rules for effect, but — dude — don't join two independent clauses with a comma and no conjunction. Not cool.
– We'll send the tires within the U.S. If you live elsewhere, we'll ask you to help cover the extra shipping via Paypal.
Thanks to
– Chris G. in the Bay Area. These are his tires, and he's mailing them to the winner at his cost.
– Ryan Delong at Geax. He provided the tires in the first place.
I'll decide the winner on Sunday, Jan. 25.
Go forth and write!
— Lee
---
https://www.leelikesbikes.com/wp-content/uploads/2018/08/leelikesbikeslogoheader.jpg
0
0
leelikesbikes
https://www.leelikesbikes.com/wp-content/uploads/2018/08/leelikesbikeslogoheader.jpg
leelikesbikes
2009-01-11 13:10:15
2009-01-11 13:10:15
Win a set of Geax Lobo Mas Loco White Collection tires