Western Denver pump track action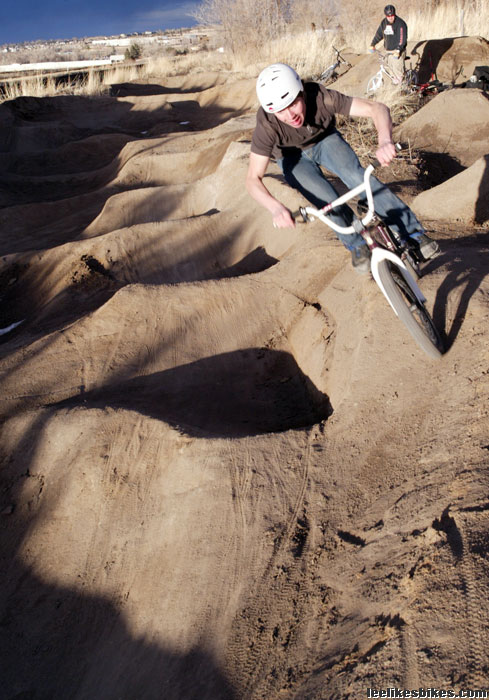 Oh man, it's been way too long. I've been staying semi-fit, but I haven't done anything fun since I broke some ribs a month ago.
On Saturday Evan, Ian and I went on a little road trip to ride our friend Robyn's track. This is a private track; do not ask me for directions!
The track: I'd characterize this track as French Style. It's tight and very peaky. At first it's not as flowy as the International Standard, but it's definitely fun. On a French Style track, your movements have to be quicker and more precise; I suppose that's good training.
That's Robyn at the right. He collects (and rides) vintage BMX bikes.
The bike: I rode my brand new Intense Factory Alloy 24. This bike is stiff, maneuverable and quick. I tried Evan's 20, and that's even quicker than the cruiser. Comparing these BMX bikes to mountain bikes, it's a different world — quicker, tighter, more punishing, more rewarding. More on the Intense soon.
| | | | |
| --- | --- | --- | --- |
| Evan, chainless on a 20. | Jumping up onto the bank. This way-outside entrance made the turn WAY faster. | Check out this line. Jumping from the second roller … | … to the bank above the berm. Sick! |
| | | | |
| --- | --- | --- | --- |
| Me, rocking some micro-style into the berm. Check out the scenery. | Railin' the 24, trying not to think about this. | The setting sun was blinding, but check out that light! BTW: This bike rips. | … and we're in the turn. Braaap! |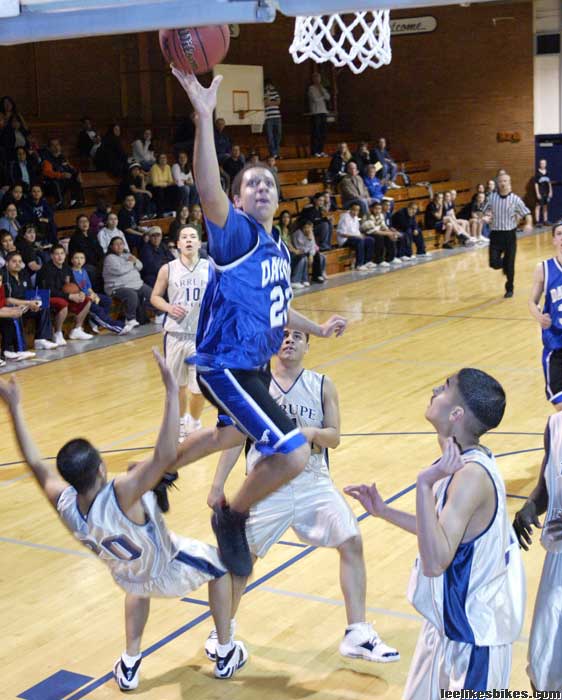 Ian in non-bike action.
This was my stepson Ian's first day on a pump track. This was a hard track to learn on, but Ian picked it up like the star athlete he is. He took all of these riding photos. Thanks Ian!
---
https://www.leelikesbikes.com/wp-content/uploads/2018/08/leelikesbikeslogoheader.jpg
0
0
leelikesbikes
https://www.leelikesbikes.com/wp-content/uploads/2018/08/leelikesbikeslogoheader.jpg
leelikesbikes
2008-02-18 12:05:50
2008-02-18 12:50:08
Western Denver pump track action