Upgrade: Swinger 3-Way to RP23?
Hey Lee, I have a Giant VT2 which runs a Manitou 3-way rear shock. It will cost me a bit to get it serviced and change all of the parts….ok…I just needed an excuse to upgrade. I've been looking at the Fox RP23, my questions are:

1. I am running Fox Float RLC at the front, so, would RP23 a good match?
2. Would it run well on the VT? Or is it going to stuff up my handling?
3. Would it behave very differently? And it is going to take me some time to get used to it?
4. Final question….would it be better off sticking to Manitou 3-Way?
Chay
Hey Chay.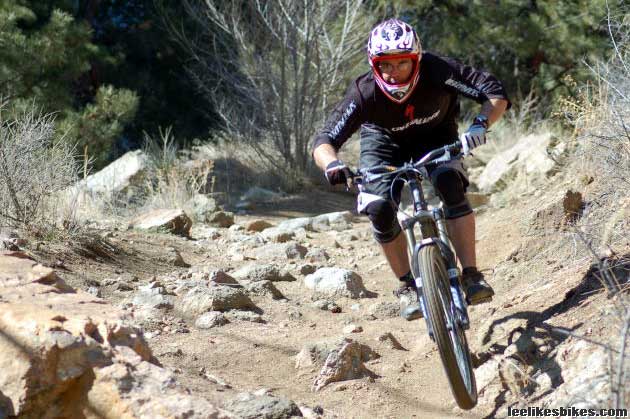 My PUSHed Enduro with FOX fork and shock was incredibly balanced and plush — yet firm and stable where it needed to be.
1.
Yes, the FOX fork and shock would work well together. That shouldn't be a surprise. See below.
2.
Your bike will handle great with a FOX rear shock — especially if the shock is valved for the bike.
If you buy an aftermarket FOX shock and slap it onto your bike, it will probably work just fine. But: OEM FOX rear shocks are valved to match the suspension characteristics of each bike.
I am a huge fan of PUSH Industries. If you buy your RP23 from them, they will valve it specifically for your bike, your weight and your riding style. This is, quite frankly, the sh**. You can send your fork in for the same treatment, and I guarantee your bike will absolutely rip. Jimmy at PUSH worked on my old Enduro, and he made a great bike even better.
(Update from Mark Fitzsimmons at FOX: "I believe the Giant VT2 is a standard 7.5″ x 2.0″ — It should bolt on and work well.")
3.
The FOX RP23 will feel different than your Manitou Swinger. My old Enduro and SX came with Swinger air shocks, and I upgraded them both to FOX, so I have a straight comparison.
The SPV on the Swinger gives you a very noticeable pedal platform, and a funny spring rate. In my experience, it took a lot of force to break through the platform, then there was a hammock (soft area) in the spring rate, then the resistance ramped up toward bottom-out. When I hit a bump, the bike would "fall" into the hammock and kind of wallow down there. The shock worked, but I found this behavior noticeable and disconcerting.
The FOX air shocks feel much more consistent. The ProPedal is just kind of there (if you want it to be), and the spring rate is very predictable. In my experience, the FOXes felt more plush, yet more stable. For my riding style, I'll pick a FOX any day.
3.
To upgrade or not is a personal decision. I'm all about practicality — if it works, and it's paid for, run it.
But I'm also all about cool stuff that helps me rip.
IMO, a PUSHed FOX system will be awesome. If you decide to upgrade, don't screw around. Go all the way with FOX and PUSH. If you can't afford that, I say stick with what you have.
Braaap!
— Lee
---
https://www.leelikesbikes.com/wp-content/uploads/2018/08/leelikesbikeslogoheader.jpg
0
0
leelikesbikes
https://www.leelikesbikes.com/wp-content/uploads/2018/08/leelikesbikeslogoheader.jpg
leelikesbikes
2008-04-10 09:59:10
2008-04-10 21:28:37
Upgrade: Swinger 3-Way to RP23?