Review: my first four rides on the Trust Message fork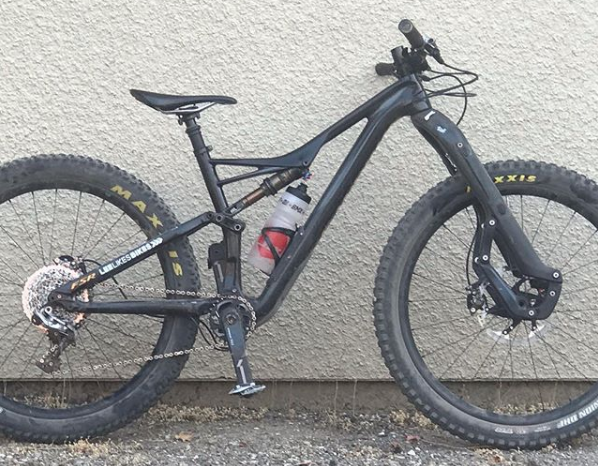 The internet has been exploding with news of the Trust Message linkage fork. I've been riding one! Here is a quick review.
Disclaimers: 1) Trust sent me the fork to try. 2) I like bikes a lot, and I use them to transcend consciousness. Any thing that helps me slip into a peak Flow state, I'm gonna like that thing.
Here are my initial impressions of riding the fork. If you want to read the technicalities, check out the Trust website and do a Google search for "Trust Message fork."
This past weekend I did five rides at the Soquel Demonstration Forest in Santa Cruz. This is my favorite place to ride in the world, and I've been riding these trails since 1993. The Demo has a full mix of high speed smooth, high speed chatter, medium-phase bumpy, alarmingly tight, roots, braking bumps, drops, jumps, convolution, and all the other yumminess. The route was up the road, down Ridge, down Braille and up the road to the parking lot. I usually do this ride on an Enduro Coil.
The Trust Message fork went on my 2016 S-Works Stumpjumper. I've been riding this bike for three seasons on a range of trails, bike parks and even lift-served downhills. It's a fantastic, versatile bike. It's worn 27.5×3 tires, 29×2.3/2.5 tires and now 27.5×2.8 tires. The stock fork is a 150mm FOX 34 Factory. The shock is a FOX FLOAT Factory DPS with 135mm of travel. Brakes are XTR with 203/180mm rotors. This bike is built for business.
The Trust Message fork looks crazy. We installed it. It looked insane. Around my neighborhood it felt … uh … different. I packed the bike for a weekend of riding, but I brought the stock fork as a backup.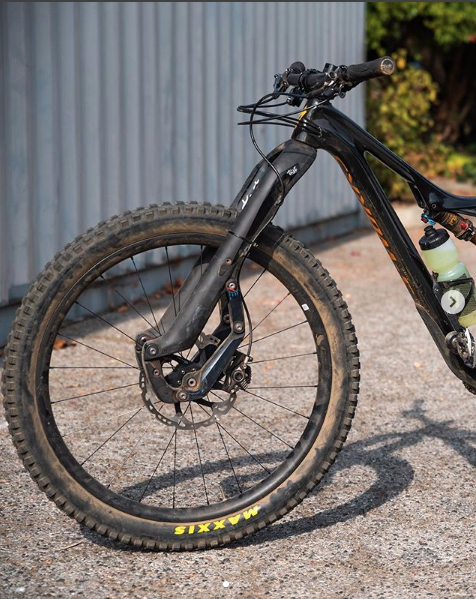 Forget what you think you know about front suspension. Just ride it. That's the advice from the designer Dave Weagle. Once I got on my bike, I focused on riding and, of course, I wasn't looking down at that crazy front end.
If you crave attention, this is the fork for you. Almost everyone we encountered asked about it. I, of course, got to be super cool and tell them about it.
My head angle is a degree steeper than before. This is because the 130mm Message has a 20mm shorter axle-to-crown distance than the 150mm 34. I rode a proper steep, gnarly trail, and the bike didn't feel steeper, or sketchier, or any of that. That might seems surprising in this age of Go Slacker Bro, but the setup just plain worked.
The fork is very firm. Because the wheel doesn't track along the steering axis, when you push down into the fork it barely compresses. This applies to climbing out of the saddle, loading for a hop and smashing into a turn. In these moments the fork feels like it has very little travel. Another way to put it: You have a very efficient, connected attachment to the ground.
Yet the fork is very plush. Here it gets interesting. The axle path is backward and upward. When you hit a bump, the fork is very responsive. I was riding a 130mm air fork on a trail I usually ride with a 160mm coil fork, and it felt smoother. Yes, smoother. Especially in the mid-sized, high speed chatter.
This conundrum — firm and plush with no apparent compromise — is a huge part of how the fork rides. We're conditioned to either having plush or firm suspension, and we've always sought the sweet spot via damping. That's been fine because bikes are rad, and the 34s and 36es of the world are really good.
But there's this duality on the Trust fork. I was loading the bike in turns — efficiently as if I'm riding a FOX 831 or a Brain fork — yet the fork was tracking insanely well through the bumps. I was riding really fast, and it was easy, and it was natural.
A technical detail: The fork's offset changes through the travel, so the trail (Weagle calls it "caster") is the same whether you're skimming along roots or plowing into corners. I was really tripping out on this. What does that feel like?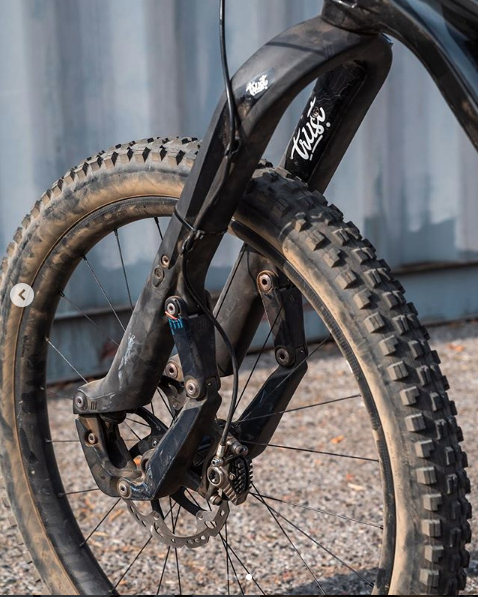 The separation of loading and tracking, the consistency of trail, the separation of the fork's structure from the damping, the overall burliness of the fork, and the tune (plush off the top, generous through the middle and controlled at bottom) … these all create a unique riding experience.
Trust calls it the trust effect. I think they're struggling to express, in words, a completely kinesthetic experience. We're all riding great equipment. Yet we've become accustomed to a certain amount of inconsistency and sketchiness. I'm talking about forks catching on bumps, geometry changing dramatically when we hammer through rough sections, suspension becoming less effective when we load our bikes. This has all become normal. The Message is not normal.
Compared to the past … uh … 25 years I've been riding these trails, I found myself feeling more comfortable, looking farther ahead, braking less, jumping into and out of turns, and connecting shapes I'd never noticed. Saturday's descent was the best I've ever done.
On Sunday I swapped bikes with Lars from Trail Head Cyclery. He rode my Trusty Stumpy. I rode his Yeti SB5 Lunch Ride. This bike has premium everything including a 160mm FOX 36 Factory fork with the RC2 damper — the best suspension money can buy, right? I'm running 2.8 Minion/Rekon. He's running 2.8 Minion/Minion. I was curious to test the 36 back-to-back with the Message. The comparison:
Lars was carrying so much freakin' speed it was insane. He wasn't feeling fast, though. He said everything felt easy and controlled.
I was hauling ass too, but I was working harder. Lars usually outrides me on the straights and I catch him in the corners. On this day Lars was cornering so fast I was pedaling to catch up.
I felt the hugeness and depth of the 36, especially when taking bigger hucks to silly landings. That felt good. Confidence inspiring.
Yet the bike was … noisier. The front wheel was catching more in the bumps. The fork was collapsing into corners. I was feeling more buzz, and I was braking more often. I was having fun! Let's not forget that. But the 36 and Message are different.
What's negative about this fork?
Price is an issue for most riders. Retail is $2,700. There's that.
At first, the fork feels unreceptive when hucked to flat. I think part of this is the relatively low travel. The other part is the axle path: It's optimized for bumps, not for falling out of the sky. That said, by my third ride I was hitting all of the line options with impunity. Keep in mind I was riding a 27-lb 130/135mm air-sprung bike instead of my normal 35-lb 160/165mm coil sprung bike. I'm not sure what adjustment I made in my riding style, but I made it. If you have low skills and yet you need to go huge, you might prefer the squoosh of a premium telescopic fork like the 36.
Going huge bro! Lars got full travel: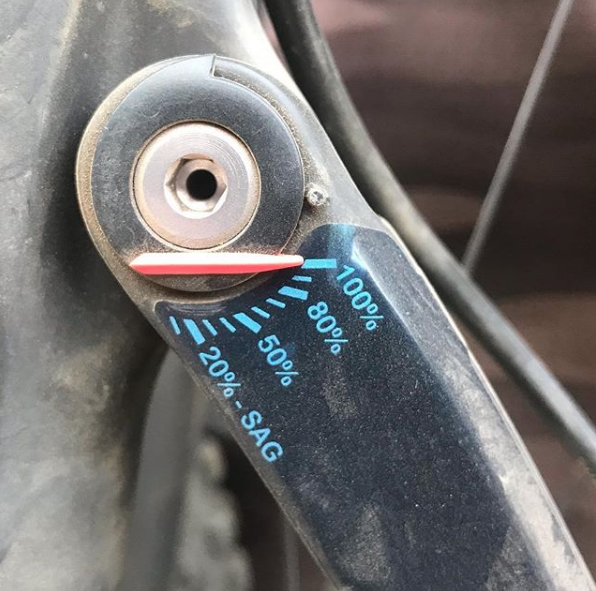 Suddenly my rear shock sucks. Well it doesn't really suck. It's very nice. But it wasn't keeping up with the fork. I've already installed another spacer in the air can, and that's helping. The next step is to upgrade the shock, or to step up to the 2019 Stumpy. Damnit! I love this bike! But the Trust is outperforming it.
I left with Message with Lars for a couple weeks. We'll hear from him soon, and I'll keep reporting as I ride the fork more.
Have fun out there,
Lee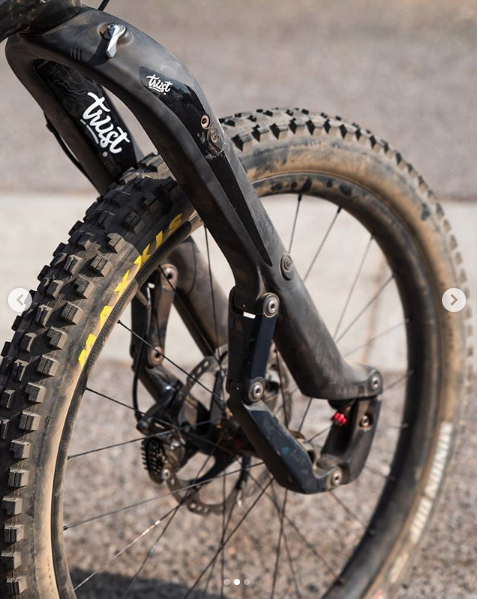 https://www.leelikesbikes.com/wp-content/uploads/2018/08/leelikesbikeslogoheader.jpg
0
0
leelikesbikes
https://www.leelikesbikes.com/wp-content/uploads/2018/08/leelikesbikeslogoheader.jpg
leelikesbikes
2018-11-20 18:24:13
2018-11-22 16:38:43
Review: my first four rides on the Trust Message fork