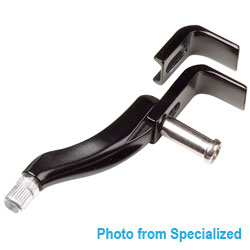 Hey Lee,
Congratulations on the twins, hope the family is doing well.
Lennard Zinn of VeloNews has written several recent articles addressing brake chatter on cross bikes. It sounds like 1-1/2-inch tapered forks help tremendously and several companies are moving in that direction (including Specialized on MTB and Road bikes).
I am wondering how the Carbon Tricross does with fork shudder when braking hard and is Specialized going to move to a tapered fork on the Tricross as they have done on the top of the line MTB and Road bikes?
Cheers and Happy Holidays!
Jafar
Hey Jafar,
Cool question. And thanks: The Twins are rocking.
A little background
On most 'cross bikes, the front cable hanger is mounted to the stem or headset. This leaves a lot of cable between the hanger and the brake.
When you brake hard, the fork flexes backward and pulls the cable even tighter. This increases the braking force, which increases the fork flex, which increases the cable pull … and this continues until something gives.
Depending on the conditions, 1) your brake pads will release the rim or 2) your front tire will skip on the ground. After this momentary release, the brake will grab again, and so goes the cycle of brake chatter.
Sketchy.
As for the Tricross
I asked Don Langley, Specialized road product manager about this. He said:
"We have developed a front cable hanger that mounts on the fork crown. By isolating the contact point of the cable stop to the fork and shortening the length to the cable stop this greatly reduces the brake chatter. This piece is available after market for all Specialized Tricross bikes."
Zinn mentions crown-mounted cable hangers as another good solution to the brake chatter issue.
My S-Works Tricross has one of these hangers, and I am not experiencing brake chatter. It's worth noting that I brake as late and hard as possible. That's part of my mission to find out what this bike can do.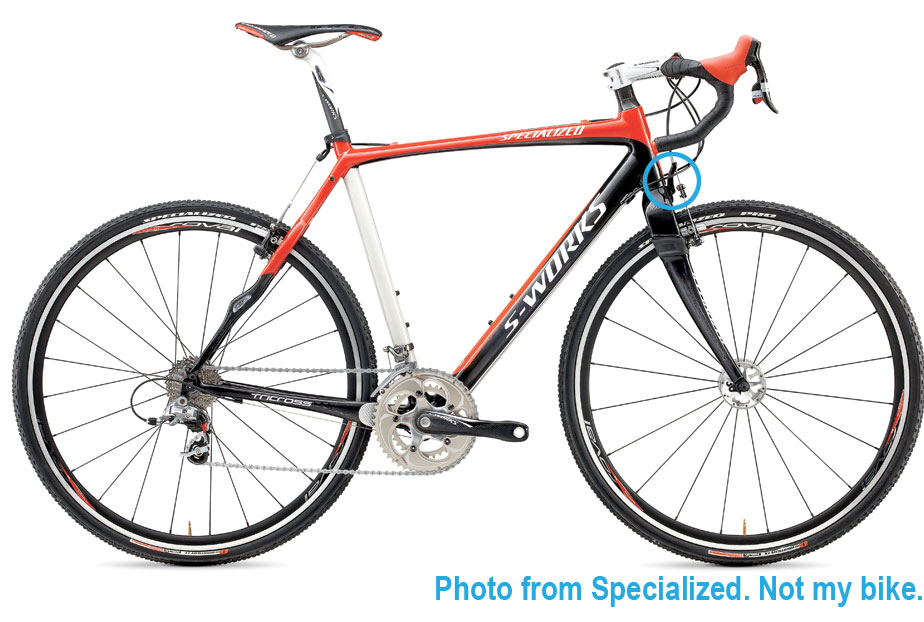 Front brake cable hanger is circled.
By comparison, I rode a Surly Crosscheck with a headset-mounted front cable hanger, and — whoa! — scary brake chatter.
In the drops and fully pinned!
– Lee
PS: If Specialized is planning a 1.5-inch tapered steerer on the Tricross, Don isn't saying so.
---
Know more. Have more fun!
Join the leelikesbikes mailing list:
---
https://www.leelikesbikes.com/wp-content/uploads/2018/08/leelikesbikeslogoheader.jpg
0
0
leelikesbikes
https://www.leelikesbikes.com/wp-content/uploads/2018/08/leelikesbikeslogoheader.jpg
leelikesbikes
2009-12-21 18:27:29
2009-12-22 07:43:04
Tricross brake chatter?