First ride: 2010 Stumpjumper Pro M5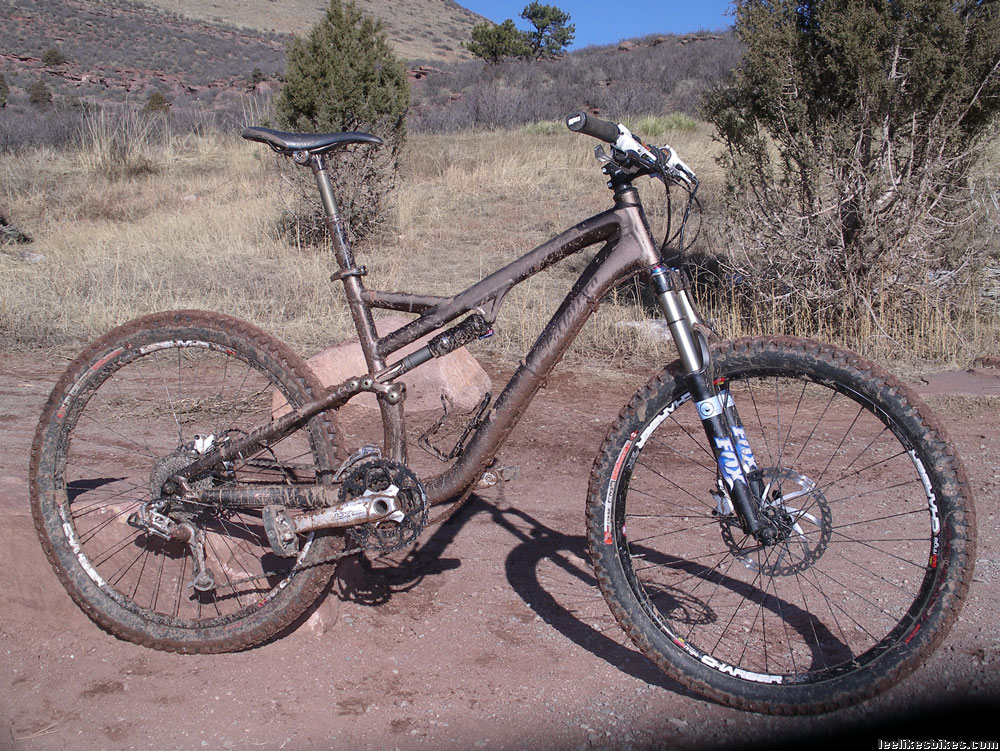 Yes! I finally got my new Stumpy out on trail. Real quick like:
Previous bike
2008 Stumpjumper Pro Carbon with Specialized fork and shock. I really like that bike. If Specialized didn't send the new one, I'd still be rocking it.
I set up the front and rear Brains to be stiff for pedaling and pumping. The resulting ride is incredibly quick and responsive in the smooth sections and corners, yet very capable in the gnar. I rocked this bike on the road, pump track, trail, dirt jumps and even for light DH. Great bike. Absolutely great.
Wait, let me be more specific: The Brain technology allowed me to pump the bike almost like a hardtail: very precise, very quick. When I pushed hard into the suspension or hit a bump, the Brains opened up, and the bike became plush and planted.
I tend to be precise and deliberate on trail. This setup worked very well for my riding style.
Like I said, if I didn't get the new bike, I'd be happily rocking the '08.



My '08 Stumpy Pro Carbon is extremely responsive — and very pumpable. Lyons Bike Park pump track. Photo by Yosei Ikeda from MMBSii.
Current build
I used parts from the 2008 Stumpy, which came from a 2007 Stumpy. I'm frugal that way. Of note:
Frame: Stumpjumper FSR Pro M5 with 140 mm of rear travel. I was hoping for the S-Works with with S fork and shock, but I'm not complaining.
Fork: FOX Talas 32 RL from a 2007 Stumpy. One good thing about quality parts: they last.
Shock: A FOX prototype, I assume with some kind of Boost Valve technology.
Wheels: Sun Charger 27s. Two years of steady abuse and still rolling.
Tires: 2.3 Specialized Eskar Controls. My official tire.
Seatpost: Maverick Speedball.
Stem: Point One Racing Split-Second [70]. This super-sleek, super-low, super-racy stem feels super solid.
Brakes: Hayes Stroker Trails. I have two years on this set. Great lever feel, and they stop the bike.
Drivetrain: A mix of XT, X.9 and X.0. These parts are all from the original 2007 Stumpy.
Bike weight: Exactly the same as my '08 Stumpy (about 28 pounds), which is noteworthy because the '08 had a carbon frame and fork steerer. More suspension travel with no weight penalty sounds good. A lighter fork would make this bike even lighter (duh).
The ride (so far)
Snow and mud cut the ride short, but I got an initial feel.
Different animal: This Stumpy, with FOX suspension, is very different from my previous Stumpy with Specialized suspension. The FOX fork and shock lack pronounced pedal platforms. The fork feels supple off the top and makes a pretty linear trip to bottom out. In the ProPedal setting, the shock feels supple and controlled. With the ProPedal off, the shock feels super supple. This bike is more all-mountain than the previous one.
Uphill: I did some very technical, high-torque climbing with the ProPedal on. The bike climbs well: no bob, no feedback, no funny business. As a matter of fact, I think the softer suspension helped the bike climb the roughest sections. And: I completely dialed one section better than ever. I credit the softer ride and the relatively wiggle-free rear end. (And weights and intervals.)
Downhill: Neutral. Invisible. Planted. The bike just works. The front and rear ends gobble up bumps more transparently than the previous bike. I'm using more travel and not hitting bottom (yet). The ground connection is more vague than with the stiffer Brain setup, but that just means I need to pump harder.
Good stuff. Stay tuned for more.
---
Know more. Have more fun!
Join the leelikesbikes mailing list:
---
https://www.leelikesbikes.com/wp-content/uploads/2018/08/leelikesbikeslogoheader.jpg
0
0
leelikesbikes
https://www.leelikesbikes.com/wp-content/uploads/2018/08/leelikesbikeslogoheader.jpg
leelikesbikes
2009-12-21 14:33:27
2009-12-21 14:34:34
First ride: 2010 Stumpjumper Pro M5