Tour of California Day 5 – San Juan Trail
When you think of the greatest places to ride in California, southern Orange County usually doesn't come to mind. I mean you've got your Downieville, your Lake Tahoe, your Mammoth and your, uh, San Juan Capistrano? Unless you're a swallow, that just ain't the place to visit.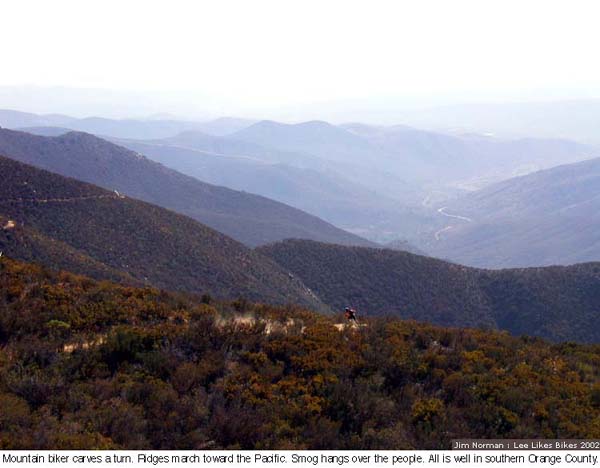 The Tour of California coincided with my parents' decision to sell the house I grew up in and retire in Las Vegas. I convinced my buddy Jim Norman to swing through Orange County so I could visit "home" for the last time and, more importantly, so I could guide him on the San Juan Trail: 11.2 miles of single track winding 2,600 feet up into the hills east of San Juan Capistrano.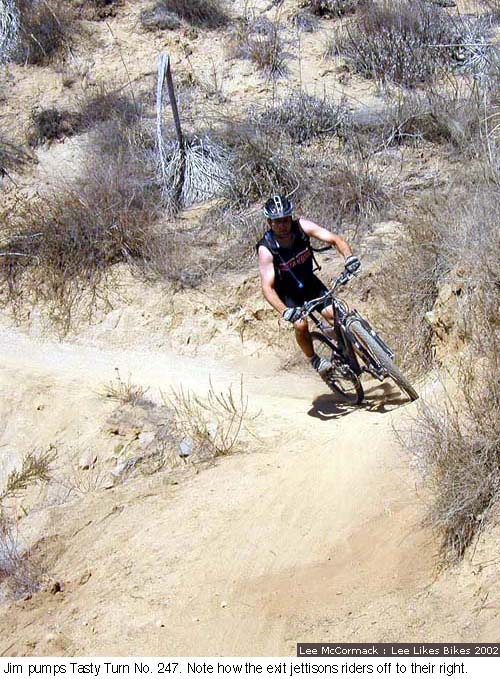 To reach the trailhead you turn off Ortega Highway at the ranger station, pass the abandoned hot springs then bounce about a mile down a dilapidated dirt road. This used to be the boondocks, with only outlaw bikers roaring by on the Ortega and teenagers trying to get fresh in the springs. Now this is a major "recreational resource," guarded by the Cleveland National Forest and requiring an "Adventure Pass" of those who wish to park.
The switchbacks begin right at the parking lot. Up, left. Up, right. Up, left. Up, right. It was 98 degrees and our fifth straight day of riding, so we just spun easy and tried to keep our heads cool. Before we knew it, we were skirting waves of manzanita 500 feet above the car.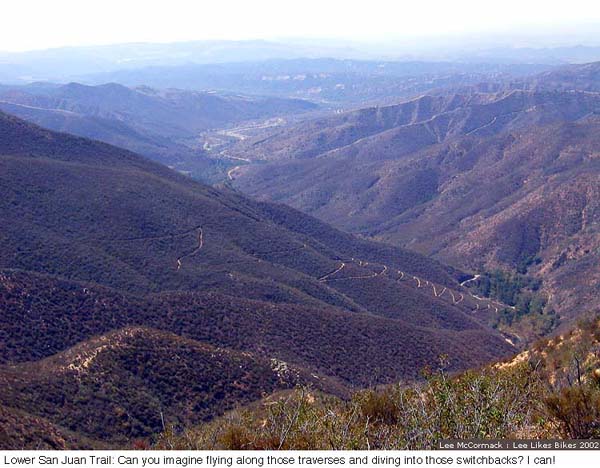 We ratcheted up still more switchbacks then across a rocky saddle to Sugarloaf Peak. This was always the top of the climb for me, but Jim and I had signed up for max pain and max pleasure, so we kept on slogging, all the way to the top and Blue Jay Campground. There we doused our heads, refilled our CamelBaks and waited for the world to stop spinning.
Blue Jay was the start of the last ride I did before I moved to NorCal. In 1993 I finished college and had to make a choice: either A) work locally for $18K a year, rent a room from a friend named Brian Lopes and concentrate on bike racing or B) take a job paying $19K a year (wow!) and move to the completely unknown and terrifying Bay Area. I really wanted the fun of Option A, but I felt that I should tackle the challenge of Option B.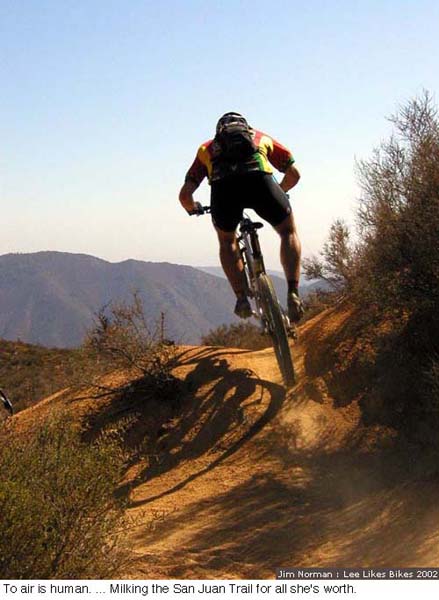 A few days before my departure, I joined Lopes, Eric Carter, Leigh Donovan, Craig "Stickman" Glaspell and some BMX pros for a shuttle run. I'll never forget this: I was leading, whipping through tight turns and having a great ol' time, when I became acutely conscious of who was behind me. I immediately tensed up, pulled off and let the pros zoom by. On the drive back up the hill, E.C. asked why I pulled off: "You were doing just fine," he said. "We didn't need to pass you."
I was flattered that I could hang, but it pained me that I didn't have the confidence to go for it. And, worse, even though I really wanted to stay home and find that confidence, I felt like that would have been the easy way out. So I left for the Bay Area.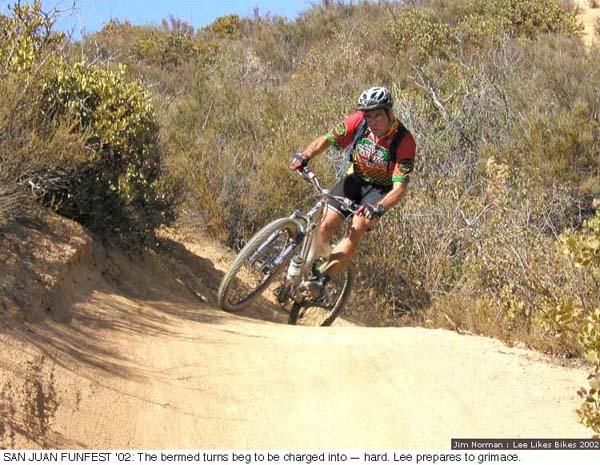 Now I was back, a decade older and eager to test my speed. Jim and I opted for the extra Chiquita Trail loop, which roller-coasters through a series of tight, rocky, banked turns. I big-ringed up the rises, pumped the backsides and railed the turns. My body reacted without thought…I was ripping, and I was stoked!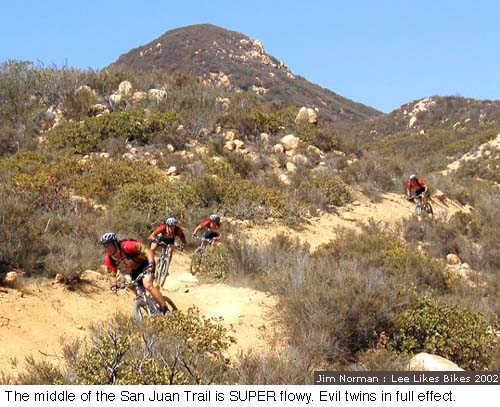 We clattered past Sugarloaf and flew through a sandy, jumpy saddle. We slammed through braking bumps and railed natural berms. The Mutano Raptors hooked up on the sandstone and drifted on the loose sand. There were countless perfect sections where we dove into one turn then popped into the next, all in one continuous flow. In '93 I could barely dab my way through the bottom switchbacks; now I dove into them, my front tire arcing around the outside as my rear followed in the rut.
My rear tire might have been in a rut, but my soul was definitely not. For years I've lamented the fun I thought I sacrificed by choosing Option B. But that time is past, and I'm having a blast.
https://www.leelikesbikes.com/wp-content/uploads/2018/08/leelikesbikeslogoheader.jpg
0
0
leelikesbikes
https://www.leelikesbikes.com/wp-content/uploads/2018/08/leelikesbikeslogoheader.jpg
leelikesbikes
2002-10-30 20:45:30
2009-04-23 14:39:38
Tour of California Day 5 – San Juan Trail