Tour of California Day 4: Lower Rock Creek Trail, Bishop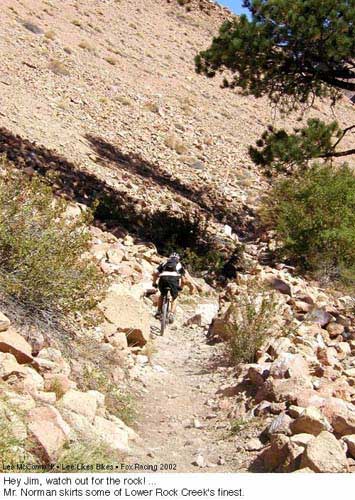 I found Day 4's route in the trail reviews section of www.mtbr.com. There are almost 6,000 reviews in there, a few of which are actually literate. From what I could tell, we were in store for nine miles of pure single track, with a drop of 2,000 feet through a variety of terrain.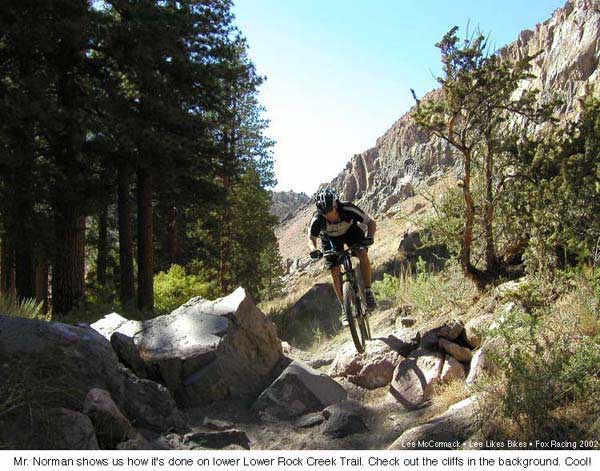 From Mammoth Lakes we jetted about 20 miles south and took the first exit at the bottom of the Highway 395 grade. We parked in front of the Paradise Resort, which boasts a restaurant, RV hookups, housekeeping cabins and a "unique family vacation experience that is hard to find these days." Lower Rock Creek rushed next to The Panzer. While we got dressed a dude dangling salmon eggs into the froth caught three plump hatchery trout.
We knew we were in for a serious climb, but we didn't know how long or how steep. The shop in Mammoth insisted this was a shuttle/DH-bike ride, and that riding UP would be silly. But we only had one vehicle, and we were inclined to earn our turns, so we said "bah hooey" to the shuttle idea.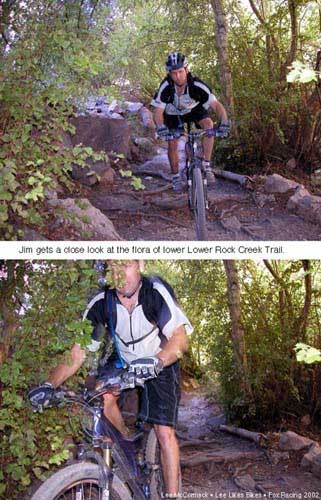 We pumped our Mutano Raptors to 65psi, locked out our suspension and started spinning — slowly. We creeped past a gang of lawn sculptures, the kind Dr. Seuss would create if he was evil. Soon we were on the exposed back of the ridge, with the road winding up into the distance. We middle-ringed up switchback after switchback. The mountains loomed huge. Heat radiated off white sandstone. There was no trail or other pleasure in sight; it was just buzz, buzz and more buzz. After about 40 minutes, we crested a little pass and rollercoastered down toward the creek. Above the road, the canyon and the trail meandered along the confluence of gentle, round hills. Below the creek, the canyon jagged between rocky cliffs. This looked super interesting.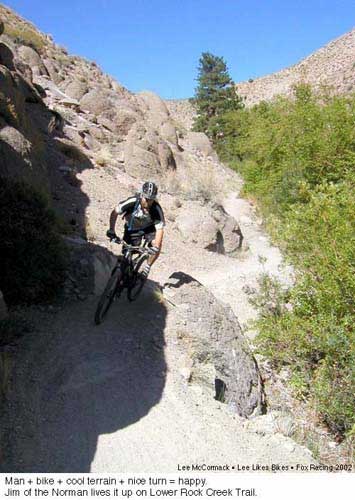 We spun another 40 minutes up to Highway 395 and the trailhead. The creek gushed from under the freeway into a deep pool. Hidden in the shadows and branches were more than a dozen trout, freshly released and fresh out of "upstream" to swim toward, waiting for their next meal.
The first section of Lower Rock Creek Trail is straight and fast. We rolled along with our seats at "Super D" height, about 1/2 inch below XC height. We carved gentle arcs through aspen shade as Lower Rock Creek burbled quietly.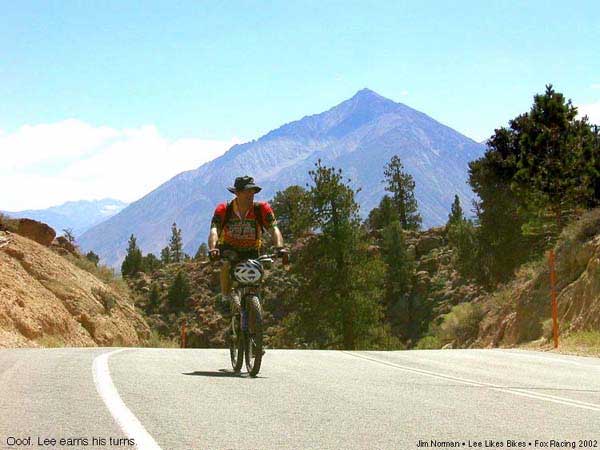 We crossed the road, and the trail settled into a sweet rhythm: pedal upward to the right, turn left down toward the creek, carve a naturally bermed right, then repeat. It was up, turn, down, turn, up, turn, down, turn, forever. I would have loved to take a photo, but there was too much flow to stop.
We crossed the road again and entered the last zigzaggy section. As I'd expected, the canyon floor was littered with stoneage. We clattered across fist-sized rocks and crawled between and over boulders. At first I was a bit frustrated: I'd charge into a turn, get knocked off line and dab a foot, a hand or whatever. It took me a few misses to realize this was a new type of riding for me, that I needed to slow down and work the terrain at a lower frequency. What a beautiful feeling: to press slowly into a turn around one rock, then pop! release all that energy to hop over the next one.
Lower Rock Creek is three trails in one: 1) fast and straightforward, 2) nice and flowy, and 3) super technical. It's definitely one of the most varied trails I've ridden, and I look forward to tackling that bottom section again.
https://www.leelikesbikes.com/wp-content/uploads/2018/08/leelikesbikeslogoheader.jpg
0
0
leelikesbikes
https://www.leelikesbikes.com/wp-content/uploads/2018/08/leelikesbikeslogoheader.jpg
leelikesbikes
2002-10-23 20:38:46
2009-04-23 14:40:06
Tour of California Day 4: Lower Rock Creek Trail, Bishop