Tour of California Day 6: Tunnel Trail, Santa Barbara
When Jim and I landed in Santa Barbara we dialed ourselves in at Motel 6 then mosied downtown to buy a trail map. The whole shopping scene was very shi-shi…with rich, beautiful women everywhere and a bakery for dogs.

A cute DH chick greeted us as we walked into a bike shop. We asked her for a map and directions, and before we knew it she was leaning across the page, hair brushing the folds, breathlessly describing loops and making marks with a pencil. You could tell she was stoked about all her local trails.
"Actually," I interrupted, "we have a specific trail in mind."
"Oh," she asked, "which one?"
"Tunnel."
She suddenly became quiet and awkward. "Uh, well, we tell a lot of people not to … I mean, uh … it's pretty … uh … do you have good equipment?"
"Yes." I told her we had DH bikes, armor and full faces, and that we were on the final leg of a California tour that included DH runs at Mammoth Mountain. That made her feel better. Again stoked to the point of breathlessness, she told us DH rigs were mandatory because of all the gnarly rocks, and that we should be on ultra-high alert for hikers.
It turns out Tunnel Trail is the focus of a nasty trail-use conflict that seems headed toward trail closure. She gave us her blessing, but only after we promised to go slow, keep our eyes out for bipeds and wear bells. There's a box of bells at the top of the trail, and we should be sure to return the bells at the bottom (many of the bells get stolen).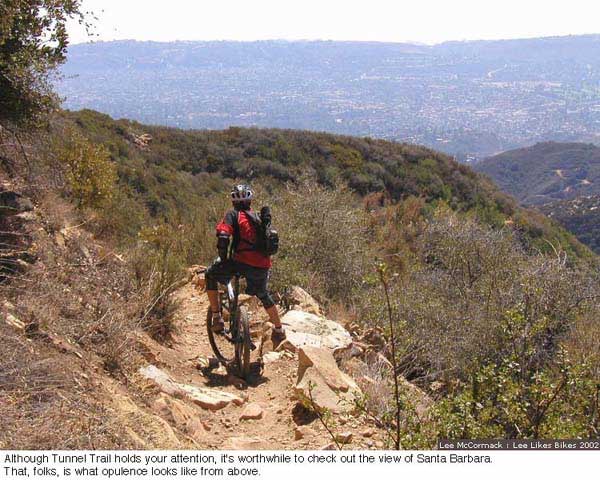 Santa Barbara is a heck of a place. The city rests on the coast across from the Channel Islands. Mountains rise sharply from the rolling hills of the city. A UC campus injects excitement and art, a thriving downtown keeps the money rolling and estates lord over the whole scene from high on the mountains. Santa Barbara could well be paradise, but it has the classic recipe for trail closures: public trails near rich people.
Our shuttle didn't work out, so we decided to ride up. As we dressed in the parking lot of the Santa Barbara Mission, we wondered about the gnarly factor…we decided to carry knee and elbow pads…and we worried about unpleasant hiker encounters.
Let me just say it: The climb was tough. This was our sixth ride in seven days, and the road was hot as fresh Beagle Bagels. We slogged for an hour and a half 11 miles from just over sea level to almost 3,400 feet. Finally at the top, each of us dutifully pulled a bell from the box. We hid in the thin shade of manzanitas, strapped on our pads and attached the dingers to our CamelBaks.
Tunnel swooped through a little valley then scratched along a ridgeside. The dust was peppered with loose rocks, fixed rocks, rock ledges, rock cocktail, rock gumbo, rock ka-bobs…well, you get the idea: lots of rocks.
I could see how this would be fun full-tilt on a DH bike, but the Enduros were working just fine. We carried enough speed through the sketchy sections, riding on instinct and a week of great trails. I call this "expedition mode", a non-aggressive flow at a speed that feels safe and lets me keep an eye out for nutty terrain and nutty trail users.
I encountered one couple at walking speed, my bell jingling the whole time, and said hello. They gave me the evil eye, obviously scared for life by a bad bike experience.
This encounter made me feel unwelcome, and I could feel myself tense up and ride self-consciously. I went too slowly through the next rocky section, buried my front wheel into a tombstone and flopped over the bars. You can't ride rough terrain in an apologetic manner. I forgave myself for being a mountain biker and let it roll.
Tunnel has a uniquely coarse flow, the kind where you must ignore most of the nasty stuff and focus on just the important bits: the ones that steer you the right direction or launch you over roughness. As I descended toward town I found myself making some nice moves and clearing sections I normally would find intimidating. Good fun.
Meanwhile, Jim was zipping along a straight section when all of a sudden his bike slowed down and abruptly stopped. His thigh slammed into his bar as he flew over his bike and crashed onto his pads. He walked back up the trail and found a 30-foot wire tied to a tree, with a loop that had been set in the grass next to the trail.
As he rode by, the loop had snared his right foot and crank arm. As he took out the slack the wire bit into his leather shoe and slowed the bike a bit, then whammo! The slack was gone and so was Jim.
The wire was brand new. There were no fences or other reasons for wire to be on this trail. It was a booby trap. Someone sought to ensnare mountain bikers. To hurt us or merely to dissuade us, I can't say.
As we descended closer to town the trail became ever more crowded, and we rode very slowly, obsequiously greeting everything with two feet. We had planned to ride a bonus loop on the Jesusita Trail, but we were tired and, frankly, didn't feel welcome. After a week enjoying some of the best trails in Tahoe, Mammoth, Bishop, Orange County and, now, Santa Barbara, the Tour of California was over. We dropped our bells in the box and drove home.
https://www.leelikesbikes.com/wp-content/uploads/2018/08/leelikesbikeslogoheader.jpg
0
0
leelikesbikes
https://www.leelikesbikes.com/wp-content/uploads/2018/08/leelikesbikeslogoheader.jpg
leelikesbikes
2002-11-06 20:49:12
2009-04-23 14:39:19
Tour of California Day 6: Tunnel Trail, Santa Barbara