Hey Lee. What tires would you recommend for the dual slalom course at Sea Otter? I'm using a pair of Maxxis High Rollers in a 2.3. I was using these at Sand Hill this weekend and when I started to braap; I was losing traction in the rear a little bit. I was running about 40psi and the course was hardpacked and a bit dry. I know the soil will be different in Monterey. What do you think?
Dan


I'm pretty sure Cedric Gracia is ripping High Rollers. Many old school racers (Lopes, Peaty) swore by that tire in most conditions.
Hey Dan,
The Sea Otter DS changes dramatically with the weather. When it's dry you get loose, dusty turns. When it's wet you get rutted mud. Either way, you want a tire with some penetration. Rolling resistance is a secondary concern, because the track is gravity fed and you're super powerful, right?
I've seen people race everything from semi-slicks to mud spikes, and I've seen racers change tires between rounds. The jerks from Specialized totally stress me out with that action (Brandon!). If you don't have a tire crew, I suggest running an all-around tire with exposed side knobs.
High Rollers are a great choice. Other great choices: Kenda Nevegal, Specialized Chunder (I ran a pair last year; awesome).
Familiarity is important. Keep running your High Rollers. When you rip the Sand Hill hardpack, try 50 psi. The tire will feel more planted in those braaapable berms. Go back to 40 or so for Sea Otter.
Rock.
— Lee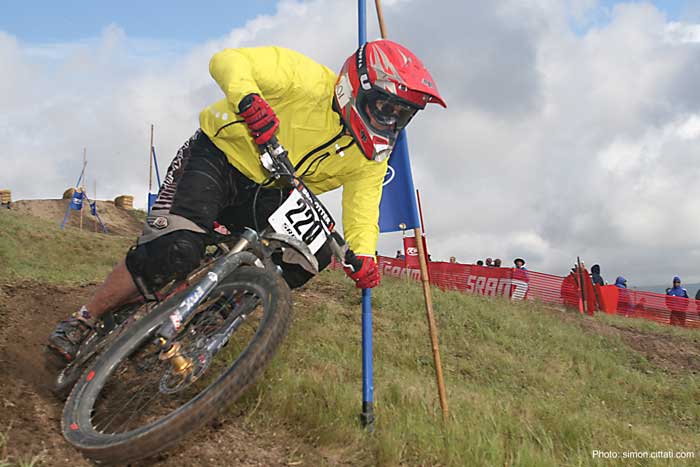 Last year I had the qualifying run of my life on a pair of Chunders. They are much like High Rollers, but their side knobs are a more exposed and more supported. I rode my SX with the suspension softened. Photo by Simon Cittati.
---
https://www.leelikesbikes.com/wp-content/uploads/2018/08/leelikesbikeslogoheader.jpg
0
0
leelikesbikes
https://www.leelikesbikes.com/wp-content/uploads/2018/08/leelikesbikeslogoheader.jpg
leelikesbikes
2008-03-11 11:53:13
2008-03-11 11:53:13
Tires for Sea Otter DS?