The right tool for the job, Volume 129
Lee,
I absolutely love the feel of the demo. The slack angles and rear suspension feel perfect on the decents. However, the type of riding most available to me is more suited for an enduro sl or even a stumpjumper. The local trails here aren't easily shuttled, and I've grown quite accustomed to getting out of the saddle and pedaling the demo up hill. I guess what I'm trying to get at is… I'm a one bike kind of guy. Is it worthwhile to have a bike like the demo when you're doing mostly xc/all-mountain riding, or would it be more worthwhile to trade in my demo for something more practical?
Matt


Speaking of one do-all bike: Mark Weir, the original all-mountain warrior, used to ride his VP-Free (analogous to an SX Trail) everywhere, including his back yard. Now he rocks a Nomad (analogous to an Enduro) for XC, endurance DH and everything in between. He recently took 2nd at the Single Speed Worlds on a Nomad. From 2005: Hanging with Mark Weir
Hey Matt,
This is a popular theme, but an interesting one.
If you enjoy riding your Demo, then it's a good bike for you. This applies to everyone on every bike. If you're having fun, keep rocking.
If you are a downhill racer, and you can only have one bike, then definitely ride your Demo everywhere.
If you want to ride general trails — climb more easily and find easier flow — then there are more appropriate tools than a Demo.
All major bike companies offer a full quiver of bikes for every purpose. Simplified, from gnarliest to most efficient:
– Downhill
– Freeride
– All mountain
– Trail suspension
– XC race suspension
– XC hardtail
Here's how that array applies to Specialized's high end bikes:
– Demo 7 and 8
– SX Trail
– Enduro SL
– Stumpjumper FSR
– Epic
– Stumpjumper hardtail
Since you're riding a Demo, any step "down" will provide more efficiency and easier handling on "normal" trails. How far you step down, if at all, is a personal call.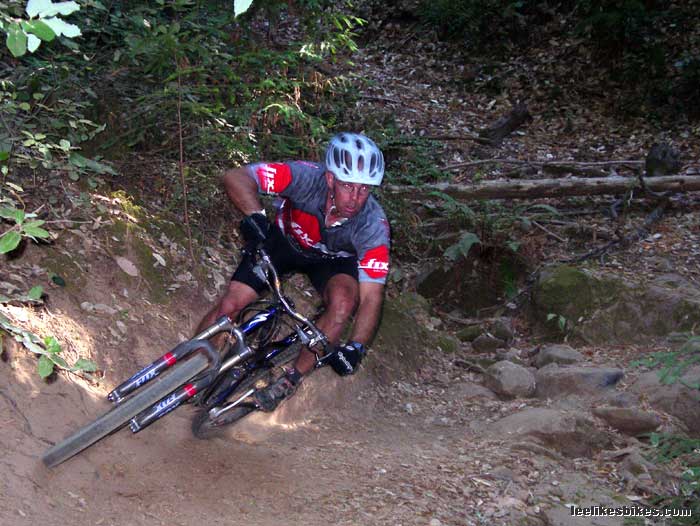 Me and my FOX-equipped Enduro SL in the Santa Cruz mountains. Photo by Jim Obi-Wan Norman. Jim ripping in 2000.
Based on what you're saying, I'll offer this:
A. If you want to rock trails in a generally braaapish fashion — climb well and descend like the champ you are — the Enduro SL will serve you very well. I've seen these bikes in action at Specialized's proving grounds in Santa Cruz, and I can tell you that very few riders will ever outride an Enduro SL. (My opinion: The new models with the FOX forks will be efficient, plush and predicable — all good things.) The Pitch will also rock, at a lower price point.
B. If you still want the feel of a DH bike, but one that you can pedal a bit more easily, do an SX Trail.
C. If you want to cover trails with utmost efficiency and Kung Fu mastery, consider the new Stumpjumper. I've been riding my 2008 Stumpy Pro Carbon everywhere from road to XC trails to our craziest DH stuff, and that bike straight-up rules — especially on "normal" trails.
D. If you're enjoying your Demo, and it meets your needs, keep rocking that guy.
Right on. I hope that helps.
Braaap!
— Lee
---
https://www.leelikesbikes.com/wp-content/uploads/2018/08/leelikesbikeslogoheader.jpg
0
0
leelikesbikes
https://www.leelikesbikes.com/wp-content/uploads/2018/08/leelikesbikeslogoheader.jpg
leelikesbikes
2008-10-09 19:44:44
2008-10-09 19:47:22
The right tool for the job, Volume 129