The new Specialized Ground Control tire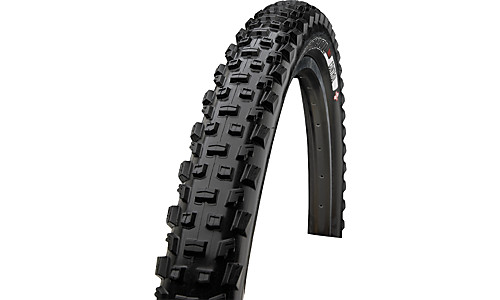 The original Specialized Ground Control, designed back in the day by Wilderness Trail Bikes, lived in an era when we rode one mountain bike for all situations, and a good tire was one that worked everywhere. Heck, I don't think we gave our tires much thought.
The new Ground Control appears to share that go-everywhere mission.
---
I've ridden the new Ground Control on a Camber 29, Stumpjumper 29 and Stumpjumper 26 on a wide range of surfaces from hardpack to loose to mud to snow to ice.
Salient features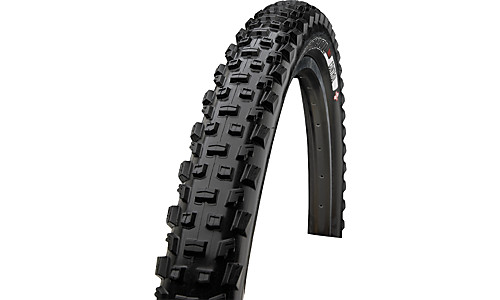 Photo of Ground Control tire courtesy of Specialized.
The Ground Control has center knobs, two (2!) rows of shoulder knobs and some side knobs.
• The center knobs are wide and paddle-like. Ramped for quickness, siped for grabbiness. Clearly made for speeding up and slowing down.
• The inner shoulder knobs are square and recessed. This creates extra edges that face all points of the compass. Whether you're pedaling, braking or turning, it seems like the recess will give you a little extra bite.
• The outer shoulder knobs are tripping me out. The inner surface appears to be an early-engaging side knob: perfect for people who don't lean into corners. The little L section that points outward is siped in the longitudinal direction. Hmm, why? Maybe it's optimized for trail braking into corners (Nico Vouilloz style) and sprinting while cornering (Shaun Palmer style).
• The side knobs. Ah yes the side knobs. Squared, supported and siped in all the ways you'd expect from a Specialized tire.
The overall profile is quite round, with working edges at every lean angle. This tends to give you a predictable, easy-to-ride tire.
The spacing is moderate. There's enough openness to let the knobs grab looseness, but the knobs aren't so far apart you're riding a washboard.
The 60A rubber compound is moderate. Pretty sticky, pretty durable.
Choose from various widths and diameters. 26 x 1.9, 2.1 and 2.3; 29 x 1.9 and 2.1. I've ridden the 26 x 2.3 and 29 x 2.1 in the durable Control and GRID casings.
This tire makes sense to me. Since confidence is the limiting factor for a skilled, strong stud like me, this is important.
How it rides
• The Ground Control feels a lot faster than it looks.
• It gets plenty of driving and braking traction in a range of conditions. It clears mud pretty well. It's useless on sheets of ice.
• It holds well in the corners. Credit the good spacing and multitudinous edges. Also, it makes logical sense, so you're more likely to trust it.
Run this tire if
• You want a pretty quick rear tire to go with a meaty front tire. For today's 26er dirt/mud/snow/ice mission I rolled a 2.3 Butcher in front and the 2.3 Ground Control in back, and it was awesome. Nothing wrong with a little rear drifty-poo.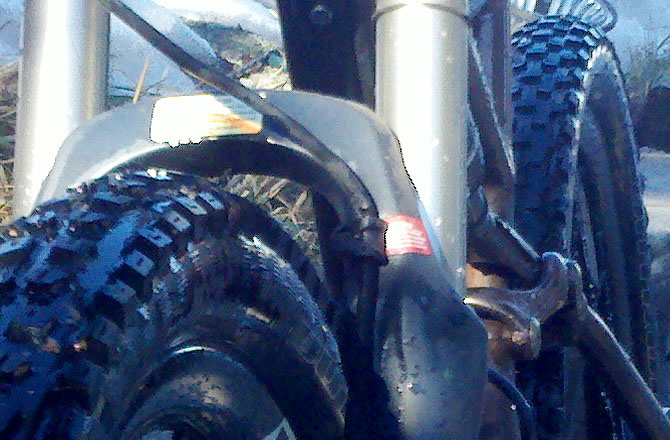 If the Butcher/Renegade combo was the Odd Couple, the Butcher/ground Control is that big, quiet guy and petite, loud girl who get along great.
• You want a grippier, more confidence-inspiring front tire to go with a fast rear tire. Seems like a good idea for long XC rides, XC racing and mixed-surface pump/jump.
• You want a versatile, easy-to-ride tire on both ends of your bike. Mount 'em up, air 'em up and don't give them a thought.
---
Know more. Have more fun!
Join the leelikesbikes mailing list:
---
https://www.leelikesbikes.com/wp-content/uploads/2018/08/leelikesbikeslogoheader.jpg
0
0
leelikesbikes
https://www.leelikesbikes.com/wp-content/uploads/2018/08/leelikesbikeslogoheader.jpg
leelikesbikes
2012-01-02 17:07:18
2012-01-03 09:35:59
The new Specialized Ground Control tire