The Mysterious Tearing Valve Stem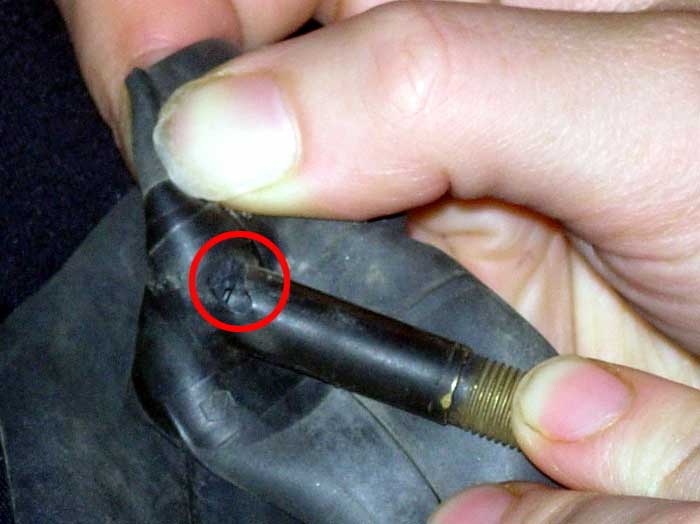 Our man Ed in Whistler presents an interesting case:

---
Setup
– Specialized 2.3 Chunder Pro tires on Mavic 721 rims. "The beads are very pliable — when the inevitable flat occurs I can remove and replace the tire with my bare hands"
– No talc. Low air pressure. "I don't have a gauge."
– Downhill runs in Whistler. "Thinking back though, every deflation has followed a period of heavy braking. Today's flat occured when charging at a double jump then slamming on the anchors at the last minute; I got off the bike to take a closer look at what I'd just wimped out of, and when I picked her up again the front tyre was flat."
Symptoms
– Lots of flat tires.
– The base of the valve stem is torn.
Cause
– Hard braking is making the tire turn on the rim.
– The tire is dragging the tube along for the ride.
– The stem is fixed in the rim, so the base of the stem tears.
Solutions
– Talc your tubes so they can slip inside the tire. Some people claim this gives you a more supple ride.
– Get a pressure gauge, and run more air pressure. 30+ psi.
Have I said BRAAAP?
https://www.leelikesbikes.com/wp-content/uploads/2018/08/leelikesbikeslogoheader.jpg
0
0
leelikesbikes
https://www.leelikesbikes.com/wp-content/uploads/2018/08/leelikesbikeslogoheader.jpg
leelikesbikes
2006-10-13 09:10:57
2006-10-13 09:19:36
The Mysterious Tearing Valve Stem