The Great Spring Adventure of 2006: Days 1-5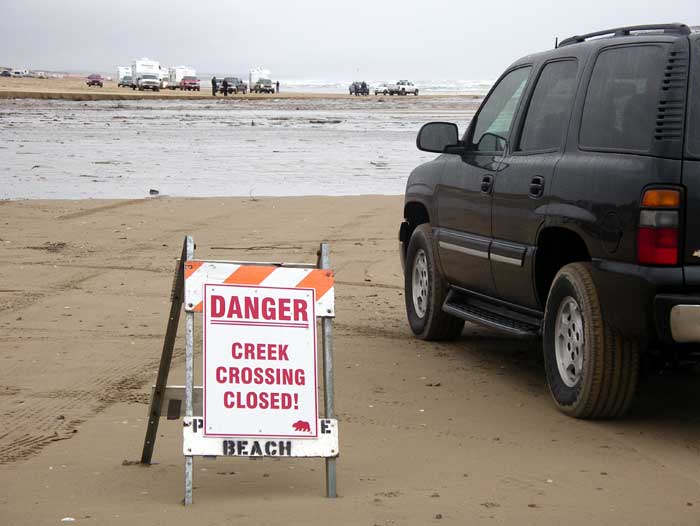 So far: desert, singletrack, traffic and almost drving to Japan.

---
Day 1: Boulder to Grand Junction, CO
Load up the Brick and start driving. The wind is crazy, and the Sprinter bucks and wallows in a most uncool fashion. Oh well, just slow down and hold your line.
Reach Grand Junction at 11 p.m. Drive to the Grand Valley OHV Area. Super-steep, super-thin ridges run off the Book Cliffs to the valley floor, and they create a freakin' skate park for motorcycles. The place is just amazing. Well, it's dark now. I park in a clearing, fold out my bed and hit the sack.
33 degrees is too cold for sleeping natural with only a blanket. I start the engine and rock the heat. I feel like a long-haul trucker.
Day 2: Fruita, CO
Wake up at the foot of the Book Cliffs, surrounded by trails. A family of motos skirts the next ridge — brap brap up down, brap brap up down. If I only had my moto with me …
Drive to Fruita and bust out an up-and-back from the Kokopelli Trailhead. The climb isn't very steep, but it's super technical, with numerous switchbacks, tangled rock ledges and switchbacks with tangled rock ledges. I cleaned some sections and just walked others. No hurry. Reach the summit, take a self portrait and eye the Kokopelli Trail snaking toward Moab (soon my precious, soon). I lower the SpeedBall and let 'er rip.
I've been doing tons of cornering drills lately. Hundreds of figure eights on the street in front of my house, just turning and turning and turning, concentrating on subtle points of technique: as soon as I start turning, look at the next entrance; straighten my inside arm; open my hips to the next turn; get low — no even lower. I've been doing this at least 15 minutes a day for the past couple weeks, to get a light workout and to try some ideas. The cool thing about the fundamentals: You can explore them in infinite depth.
Well, anyway. It's uncanny how you can reprogram your brain. I'm ripping an S-Works Carbon Stumpjumper across these rock fields, just weighting and weighting, loading and boosting — thanks pump track! — and I reach one of those tangled switchbacks. Next thing I know, I'm on the brakes hard, down and back, pressing with my feet, reach the turn, let off the brakes, rebalance on my pedals, look to the next turn, swing my hips and straighten my inside arm — and voila! — it all happens in an instant. It's like I can feel the circuits firing, all the muscle going, "OK, now we get it." So cool.
The Sea Otter DH has a section kind of like this. Watch out: I think I just made up a few seconds.
Oh joy, time to drive. I-70 becomes I-15 at the least dramatic interchange in the West. No gas station, no Indian blankets, nothing. Just a long-radius left turn, and you're going a whole new direction on an entirely different interstate.
Rain. Wind. Rain. Drive drive drive. Stop for diesel at a truck stop. Free showers when you fuel up. Sweet! Get cleaned up trucker style. Dude, that reminds me of B.J. and the Bear. I LOVED that show!
"Heading down to Dallas, my wheels provide my palace, then off to New Orleans or who knows where … Places new and ladies too, I'm Lee-ee Em-C and this is my best friend Rufus …"
Blasting through Vegas toward Boulder City. Stop off 515 to read the map, pull into a parking lot. "The Library — Gentlemen's Club. Gorgeous Librarians!" You know what B.J. would do. Me, I keep pushing to Bootleg Canyon. Dork.
Day 3: Bootleg Canyon and SoCal
Wake up late, open the side door and confront the world. A bunch of dudes are joking and getting ready to ride. I recognize a face … could it be? … YES! It's the Boulder/CU downhill/freeride crew: Elliott, Dave, Nick, Chris and gang. They've been ripping all over Fruita, Moab and Virgin. Building jumps with headlamps then going huge at daybreak. I look forward to seeing the video.
They all hop on the shuttle. I straddle the Stumpy and pedal up Girl Scout to the summit. It's an easy middle-ring spin with some rock bursts. Brent Thomson, Bootleg's trail master, is the David Copperfield of topography. The ups and downs and sweeps and swoops are just magical. Get to the top, have a look around then PIN IT down East Side. A bit steeper, much rockier, WAY narrower. It would be a sick Super D, one with fatalities. Clean up in the van and hit the road.
I've driven 1,000 miles — la la la — until I reach California. Blammo! The aggression goes way up. Not like in Italy where everyone's aggressive but they know how to drive. Like in SoCal, where driving is combat and nobody passed basic training. I just stay right and hang on. Holy cow, the crowds.
Day 4: SoCal to Pismo Beach
Eat dinner and hang out with parental units. Sleep in the Brick under their carport — tight fit! — then hit the road. It takes three hours to escape L.A. Sunday afternoon, stop and go. Just crazy.
I planned to pin it to Morgan Hill to stay with Brandon Sloan, but I'm in California man — gotta see the beach. When I get to Gorman I hang a hard left and drive over the mountains through Los Padres National Forest. Just beautiful. Expansive meadows, undulating scrub, ribbons of pavement, trails everywhere. So many trails …
Motor north to Pismo Beach. What a fun spot. Sand dunes crest and break inland from the water, and you can ride ATVs, buggies and motos all over them. A few years ago, Smootchie and I rented 250 quads and had the best time ever. Like a skate park …
I pull up to the pay station, throw down my $10 and drive the Brick north up the beach. It's low tide, and I'm plowing along the packed sand. Let some air out of the tires. Drive two miles to a creek crossing. It's about 30 feet wide and who knows how deep. No way dude. I've done enough off-roading to know creeks are usually deeper than they look. I wait. Another truck crosses hub-deep. I follow. No problem.
Now in the camping area, I drive down the wave slope to a likely spot, hand a hard left then pin it. BRaaaAAAAaaaAAAAPPPPPPP! The turbo whines and the Brick wallows. Come on baby. I press the traction-control override. My tires displace a hundred million grains of sand, reach the surface then keep clawing. I get above the high-tide line, turn 'er broadside to the Pacific and put 'er in park. STOKED!
I jump out and run down the beach, the sun just disappearing, rain spotting my glasses, wind pressing my face. Everything is distorted and gray. I keep running into the depthless depth. My feet reach and claw and push. My arms pump. My heart pounds. I'm parked on the edge of the world.
Day 5: Reporting from Pismo
Sleep like a champ. Wake up to pounding rain. Eat. Drink. Clean. Fire up the Brick.
The river is SWOLLEN!!! The main channel roils and boils in a brown, shark-finned torrent. Trees and boulders tumble across the beach, where the flow fans out almost 100 yards. All manner of vehicles are lined up on both sides: RVs, 5th wheels, even jacked up 4x4s — and nobody is going anywhere.
Yikes.
I pull up. The ranger tells me this is the best the crossing will be for two days. The tide is coming in, the rain is still coming down the rivers, and the dams are about to release even more water. A wave of shame washes over me. If I would have gone to Morgan Hill as planned, I wouldn't be stuck here for a few days, and I wouldn't miss the FOX press camp. But I have food and water and the Brick, so wherever I am, there I am. Right?
Still, it must be possible. After a quick lesson from the ranger, I deflate my tires even more and drive as close to the ocean as possible. I wait … wait … wait for the water to ebb, then I pin it. The traction control keeps stopping my rear wheels, and I keep hitting the override button. The turbo whines. Water flies. Sand yields. As I hit the main current I steer toward Japan. The water pushes me west, and the Mercedes diesel pushes me north. WheeeEEEEeeeeEEEEEeeeeeEEE!!!!! Whew, made it. Steer up onto the sand. Celebrate my undeniable studliness.
Right now I'm at a Starbucks — that'll take the edge off. Next stop: Monterey and the FOX Racing Shox press camp.
https://www.leelikesbikes.com/wp-content/uploads/2018/08/leelikesbikeslogoheader.jpg
0
0
leelikesbikes
https://www.leelikesbikes.com/wp-content/uploads/2018/08/leelikesbikeslogoheader.jpg
leelikesbikes
2006-04-03 12:41:09
2006-04-03 12:51:26
The Great Spring Adventure of 2006: Days 1-5