Test riding the Kidtopia Pump Track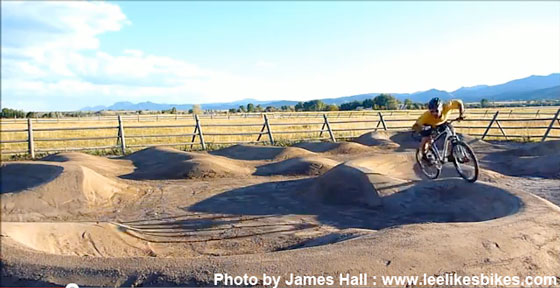 The track is fresh and the riders are not, but this first-ride video shows how the Kidtopia pump track fits and flows.
We built this last week in Boulder County.
Check out the video >>
---
Location: Private residence in Boulder County, CO. Do not ask for more detail. Do not try to triangulate the location from the background mountains.
Design and logistics: me, Lee McCormack
Shaping, finishing and video: James Hall
Helpful help: Ian Martin and Will MacDonald
A note from the Mom
Lee,
The girls and I got back from our trip late last night, so we didn't get to see the pump track until this morning. They spent hours on it today and it is just perfect for them! It's challenging enough that there's room to grow, but perfect for them to feel some success on it now. Even our little guy has been riding it on his tricycle. He is too short to stand over even a 12″ bike, so it's hilarious to watch him go.
They also love the trampoline and will stop pedaling for a few minutes to take a jump break and then hop back on their bikes. I can't thank you and your guys enough for coming up with such an awesome design for us and for all of your hard work. We'd love for you to come out whenever you have a chance to show the kids all of the lines and to give them some inspiration.
Just to be clear, Seth [he calls it Dadtopia] has been on the pump track more than the kids and is probably the most excited of anyone. In fact today I made him stay inside for a bit so the kids could ride it alone!
Thanks so much for everything!
---
If you want a sweet track built and/or designed, email me at lee@leelikesbikes.com.
If you want detailed specs and step-by-step building instructions for this track, Paypal $200 to lee@leelikesbikes.com
For tons of pump track info — including sample layouts — for only $9.99, check out the ebook Welcome to Pump Track Nation.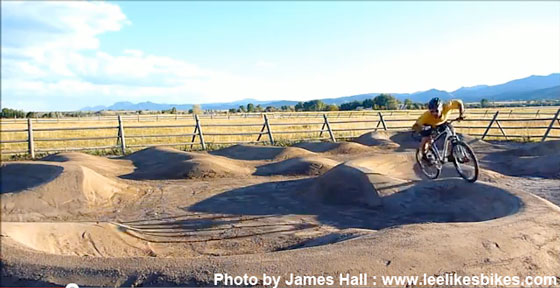 Mission accomplished: This track works for experts and first-timers, adults and kids. Pretty stoked about that.
---
Know more. Have more fun!
Join the leelikesbikes mailing list:
---
https://www.leelikesbikes.com/wp-content/uploads/2018/08/leelikesbikeslogoheader.jpg
0
0
leelikesbikes
https://www.leelikesbikes.com/wp-content/uploads/2018/08/leelikesbikeslogoheader.jpg
leelikesbikes
2011-08-08 20:20:44
2011-08-08 21:08:20
Test riding the Kidtopia Pump Track