Switching from XC to trail shoes?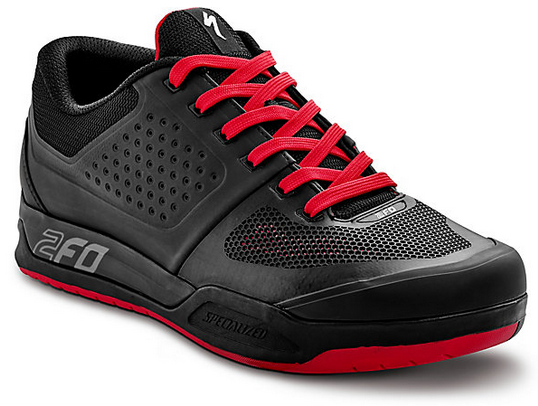 Hi Lee,
I attended your Oct 21st class in Temecula with Jon Farinholt. I was the guy with the white Ibis.
I have been wearing a pair of Sidi SRS Race Dragons (with the twist-up nylon gut tighteners) for the past 10 years. They are tight fitting, lightweight, and perfect for cross country rides but I now question their applicability to the kinds of riding we were doing Saturday that included rocky and tricky technical downhill chutes and descents.
I have also noticed that I am reluctant to unclip (and put my foot down) going down steep (and or) rutted chutes. because the shoes have little grip (probably because the replaceable "treads" are worn down, and this has decreased my confidence and probably contributed to most of my get-offs and crashes.
So I am wondering whether I should get a pair of the contemporary "tennis-shoe" designs favored by most riders today. I do like all the advantages that clip-ins offer though, and I would like to continue to use my XT MTB "mini-platform" pedals.
What are your thoughts and recommendations on this?
Also, thanks for a very very memorable experience. All of us were impressed.
Thanks.
Bill
---
Bill!
Thanks for writing. That day at Vail Lake Resort was awesome. I can't wait to teach out there this winter.
You might have noticed I was wearing the new Specialized 2FO Clip shoe. I've been in this shoe for about a month, and I'm liking it more and more. It's made for clipped-in gravity riding, but I've worn it for everything from weightlifting (at my van before riding) to pump track to XC to DH. The style is very skateboard.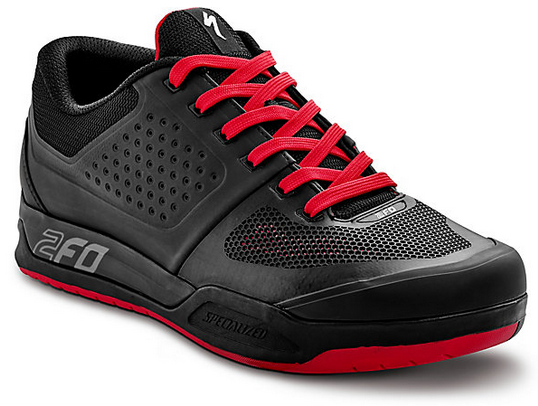 2F0 Clip
Before the 2FO, I wore (through) two pairs of Specialized Rimes. This is a very clever shoe, with a stiff inner plate and a Vibram outsole. The style is a bit more XC. There are now two models: Rime Expert and Rime Elite. I wore these shoes almost every day, and I got two years out of each pair.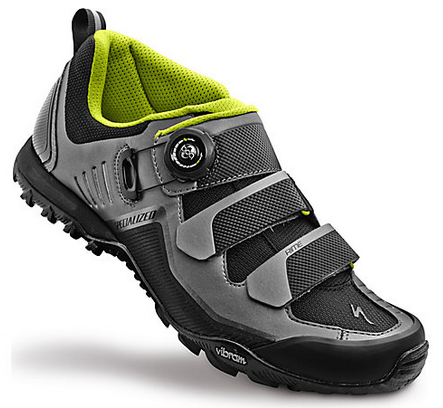 Rime Expert
Before the Rimes, I rode 20 years in Sidis then in Specialized S-Works and Pro XC shoes.
Why have I switched from XC race shoes to more trail-oriented shoes?
• Way better traction and security when I'm on my feet.
• As you mentioned, more confidence in case I need to dab — or jump off and run.
• Easier to hike in.
• More protection from rocks, etc.
• Feels more like a shoe. I sometimes teach 9+ hours a day, and I want to be able to stand, walk, run, jump and ride too.
• I don't feel like they're slowing me down. It would be interesting to see how the softer shoe affects wattage, but I'm comfortable and pedaling just fine. I also think a softer sole absorbs some trail violence (especially on a rigid bike).

Drilling an awful climb in an old pair of prototype Specialized shoes. They had a stiff carbon insole with a soft outsole and an overall burly construction: the precursor to what we ride today.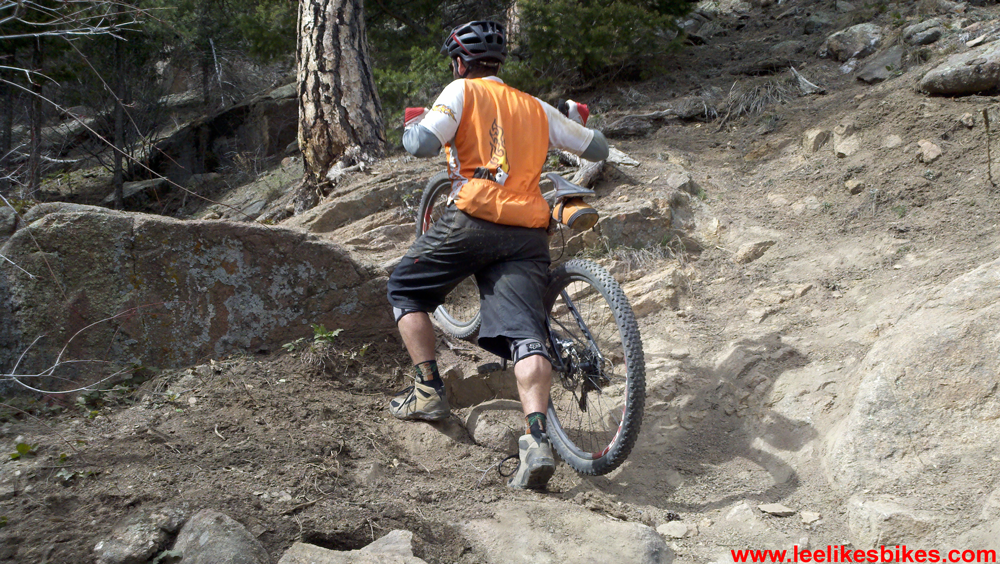 Hiking in the same shoe. XC shoes suck here!
You might enjoy the new Rimes. They'll give you the confidence you want while feeling not unlike your Sidis. If you want to go full "enduro," try the 2FO (or a similar shoe from someone else). Clients love their Five.Tens and Pearl Izumis.
Have fun out there,
Lee
---
Know more. Have more fun!
Join the leelikesbikes mailing list:
---
https://www.leelikesbikes.com/wp-content/uploads/2018/08/leelikesbikeslogoheader.jpg
0
0
leelikesbikes
https://www.leelikesbikes.com/wp-content/uploads/2018/08/leelikesbikeslogoheader.jpg
leelikesbikes
2014-10-27 11:19:24
2014-10-27 11:22:07
Switching from XC to trail shoes?